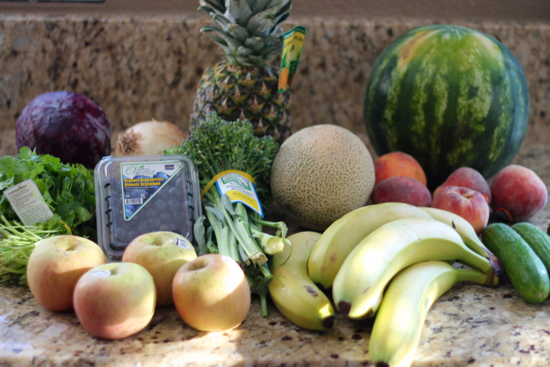 Last week, I gave you guys a little tease on this thing called Bountiful Baskets. So what is it you ask? It's an amazing food co-op that distributes produce baskets, organic produce baskets, lots of fun seasonal goodies as well as flavorful breads each week. It's a grassroots, all volunteer, no contracts, no catch co-op. And since there are no employees at Bountiful Baskets, as a group you pay rock bottom prices for your food. They just ask, that if you are able to, to volunteer occasionally by arriving an hour early to the pick-up time to help out. How easy is that! My BFF Julia over at Vegas Mother Runner introduced me to Bountiful Baskets, and I'm so glad she did!
I've now done it for a few weeks and I have to tell you, I'm in LOVE! I splurge a little and get the organic box. I can't say enough good things about it. You will most likely have to get up early, my pick-up time is 6:30 am on Saturdays, but I promise, it will be worth it. Early bird gets the worm, right? My experience with the produce so far has been outstanding. It's fresh and utterly delicious. You don't know what's coming in your box each week, so it really helps you get creative and out of the food rut so many of us fall into. Each basket is 1/2 fruits and 1/2 vegetables so you get a nice variety. I come home, go through my basket each Saturday morning, start looking up recipes with the items in my box, come up with a meal plan and head out the door to do all my grocery shopping for the week. I'm usually back home by 8:15 am and have the full day ahead of me!  How much more productive can you get?
If you have a pick-up location nearby, I highly recommend giving them a try. You can check here for locations near you. You'll save a ton of money on healthy food for your family.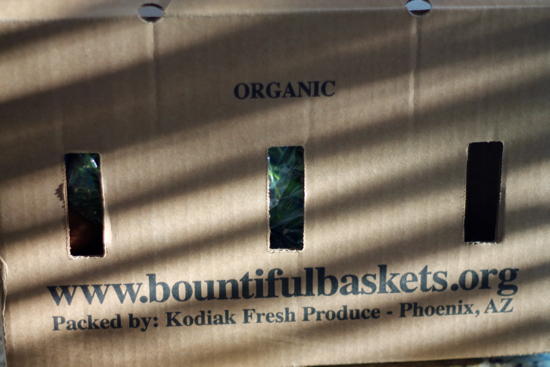 Early morning sun shining through the window on my Bountiful Basket box 🙂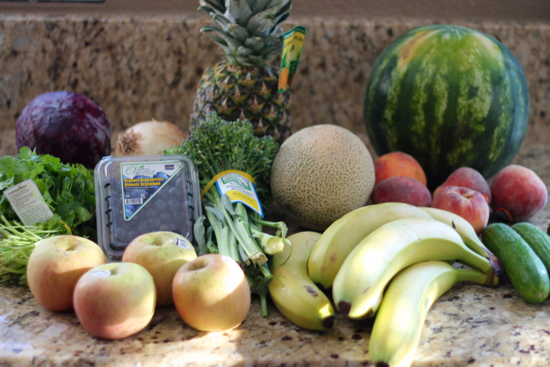 The first week I received cilantro, cabbage, apples, blueberries, broccolini, pineapple, bananas, cantaloupe, peaches, watermelon, and cucumbers.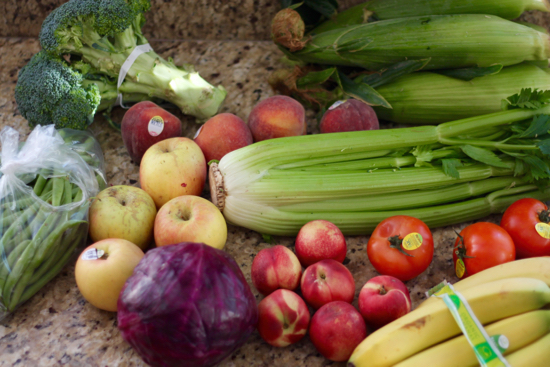 The next week I received green beans, broccoli, apples, cabbage, peaches, celery, nectarines, bananas, corn, tomatoes, and a huge bag of onions.
Check out Bountiful Baskets today!