It's that time of year again for warm hearty soups, which just so happens to be my favorite time of year! I adapted this recipe from The Pioneer Woman. What's fun about this soup is you can really adjust it to your own tastes. Add more or less cheese, hot sauce or not, maybe a dash of Worcestershire, leave it chunky, puree smooth or do half and half. The possibilities really are endless, know your own taste and experiment. I apologize in advance, my camera ate all of my pictures. I'm hoping Santa might bring me a new one for Christmas…just saying Santa 😉 Let me know the kinds of adaptations you you're making to this recipe. I'm excited to hear what you guys like!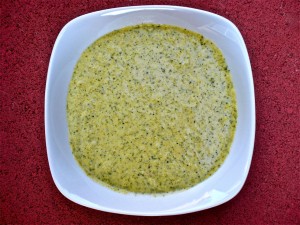 Broccoli Cheese Soup
(Printable Recipe)
Ingredients
* 1/2 Onion, Diced
* 1/2 stick Butter
* 2 1/2 tablespoons Flour
* 2 cups Whole Milk
* 1 cups Half-and-half
* 2 heads Broccoli Cut Into Florets
* 1 pinch Nutmeg
* 2 cups Grated Cheese (mild Cheddar, Sharp Cheddar, Jack, Etc.) plus more for garnish
* 1/2 cup of Parmigiano Reggiano
* Small Dash Of Salt (more If Needed)
* Freshly Ground Black Pepper
* 1 Can of Chicken Broth, as needed for thinning (I used half the can)
* Couple dashes of Worcestershire
* Couple dashes of Hot Sauce
Instructions
Melt butter in a pot over medium heat, then add the onions. Cook the onions for 3 to 4 minutes, then sprinkle the flour over the top. Stir to combine and cook for 1 minute or so, then pour in milk and half-and-half. Add nutmeg, then add broccoli, a small dash of salt, and plenty of black pepper.
Cover and reduce heat to low. Simmer for 20 to 30 minutes, or until the broccoli is tender. Stir in cheese and allow to melt.
Taste seasonings and adjust if needed and add your own like Worcestershire or Hot Sauce. Then either serve as is, or mash it with a potato masher to break up the broccoli a bit, or transfer to a blender in two batches and puree completely. (If you puree it in a blender, return it to the heat and allow to heat up. Add in chicken broth if needed for thinning.)
Recipe Adapted from The Pioneer Woman