This is one of my favorite recipes of all time. I use this all the time for company or that special treat when the weather starts to cool down. I'm hoping it will soon here…but it won't be soon enough. So get this recipe out and ready for those perfect fall days to come ahead.
I went through a period where I didn't eat meat for 2 years and made this with a soy sausage. It was still divine, however the pancetta adds a lot more flavor.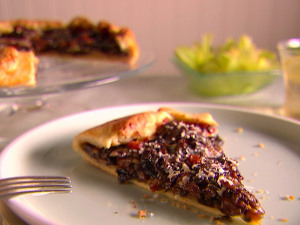 Crostata with Mushroom and Sausage
(Printable Recipe)
Ingredients
* 1 1/2 cups all-purpose flour
* 1/2 teaspoon salt, plus 1/2 teaspoon
* 3 tablespoons butter, cut into small pieces
* 1 1/2 tablespoons lemon juice
* 1/2 cup mascarpone cheese
* 3 tablespoons ice water
* 1/2 lb of Jimmy Dean Sausage
* 1 teaspoon chopped fresh thyme
* 1 tablespoon of olive oil
* 1cup of diced mushrooms
* 2 shallots
* 1/2 cup grated cheese (try a combo of smoked mozzarella and fontina)
* 1/4 teaspoon freshly ground black pepper
* 2 tablespoons freshly grated Parmesan
* 1 large egg, lightly beaten
Directions
Saute mushrooms and shallots in a pan with olive oil.
In a food processor combine the flour, and 1/2 teaspoon salt. Pulse to combine. Add the butter and pulse until the butter is finely chopped and the mixture resembles a coarse meal. In a small bowl combine the lemon juice and mascarpone. Add the mascarpone mixture to the food processor and pulse a few times. Add the ice water and run the machine just until the mixture is moist and crumbly, but does not form a ball. Do not over mix. Turn the dough out onto a sheet of plastic wrap. Press into a disk, cover, and refrigerate for 20 minutes.
Meanwhile, preheat the oven to 400 degrees F. Cook the pancetta in a small saute pan over medium heat until golden and crisp, about 4 minutes. Add the herbs and stir. Transfer the sausage, herbs, and the pan juices to a medium bowl. Add the mushrooms, shallots, grated cheeses, the remaining 1/2 teaspoon salt, and pepper. Toss to combine and set aside.
Place the chilled dough on parchment paper. Roll the dough out into a 12-inch wide circle about 1/4-inch thick. Spread the vegetables out in the center of the dough leaving a 2-inch border. Sprinkle the vegetable mixture with Parmesan. Fold the border up and over the vegetables forming a crust. Using a pastry brush, brush some of the egg over the crust. Transfer the parchment paper and crostata to a baking sheet. Bake until the crust is golden, about 25 minutes. Slice and serve.
Photo and Adapted Recipe Courtesy of FoodNetwork.com