Chocolate…check…double chocolate…check…triple chocolate…check…espresso…check. Some of my favorite things 🙂 These cookies were easy to make and so delicious. I got my dark chocolate covered espresso beans at Fresh and Easy. I've also seen them at Trader Joe's. They have a slight hard shelled crust and are soft, moist and gooey in the middle, just how I like them. Give these a try to up your…ahem…antioxidants from the dark chocolate, cause they're good for you!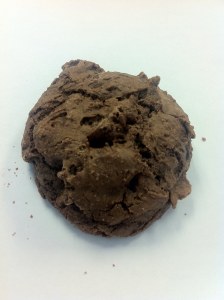 Double Chocolate Espresso Cookies
(Printable Recipe) 
Ingredients
* 6 ounces semi-sweet chocolate, chopped into 1/2-inch pieces (recommended: Ghirardelli)
* 2 tablespoons unsalted butter, at room temperature
* 1/3 cup dark chocolate-covered espresso beans
* 1 cup flour
* 2 tablespoons unsweetened cocoa powder
* 1 teaspoon baking powder
* 1/4 teaspoon fine sea salt
* 3/4 cup sugar
* 2 eggs, at room temperature
* 2 tablespoons water
* 1 teaspoon pure vanilla extract
* 1 cup semi-sweet chocolate chips (recommended: Nestle Toll House)
Directions
Place an oven rack in the center of the oven. Preheat the oven to 300 degrees F. Line 2 baking sheets with parchment paper or silicone mats. Set aside.
In a small bowl, combine the chocolate and butter. Place the bowl over a pan of barely simmering water and stir occasionally until the chocolate has melted and the mixture is smooth.
In the bowl of a food processor, finely chop the chocolate covered espresso beans. In a medium bowl, whisk together the chopped espresso beans, flour, cocoa powder, baking powder, and salt.
In another medium bowl, whisk together the sugar, eggs, water, and vanilla extract. Gradually add the dry ingredients and stir until thick and smooth. Fold in the melted chocolate. Stir in the chocolate chips. Using a cookie or ice cream scoop, scoop level 1/4 cupfuls of the batter onto the prepared baking sheets. Bake until slightly puffed and the tops begin to crack, 18 to 20 minutes. Allow the cookies to cool completely on the baking sheets and serve.
Recipe Courtesy of FoodNetwork.com