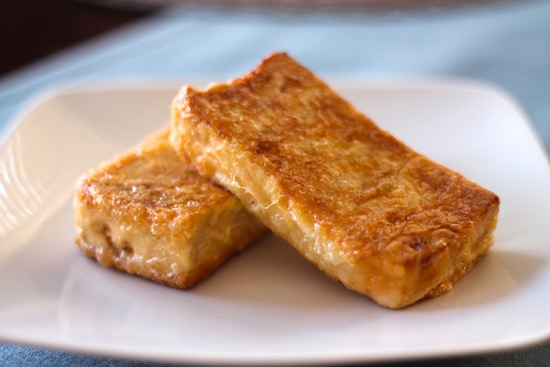 Warning, this recipe features tofu. I think some people tend to get panicky when introducing tofu. It's not everyone's "thang" and that's okay, but it's fun to try different foods once in a while, right?
I became very close to tofu when I was a vegetarian. I completely cut meat out of my diet for a couple of years, and it quickly became a staple. Tofu doesn't really have any flavor. It takes on the taste of whatever seasonings you use. Never eat it right out of the container; you will live to regret it. Usually, I have it crumbled, so when I saw this recipe, (it's the next Good Eats episode "Tofu World") I was intrigued.
Just eat a slab of tofu? Okay I'll give it a try.
While this recipe was not my favorite, I'm happy I gave it a go. I think a little longer marination period would've made me enjoy it a lot more. Instead, it fell flat in the flavor department and tasted a little too much like plain tofu in the middle. But, this gives me a great foundation to play with. The edges were perfectly crisp and the texture was just right. You can change-up the marinade and slice size, or just crumble it up like ground beef in the skillet. My next marinade will be soy sauce, brown sugar and some chipotle peppers in adobo sauce, pulverized in the Vitamix. Yum!
This is a great method for preparing tofu. Experiment, find the flavors you love and give it a try!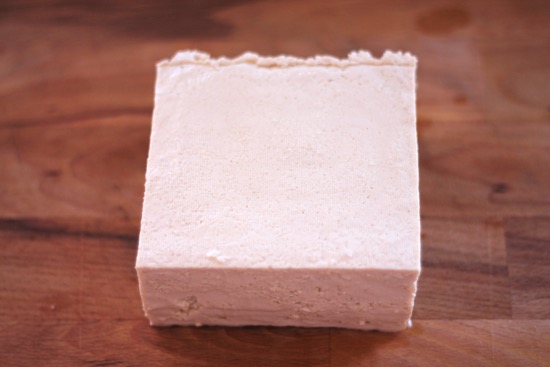 Get your block of firm tofu.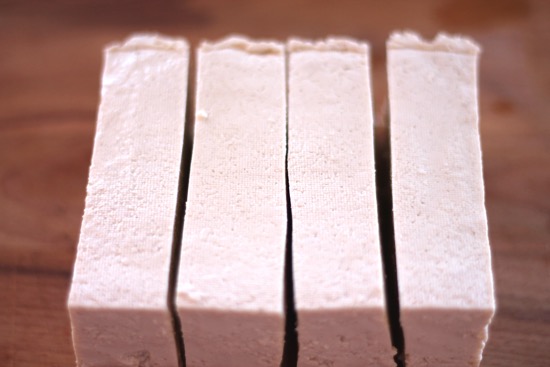 Slice it into 4 equal pieces.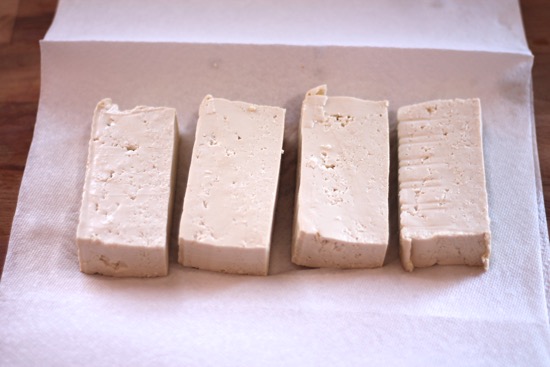 Place the pieces on layered up paper towels.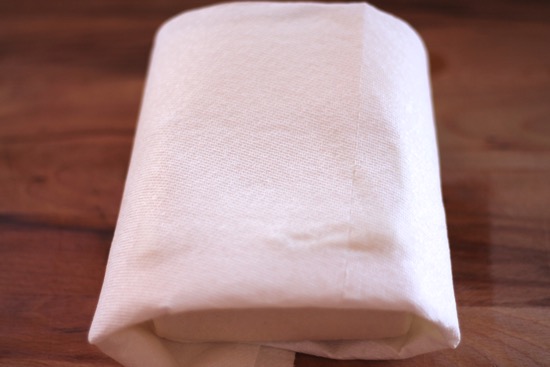 Fold it all up.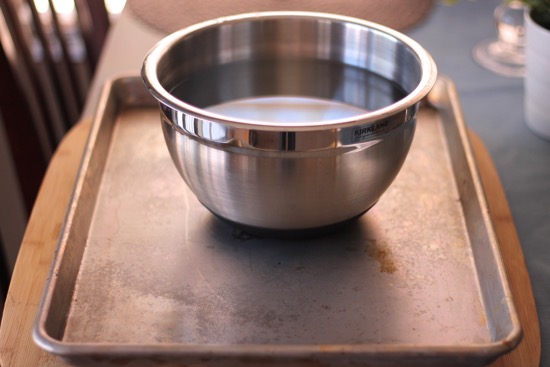 Lay a sheet pan right on top with a weight. A can of tomatoes or a bowl full of water will do. We're going to weigh it down for about an hour to release some of the moisture.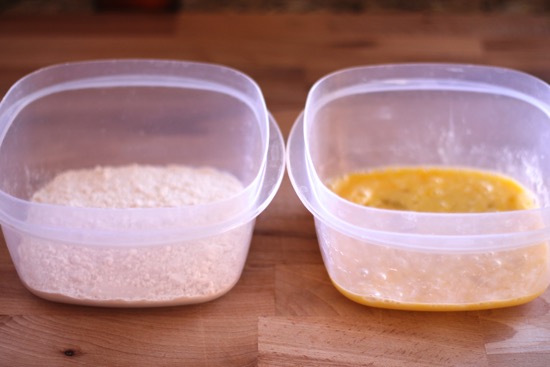 Place flour and beaten egg into separate dishes to prepare for frying assembly line.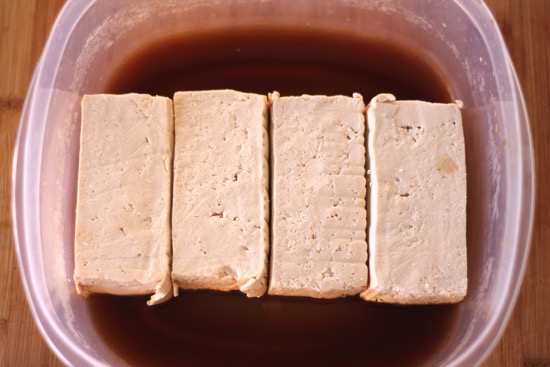 After the tofu has been squeezed, marinate the tofu in sherry vinegar, Worcestershire sauce and hot sauce for 15 minutes.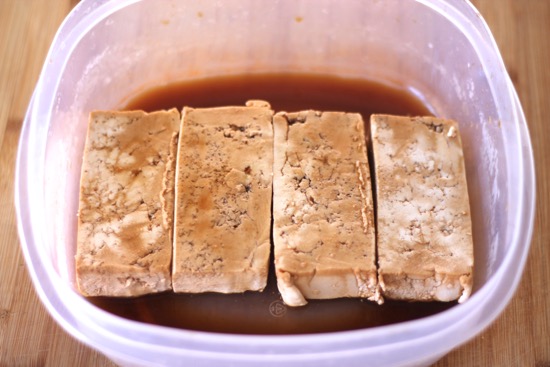 Flip and marinate for another 15 minutes on the other side.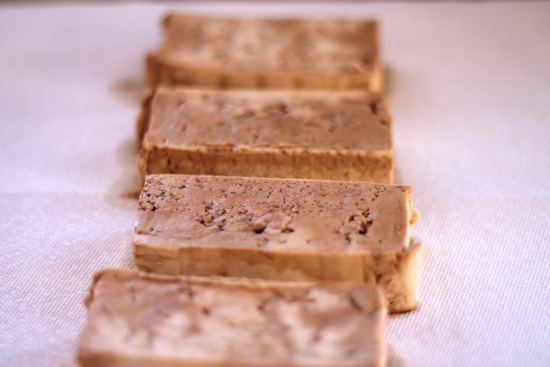 Gently pat off the excess marinade.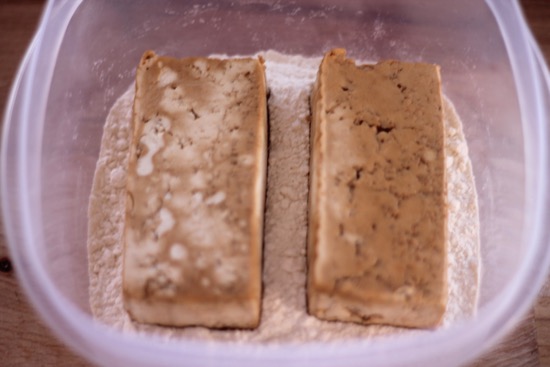 Dip the tofu in flour and shake off the excess.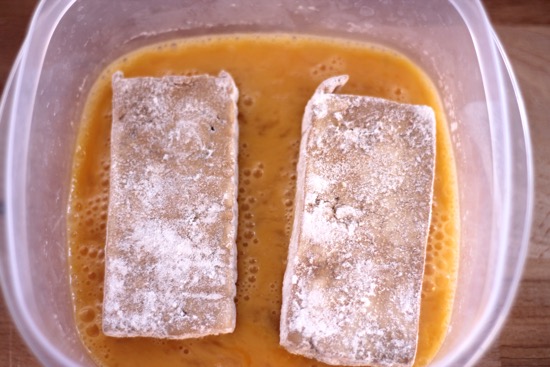 Then dip into beaten eggs.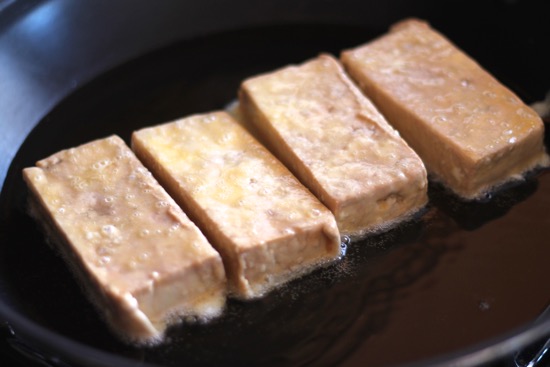 Gently slide the pieces right into the hot pan.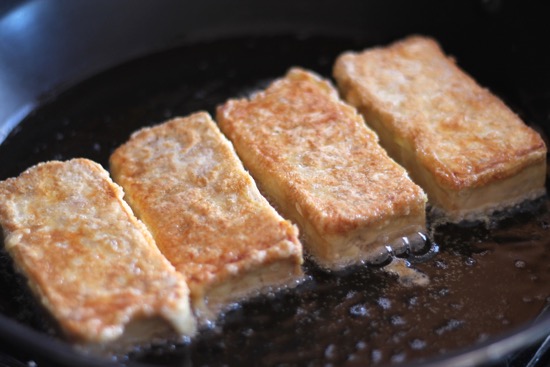 Cook for about 2 minutes on each side.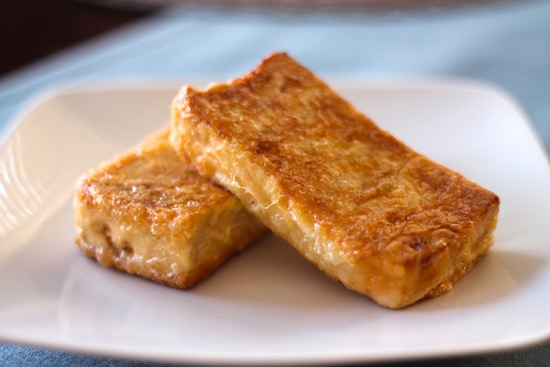 Plate and enjoy!
Filet O' Fu
Ingredients
1 block firm tofu
2 tablespoons sherry vinegar
2 tablespoons Worcestershire sauce
Few dashes of hot pepper sauce
Canola oil to cover skillet by ⅛-inch
2 eggs
½ cup all-purpose flour
Instructions
Slice your block of tofu into 4 equal pieces.
Place the pieces on some layered up paper towels. Fold the paper towels over the tofu pieces.
Place a baking sheet on top and weigh it down with a large can of tomatoes or a large bowl full of water for 1-2 hours.
Combine sherry vinegar, Worcestershire and hot sauce in a shallow dish. Place the tofu pieces in the marinade. Let marinate for 15 minutes on each side.
Heat the oil in a skillet on medium heat.
Place flour into one shallow dish and the eggs into another. Gently beat the eggs.
Dredge the marinated tofu pieces into the flour, making sure to shake off all the excess. Next dip into the eggs.
Gently place the tofu into the oil and cook for 2-3 minutes on each side until nice and golden brown.