This past weekend was a blast! All of my favorite things rolled into one weekend…fitness, food and cocktails! Not to mention I got to do it all with my bestie, Julia. She's also responsible for all the photos. Apparently, it was all to exciting for me 🙂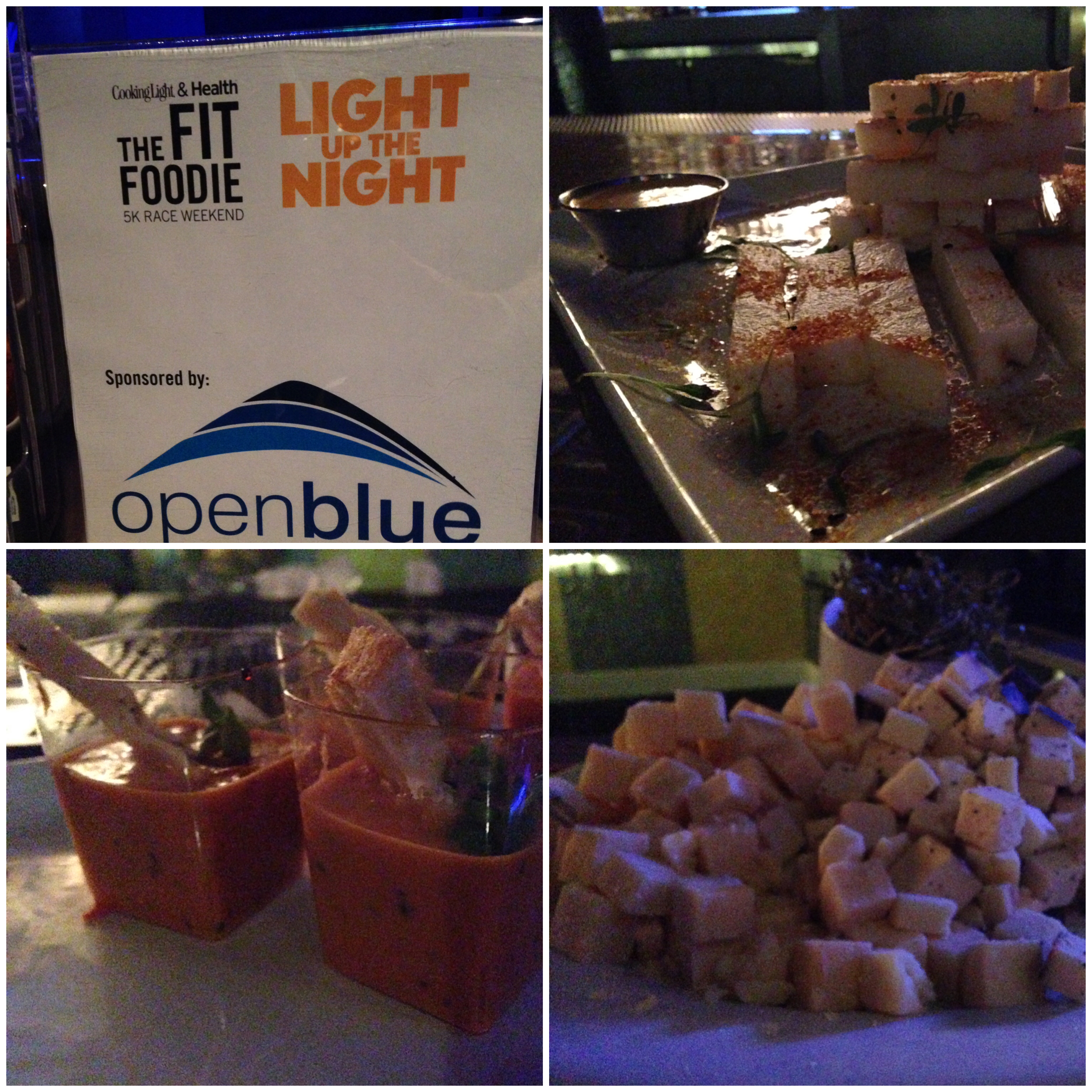 Friday night started off with the Light Up the Night Cocktail Party. It was at Florent Restaurant in the Gaslamp District in downtown San Diego. They had beer, wine and cocktails with appetizers. The vibe was great and we got to hang out with celebrity trainers and chefs. All in all, it was a good night.  Soon after, we went to our hotel to rest up for race day.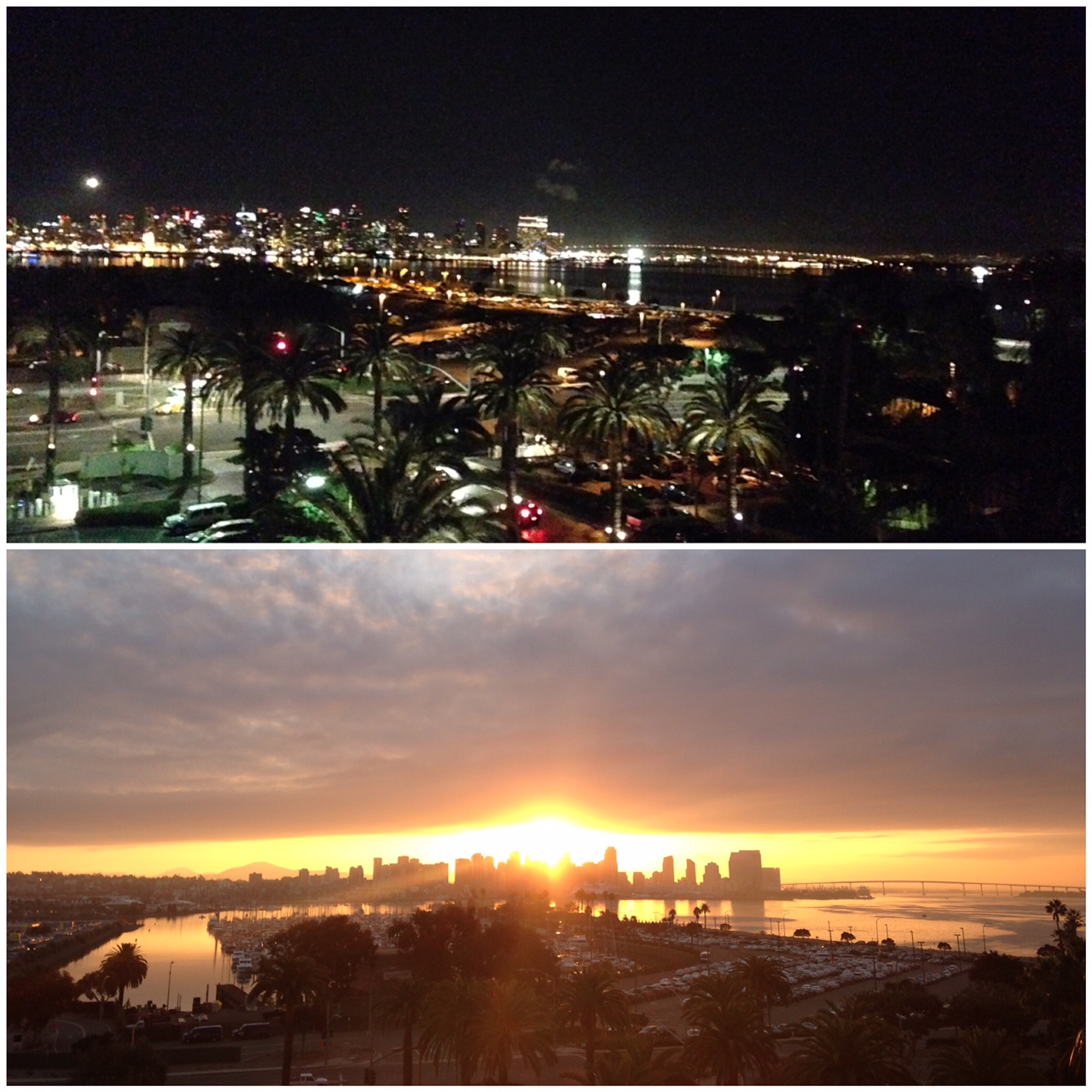 The night before and the morning of our race. Not a bad view!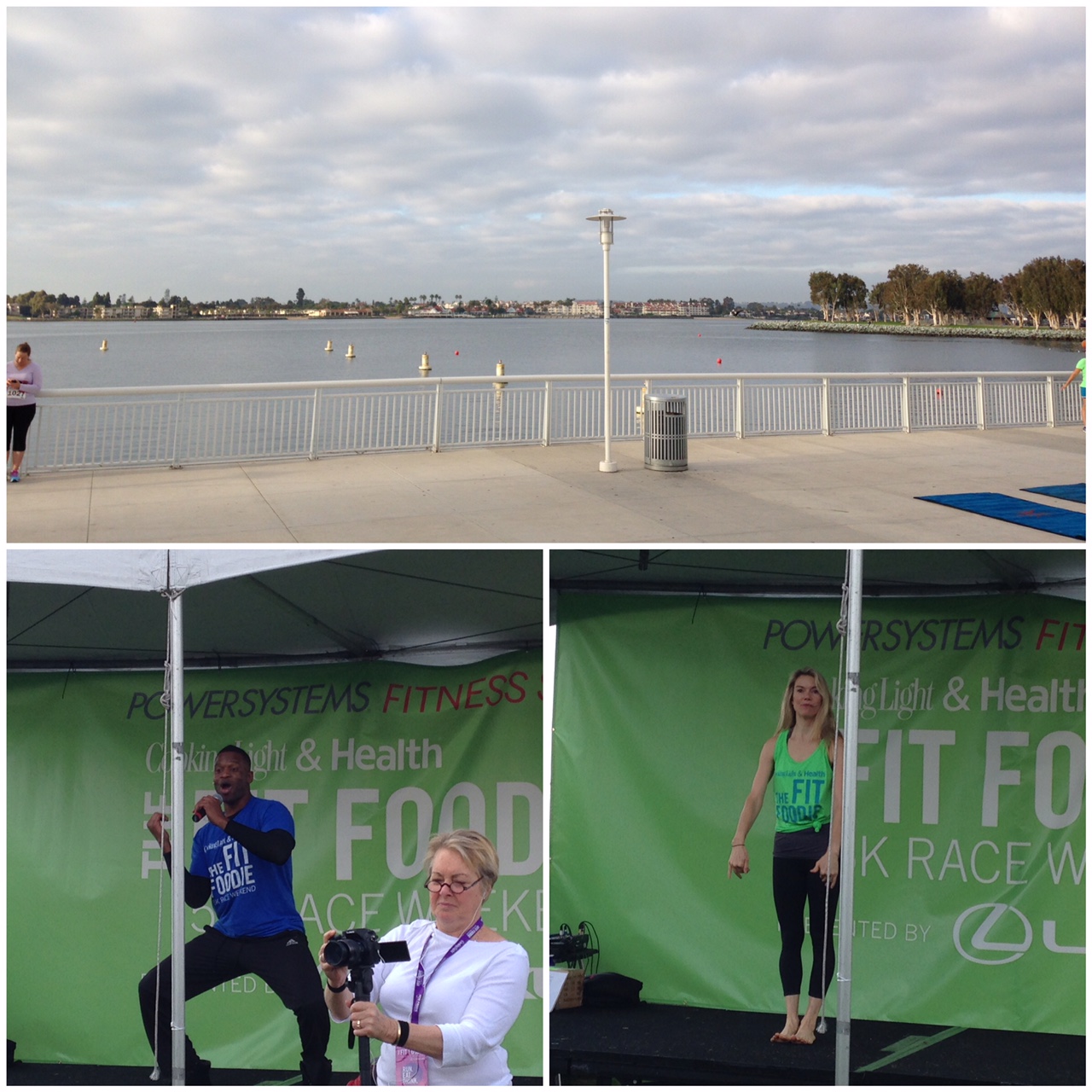 The next morning we got to the event and were able to see the course up close. It was gorgeous! We'd be running right along the bay front. I was getting really excited at this point. We did a race warm-up with The Run MC. He is hysterical and I think all race events should hire him! He was fantastic and had a ton of energy, which is exactly what you need for an early morning race. We also did a quick yoga stretch with Kristin McGee, more on her later. We were warmed up and stretched, all that was left was to run!
I'm new to the fitness scene, but am really enjoying running and doing yoga. I think it's important to find activities you love to do so you keep doing them. I've never done a race before, ever! I was a little intimidated being an ambassador for the event and this being my first race. I put in the work beforehand, and it paid off big time. I finished the race, ran the entire time and actually enjoyed myself. I didn't push myself too hard and was focused on being in the moment and enjoying the scenery. It was an amazing first race experience. I finished in the top 30% of all runners. It was a wonderful accomplishment 🙂 After the race, we took part in a post run yoga session and a Power Systems class (a lot of squatting and resistance bands). We were really earning our calories for the food and beer portion of the event!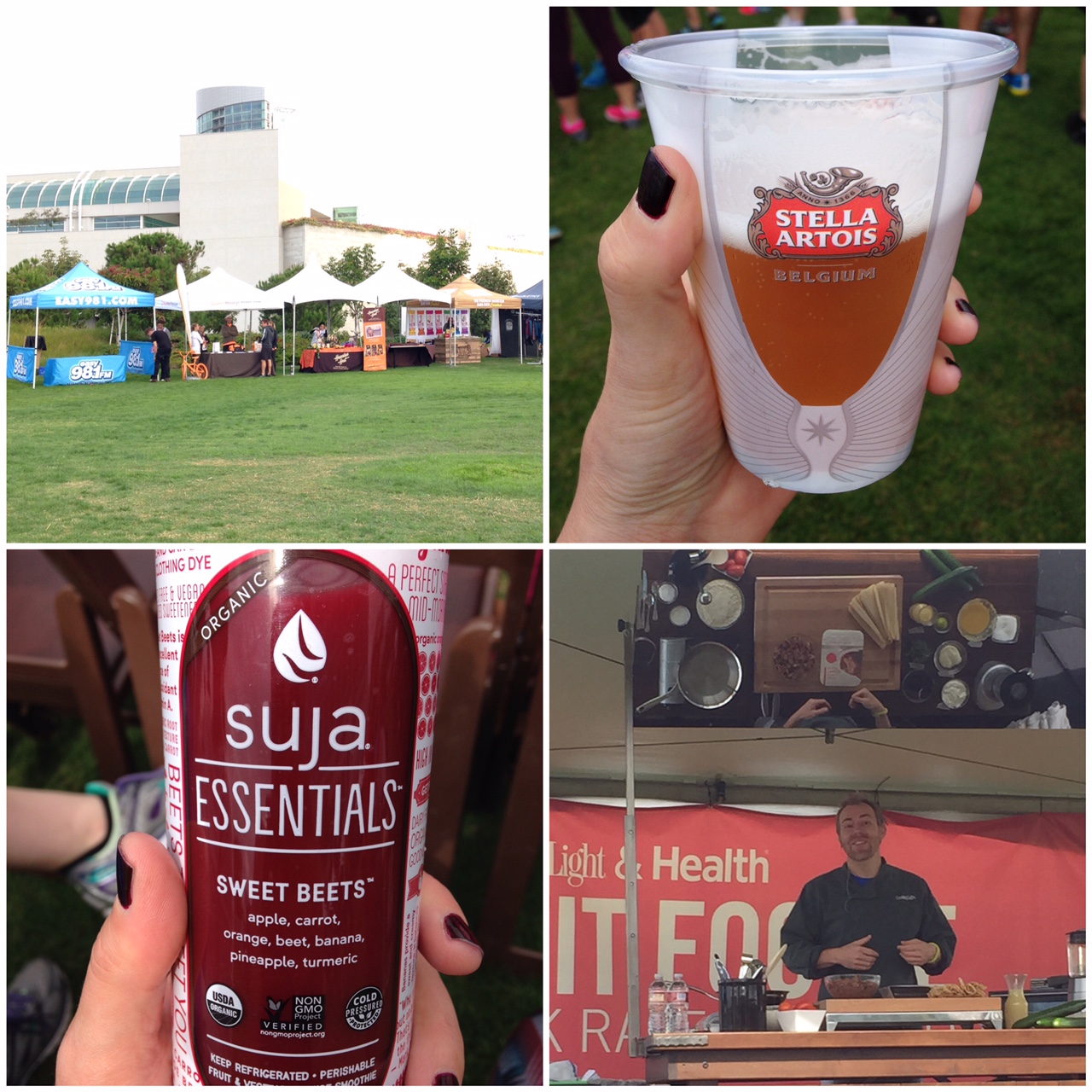 After finishing our workouts, we headed to the Finishers Village. They had various tents set up with vendors giving away goodies. The tent photo above is before the race. The calm before the storm. I've never received so much free swag in my life. There were a ton of cold pressed juices, organic bars, coffees and even massages. They had an area set up where they did chef demonstrations and gave out samples. I wished there was a little more actual food and not just bars, but it was still a good time. They also had a beer garden area where you went into a caged area and drank ice-cold beer. Turns out after running and working out all morning, that beer goes to your head really fast! We stayed until the end, and by the end of the night I was TIRED, but in a good way 🙂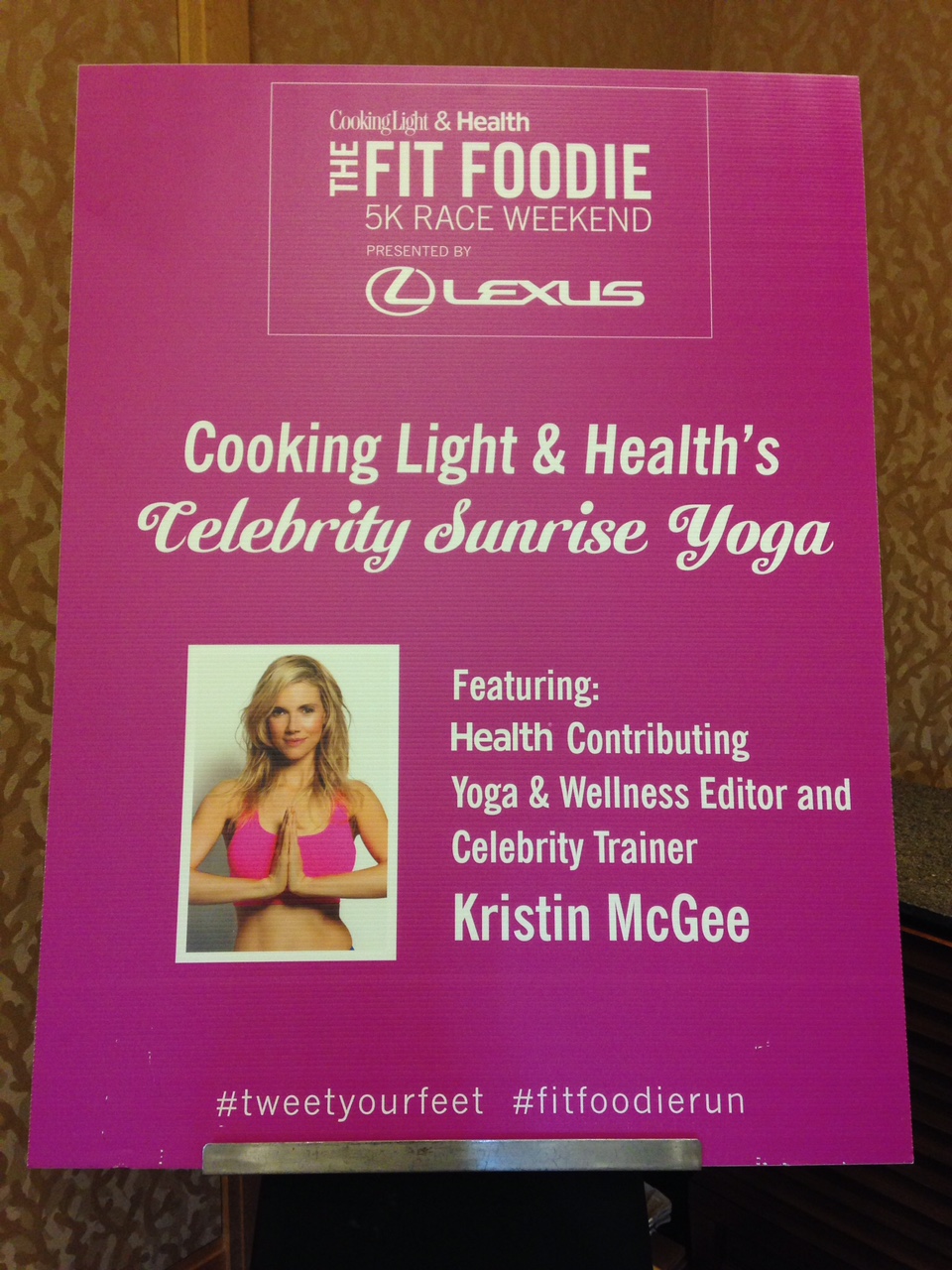 Sunday morning we had a yoga class with my favorite yogi Kristin McGee (squeal)! This was the highlight of the weekend for me. I've done her DVD's before and she is more delightful (if that's even possible) in person. She is so sweet and has the most amazing energy and vibe. You can't help but smile taking one of her classes. We thought that maybe after a run day yesterday she was going to take it easy on us, but she made us work for it, and it was amazing! She gave Julia and I a couple of her DVD's to try out. I did one last night, and it hurt so good!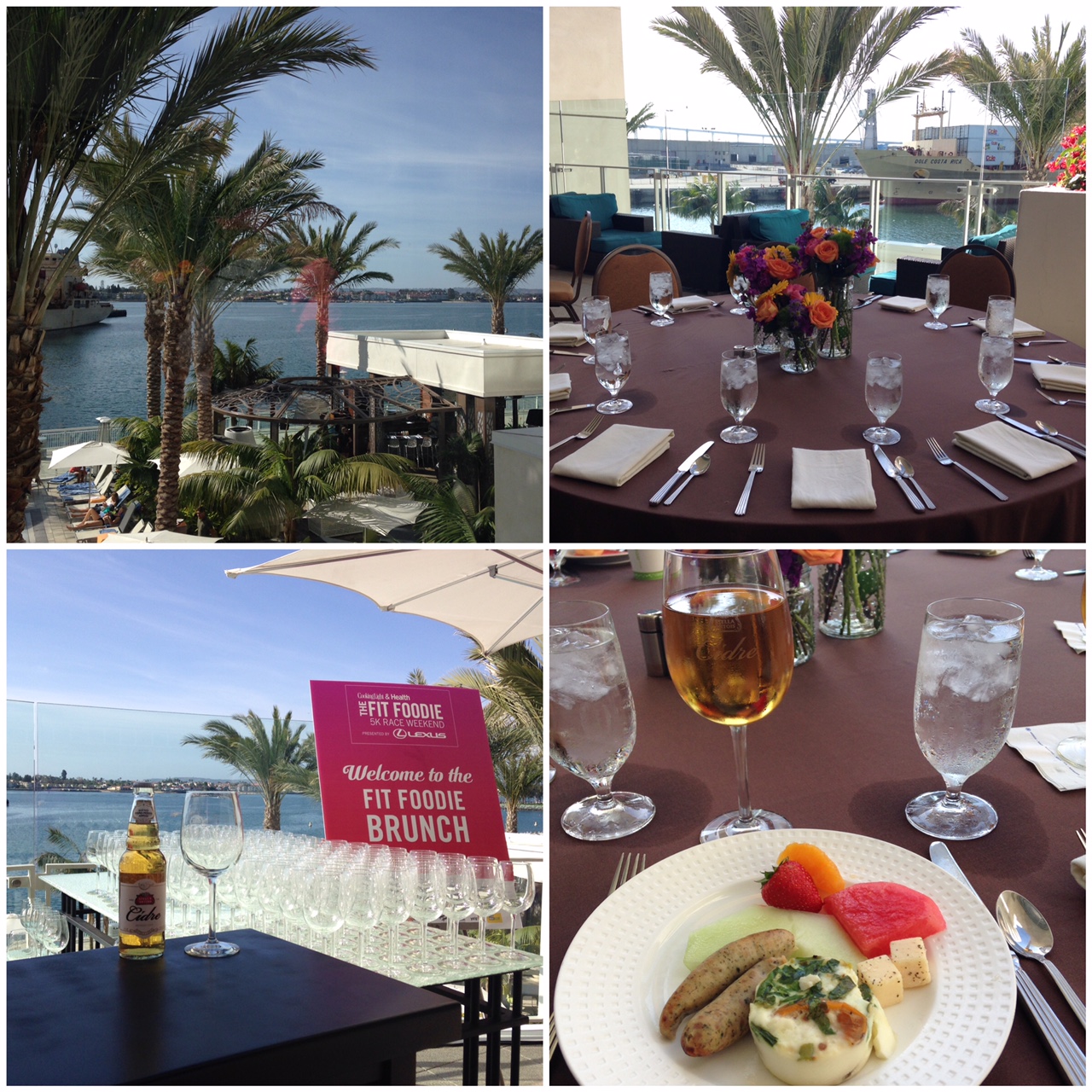 Right after yoga was brunch. They had Stella Cidre in wine glasses, egg white fritattas, chicken sausage, greek yogurt parfaits and lots of fruit. They did giveaways while we ate, drank and looked at the ocean. Not too shabby!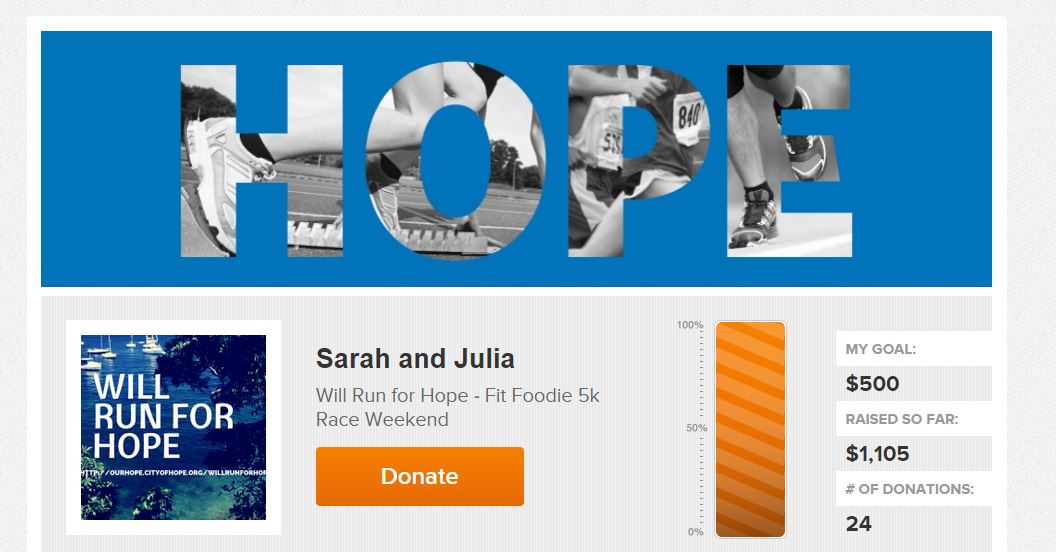 I've saved the best for last! We ended up raising over $1,100 for City of Hope and couldn't be happier about it. We more than doubled our goal! It feels so good to give back, especially this time of year. Thank you so much to all who donated. I ran for our dear friend Tom, we love you!
It was an awesome weekend and I will definitely do it again, and would absolutely recommend it to all of you if it's in your area. I'm hoping next year they'll expand to even more cities. I can't thank the people at the Fit Foodie Race Series enough for inviting me!
Have you guys ever done a weekend like this? Would this be something you would be interested in doing?