I love Giada's recipes! I have yet to make one that is not "Out of this world"! So here are two of my favorite desserts from her. This first recipe I get requests to make all the time as well as people wanting the recipe, so here it is. It is rich, chocolaty and so delicious, you will not be disappointed.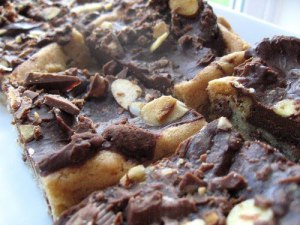 Mascarpone Chocolate Toffee Bars
(Printable Recipe)
Ingredients
* Vegetable cooking spray
* 1 pound refrigerated sugar cookie dough (recommended: Pillsbury)
* 2 (1.4-ounces) chocolate-toffee candy bars, coarsely chopped, divided (recommended: Skor)
* 1/2 teaspoon pure vanilla extract
* 1 cup semisweet chocolate chips (recommended: Ghirardelli)
* 1 teaspoon vegetable oil
* 1 cup (8 ounces) mascarpone cheese, at room temperature
* 1/4 cup sliced almonds, toasted * see Cook's Note
Directions
Position an oven rack in the middle of the oven. Preheat the oven to 350 degrees F.
Spray a 7 by 10 3/4-inch nonstick baking pan with vegetable cooking spray. Lay a 6 by 18-inch piece of parchment paper in the pan, allowing the excess paper to overhang the sides. Spray the parchment paper lightly with cooking spray.
In a medium bowl, combine the cookie dough, 1/2 of the chopped chocolate-toffee candy pieces and vanilla extract. Using damp fingers, gently press the dough into the prepared pan. Using the tines of a fork, prick the dough all over. Bake for 12 to 14 minutes until the crust is lightly browned. Cool for 15 minutes.
Place the chocolate chips and vegetable oil in a medium bowl. Place the bowl over a pan of simmering water and stir until the chocolate has melted. Cool the chocolate mixture for 10 minutes. Whisk in the mascarpone cheese until the mixture is smooth. Using a spatula, spread the chocolate mixture over the cooled crust. Sprinkle the remaining chocolate-toffee candy pieces and sliced almonds over the chocolate mixture. Refrigerate for at least 2 hours until the chocolate layer is firm.
Peel off the parchment paper and cut into 1 1/2 by 2-inch bars. Serve at room temperature.
*Cook's Note: To toast almonds, arrange in a single layer on a baking sheet. Bake in a preheated 350 degrees F oven for 8 to 10 minutes until lightly browned.
Recipe and Photo Courtesy of FoodNetwork.com

Now, my future husband is a chocoholic. He has first and second dessert pretty much every night, no I'm not kidding. They're almost always both chocolate. So one night I decided to switch it up with this Pineapple Semifreddo, and he didn't spit it out or throw it at me so it must have been good ;). I loved it, it's light and fluffy but still creamy…yummmm!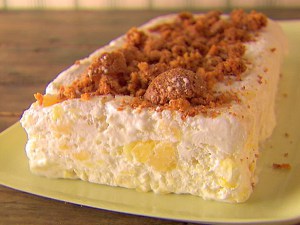 Pineapple Semifreddo
(Printable Recipe)
Ingredients
* 1 cup heavy cream
* 2 tablespoons powdered sugar
* 1/2 teaspoon vanilla extract
* 3 egg whites
* 1/2 cup simple syrup, recipe follows
* 1 (20-ounce) can crushed pineapple, drained
* 1 cup crushed amaretti cookies, for sprinkling (I got these at Rocco's)
Directions
Spray a 9 1/4 by 5 1/4 by 3-inch (6-cup) metal loaf pan lightly with nonstick spray. Line the pan with plastic wrap with enough plastic wrap extending over the sides to cover the top after the pan has been filled.
In a medium bowl, whip the heavy cream, powdered sugar, and vanilla until stiff peaks form. Set aside.
In another medium bowl, whip egg whites until foamy. With the mixer on, slowly add the simple syrup. Continue beating on high speed until the mixture is glossy and doubles in volume, about 7 to 10 minutes.
Using a large rubber spatula, fold the pineapple into the egg whites. Fold the whipped cream into the egg white mixture. Gently, spoon the mixture into the loaf pan. Fold over the plastic wrap to cover and freeze for 8 hours (or up to 1 month).
To serve: Unfold the plastic wrap. Invert the semifreddo onto a cutting board. Remove the plastic wrap. Cut the semifreddo into 1-inch thick slices. Place on individual serving plates and top each slice with the crushed amaretti cookies.
Simple Syrup:
1/4 cup water
1/2 cup sugar
In a saucepan, combine water and sugar over medium heat. Bring to a boil, reduce heat and simmer for 5 minutes, until the sugar has dissolved. Take pan off heat and cool the syrup. Any extra cooled syrup can be saved in an airtight container.
Recipe and Photo Courtesy of FoodNetwork.com