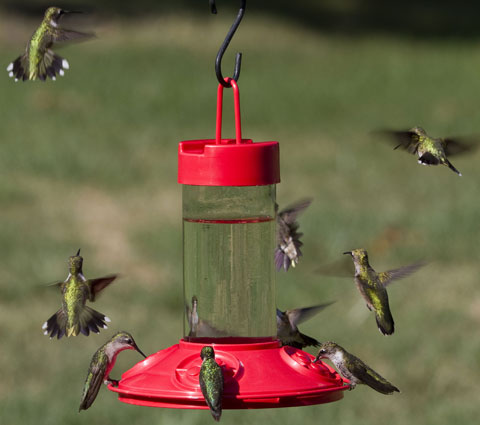 Today I'm going to give you guys a little bit of a different recipe.
I love Hummingbirds and keep a feeder in my back yard. One day I  ran out of hummingbird food and decided to make my own at home. Here's the recipe I used.
Mix 1 part sugar with 4 parts water and bring to a boil to kill any bacteria or mold present.
Cool and fill feeder
Red dye should not be added
That's it, super easy! I was a little surprised that you're not suppose to add red food coloring. Apparently it's actually harmful to the birds!
Any extra sugar water you have leftover can be stored in a refrigerator.
Depending on temperature of where you live follow these rules with how often to change it. I learned this the hard way. After 2 days mine had mold in it already. Looking at the guide below, I now know why. It was over 100 degrees! I was not a very good Hummingbird Mother 🙁
High temperature in degrees. Change nectar after…
71-75 6 days
76-80 5 days
81-84 4 days
85-88 3 days
89-92 2 days
93+ change daily
When it's super hot by me, I just use the mix. Making it everyday just wouldn't be practical, but when the temperatures cool down a bit, I will go back to making my own.
Do you guys make your own Hummingbird food?