My Father-in-law is an absolute nut for anything lemon.  Since I've made this cake, he will not stop asking me, "Where's more lemon cake?" He practically ate the entire cake in one day. That should tell you how good it is. Even my husband who is an avid chocoholic can appreciate this cake. It is very easy and incorporates a cake mix. Yes, I said cake mix…now before you write me a nasty message along the lines of "WHAT!!! CAKE MIX???" I know. However, as stated from a culinary genius, and my hero, "Those people at Betty Crocker Factory have access to all sorts of super chemicals to make their cakes perfect and moist every time" ~AB
Look, don't get me wrong, I prefer a homemade cake over the boxed stuff, but sometimes, let's face it, it's easier. Ok let's move on. I found this recipe on my friends blog My Sister's Kitchen. I used two round cake pans and stacked them. I also used a fun little stencil my Aunt got for me from Pampered Chef and a lemon rind to make it look cute. If you like lemon, you will love this cake!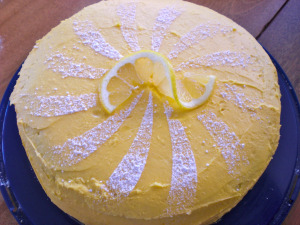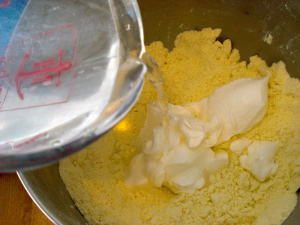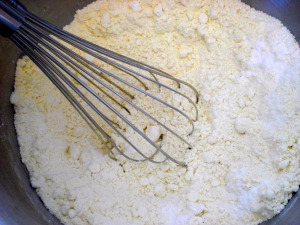 Mix dry ingredients together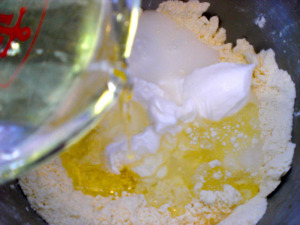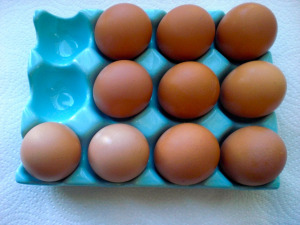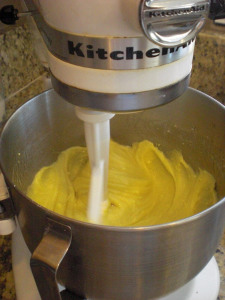 Mix in mixer.
Add to cake pans and bake at 350 for 30 minutes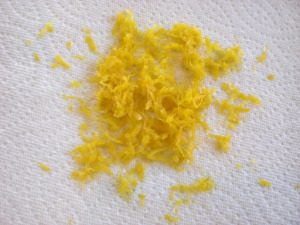 Zest some Lemon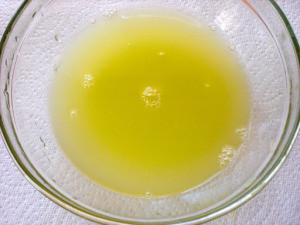 Squeeze lemon juice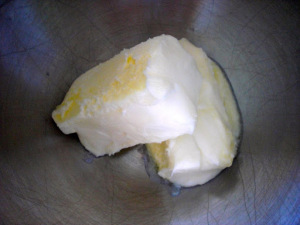 Add butter to mixer for frosting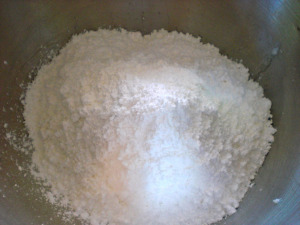 Add zest and juice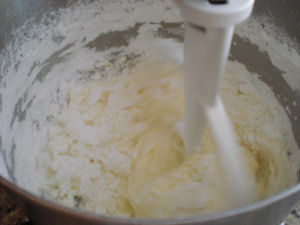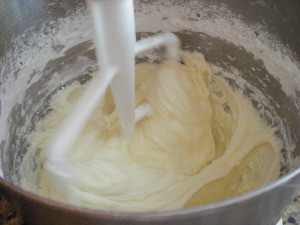 Mix until smooth and spreadable

 
Add frosting between layers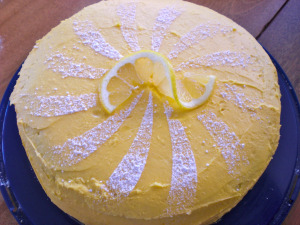 Finish frosting and decorate
Irresistible Lemon Cake
(Printable Recipe)
Cake Ingredients
* 1 package lemon cake mix
* 1 c sour cream (8 oz)
* 3/4 c water
* 3/4 c oil
* 4 eggs
* 1 small package lemon instant pudding
Cake Instructions
Mix dry ingredients. Add wet ingredients. Mix with electric mixer on medium/high for about two minutes. Pour into a greased 9×11 pan or two round pans. Bake at 350 degrees for 30 minutes.
You can also make cupcakes and bake them at 350 degrees for 20 minutes. The cupcakes will fall after they come out of the oven, but this is normal. Just fill up the indentation with more frosting.
Frosting Ingredients
* 1 c (2 sticks) butter, very soft
* 8 c powdered sugar
* 1/2 c fresh lemon juice
* 1 t grated lemon zest
Frosting Instructions
Place the butter in a large mixing bowl. Add 4 cups of sugar, then the juice and the zest. Beat until smooth and creamy. Gradually add the remaining sugar, 1 cup at a time, until icing is thick enough to be of good spreading consistency (I add about 6 cups total). If desired, add a few drops of yellow food coloring and mix thoroughly. Use and store at room temperature. (Don't refrigerate and it will last in a Tupperware for about three days.)