I had quite the sweet tooth over the weekend and made some delicious lemon bars. I got the recipe from the Food Network Magazine. If you haven't looked though one, I recommend picking it up and subscribing. There are so many recipes and it gives you some great ideas. This recipe was easy to put together and my future father-in-law, who is a lemon head, loved them 🙂 So you know they were good!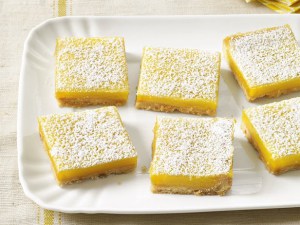 Classic Lemon Bars
(Printable Recipe)
Ingredients
For the Crust:
* Vegetable oil, for greasing
* 1 1/2 sticks of unsalted butter, diced
* 2 cups of all-purpose flour
* 1/4 cup packed light brown sugar
* 1/2 cup confectioner's sugar, plus more for garnish
* 1/4 teaspoon salt
For the Filling:
* 4 large eggs, plus 2 egg yolks
* 2 cups granulated sugar
* 1/3 cup all-purpose flour, sifted
* 1 teaspoon grated lemon zest
* 1 cup fresh lemon juice (from about 8 lemons)

Directions
Make the crust: Position a rack in the middle of the oven and preheat to 350 degrees F. Grease a 9-by-13-inch pan with vegetable oil and line with foil, leaving a 2-inch overhang on all sides; grease the foil with oil. Pulse the butter, flour, both sugars and the salt in a food processor until the dough comes together, about 1 minute. Press evenly into the bottom and about 1/2 inch up the sides of the prepared pan, making sure there are no cracks. Bake until the crust is golden, about 25 minutes.
Meanwhile, make the filling: Whisk the whole eggs and yolks, sugar and flour in a bowl until smooth. Whisk in the lemon zest and juice. Remove the crust from the oven and reduce the temperature to 300 degrees F. Pour the filling over the warm crust and return to the oven. Bake until the filling is just set, 30 to 35 minutes.
Let the bars cool in the pan on a rack, then refrigerate until firm, at least 2 hours. Lift out of the pan using the foil and slice. Dust with confectioners' sugar before serving.
Recipe and Photo Courtesy of FoodNetwork.com
*Photo by Stephanie Foley