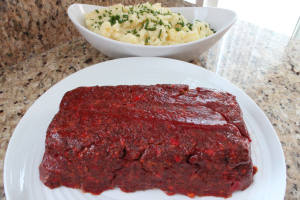 Here is my version of Mashed Potatoes that is a little lighter and more friendly on the waistline. I would love to eat the most decadent food every day, but bottom line is, it's just not good for you. I'm not interested in flavorless food, so I'm always looking for ways to make things healthier while still tasting great. I paired this recipe up with some meatloaf I made this week, which you can see over on my other blog
here
later this week. If you want a more decadent Mashed Potatoes recipe check out my blog post
here
.
Lightened up Mashed Potatoes
Printable Recipe
Ingredients
* 6 Yukon Potatoes peeled and chopped up into 1 1/2 inch pieces
* 1 Tablespoon salt
* 3/4 cup Low Fat Buttermilk
* 1/8 cup Parmesan Cheese
* 1 Tablespoon butter
* 1/4 cup chopped fresh chives
Directions
Place chopped potatoes in a large pot and cover with cold water and add salt. Bring to a boil, turn heat down to Medium low and simmer for 20 minutes. Drain potatoes and return to hot pot. Add in buttermilk, Parmesan and butter. Mash until you reach your desired consistency. Place in a serving bowl and top with chives. Salt and Pepper to taste.