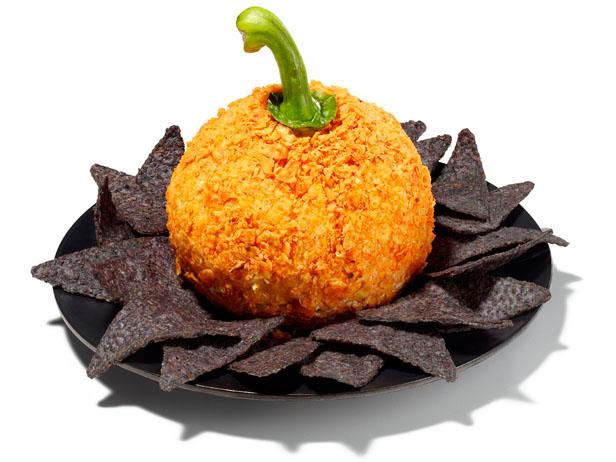 A simple cheese ball combining cream cheese, cheddar cheese, onion, salsa, cumin and jalapeno, rolled in Doritos, finished off with a bell pepper stem to make the perfect festive appetizer. Just because Halloween is over, doesn't mean pumpkin season is. Make this for your next fall get together, and I promise you, it will be a hit!
I made this for a Thanksgiving appetizer a few years ago, and I have to tell you, when you show up with a cheese ball that looks like a pumpkin, people take notice 🙂 It's so creamy and taco flavors really pop well with the crushed Doritos. I find nothing better than combining Doritios and tacos, thank you Taco Bell! That's probably something a food blogger should never admit to, but we're all friends here, right?
Here's the recipe! It's fun and easy to make, and pretty darn tasty to eat.
Pumpkin Cheese Ball
Printable Recipe
Ingredients
16oz cream cheese, room temp
1 1/2 cups cheddar cheese
3 tbsp minced onion
2 tbsp salsa
1 tsp minced jalapeno
2 tsp ground cumin
2 cups Doritos, crumbled
top of 1 bell pepper for stem garnish
Directions
With a mixer, blend 16 ounces room-temperature cream cheese with 1 1/2 cups shredded cheddar, 3 tablespoons minced onion, 2 tablespoons salsa, 2 teaspoons ground cumin and 1 teaspoon minced jalapeno. Scoop onto plastic wrap and use the wrap to form the mixture into a 5-inch pumpkin-shaped ball; chill at least 2 hours. To serve, unwrap, roll in crushed nacho-flavored tortilla chips and press a bell pepper stem into the top.