I think this recipe is sort of a Midwest thing. I used to have it all the time growing up, but since moving out to the West Coast I haven't seen it once. Well, I've brought it with me and people over here sure are enjoying it. If you've never made this before I highly suggest it, and even if you have made it, you know how good it is, so make it again!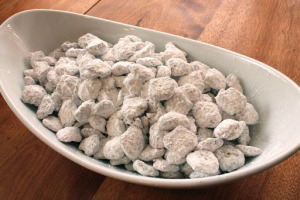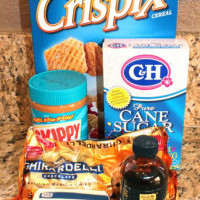 Get your ingredients together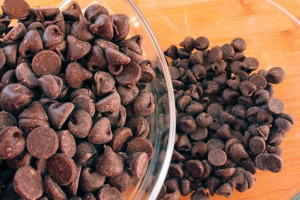 Get a bowl and add in the chocolate chips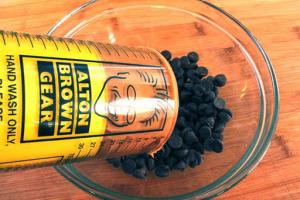 Have your AB Gear ready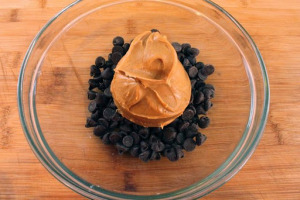 Add in the peanut butter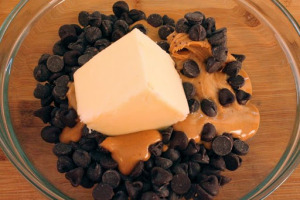 Throw in some butter for good measure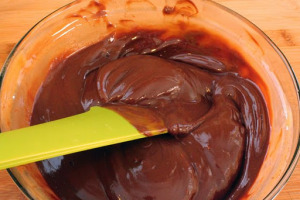 Microwave for a minute and mix til smooth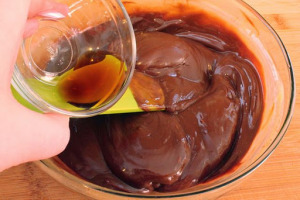 Add in some vanilla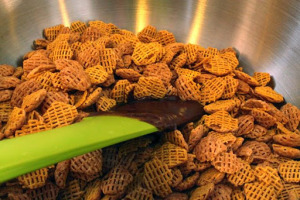 Now here comes the hard part, mix the chocolate into the Crispix without breaking them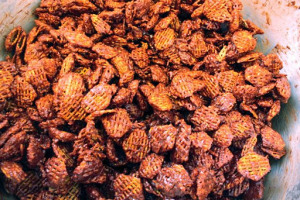 Until it looks something like this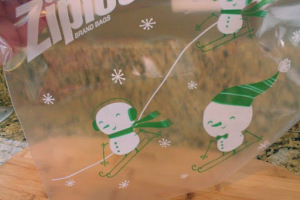 Get out your festive Ziploc bags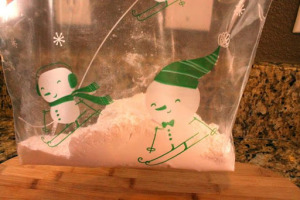 Add the powdered sugar in there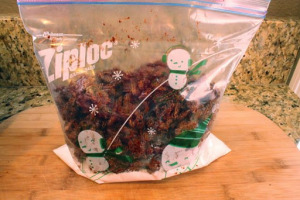 Then top that with the Crispix and Chocolate mixture, put on some good music and Shake it! You may need to do this in 2 batches.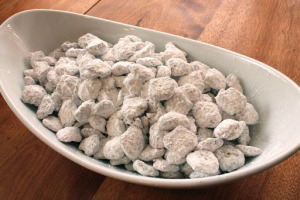 Put in a serving bowl and enjoy!
Puppy Chow
(Printable Recipe)
Ingredients
* 1/2 cup peanut butter
* 1/4 cup butter
* 1 cup chocolate chips
* 1/2 teaspoon vanilla
* 9 cups Crispix cereal (any flavor)
* 3 cups powdered sugar
Directions
Combine peanut butter, butter and chocolate chips in a microwave safe bowl.
Microwave for one minute then stir to blend all ingredients thoroughly. Add 1/2 teaspoon vanilla. Stir well.
Place the 9 cups of Crispix cereal in a very large bowl.
Pour the peanut butter-chocolate mixture over the cereal and toss evenly, making sure all the cereal gets a good covering.
Place the powdered sugar in a large zip-lock type plastic bag.
Add the peanut butter-chocolate cereal mixture to the bag, leaving enough room for the puppy chow to be shaken (you may have to divide the mixture into smaller batches, coating one batch at a time).
Shake the bag vigorously to evenly coat each piece of the puppy chow with powdered sugar.
Once the mixture is fully coated, place in a large serving bowl.
Coat any additional pieces by shaking the mixture in the powdered sugar filled bag. Add powdered sugar to the bag as needed until all the mixture is coated.