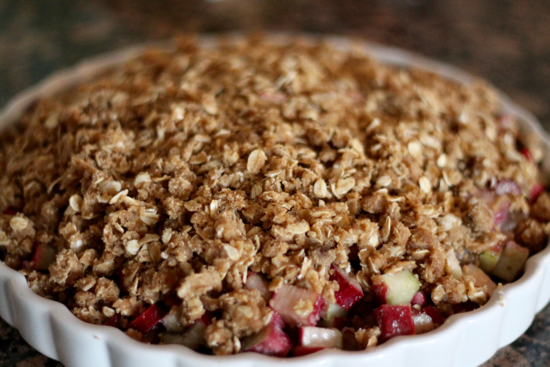 How was everyone's Memorial Day weekend? I love seeing our American flags flying high and honoring the significance of this great holiday.
Today I have the perfect summer dessert for all those parties we having coming up. Along with that, I also have a great solution for keeping all the fresh and delicious produce that's so abundant this time of year. I get so excited when I see all the produce, I sometimes go a little overboard. I don't think I'm alone here, but how many of you end up throwing half of them away because they spoiled too soon?  Did you know that more than 25% of the fresh fruits and vegetables purchased by U.S. consumers are wasted annually before being consumed? That equates to more than 226 pounds per the average U.S. family!
It's so frustrating going to the fridge to get a healthy snack only to be surprised with rotting food. For some reason I can never consume all of it fast enough, and unless I want to do multiple shopping trips a week, it's a problem. My compost pail is happy, but my tummy and wallet are not.  My besties over at OXO have a new solution for just that, their brand new GreenSavers!
Here's how they work.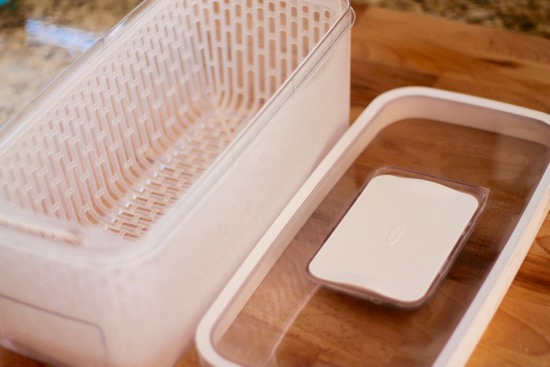 Here it is!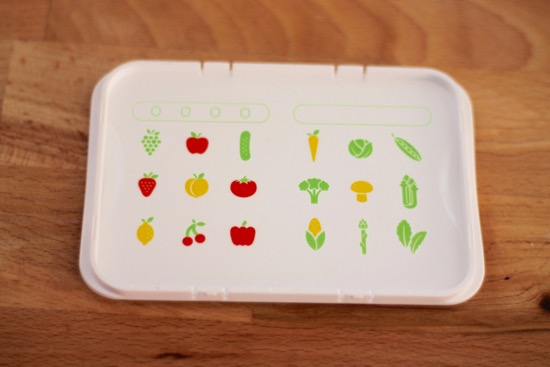 Here's the back of the vent cover to show you which foods to keep the vent open for and which ones to keep it closed for.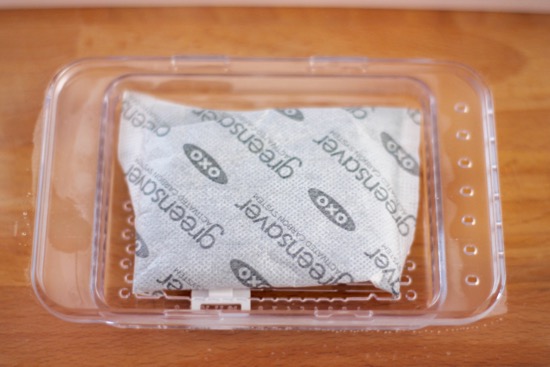 This is the activated carbon filter that traps and absorbs ethylene gas, slowing down the aging process and keeping produce fresh longer. The filters are made from coconut husks, making them safe, all-natural and non-toxic. LOVE!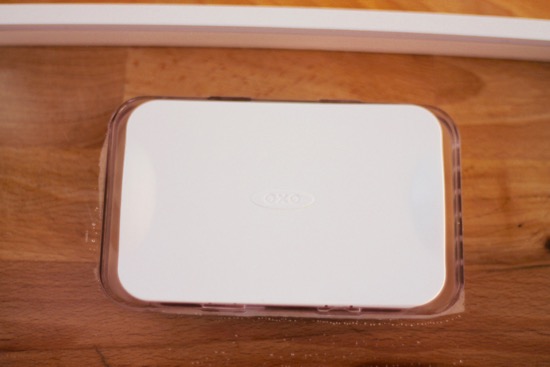 The vent cover pops off and on very easily.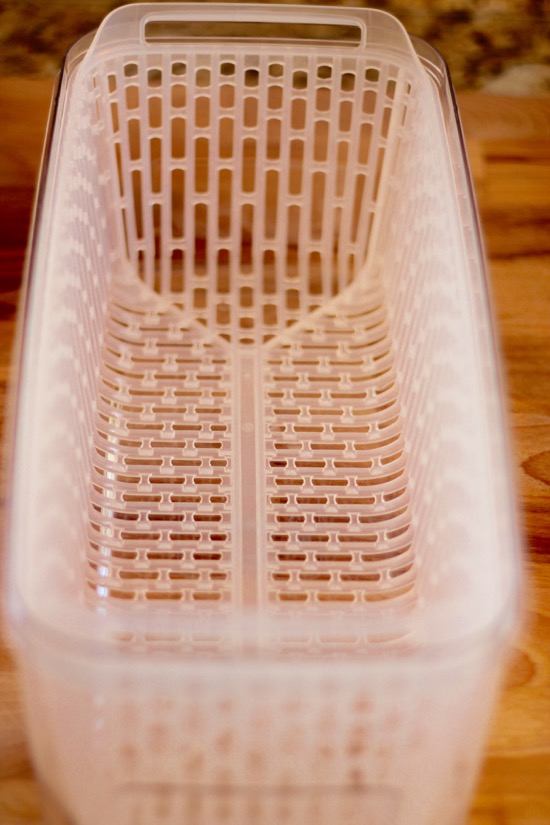 The removable basket is great for keeping the produce elevated and doubles perfectly as a colander.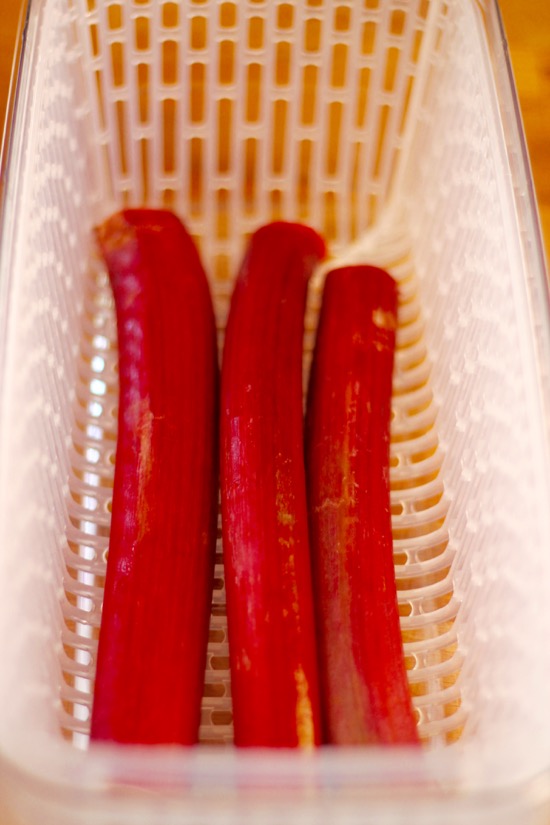 This size is perfect for rhubarb, eggplant, celery, carrots and whole leaf lettuce.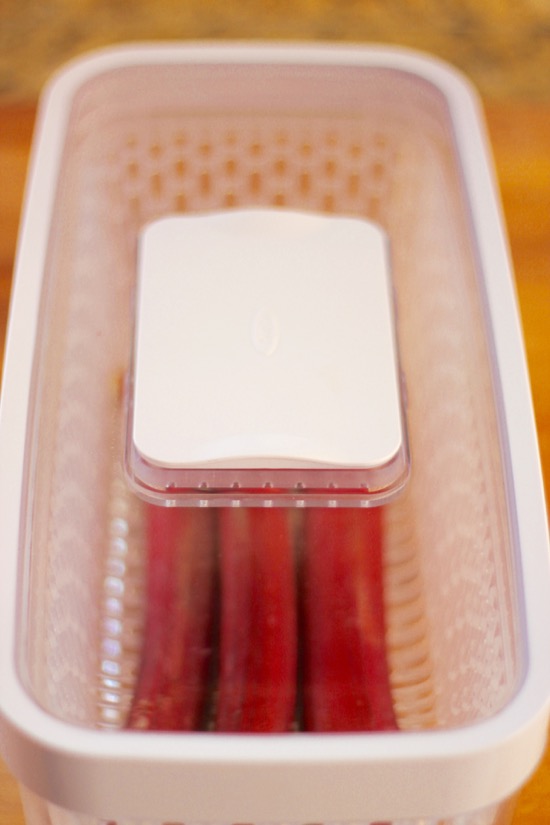 Pop the top right on, and for rhubarb, close the vent.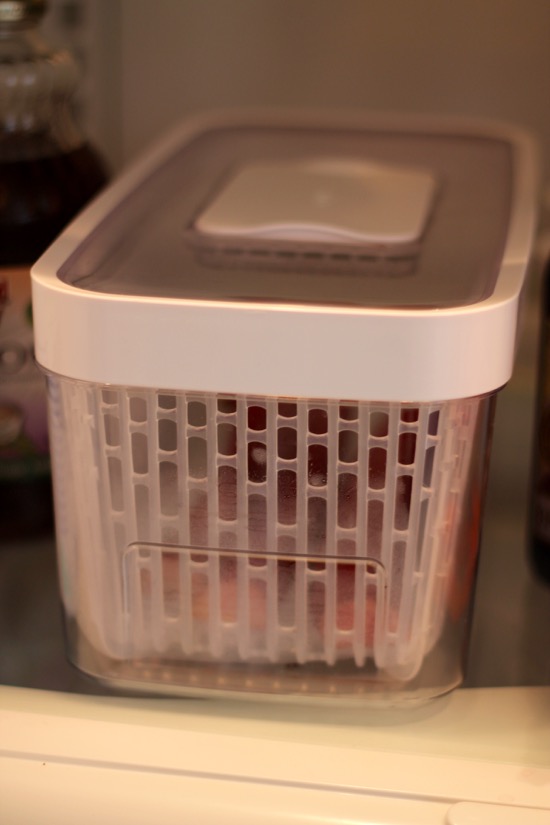 It stores perfectly in the fridge and looks gorgeous too! It works like a dream. My produce lasted so much longer in here than the drawers in my fridge.  They also have these awesome inserts that go right in those drawers as well. I'm going to be buying a lot more of these in my future. You guys are going to love them! What's also great is you can logon to greensaver.oxo.com after you purchase for for comprehensive information about how GreenSaver works, venting guidelines, activated carbon packet refill reminder, and more.
Melissa's produce is responsible for the delicious Rhubarb. It was so incredibly good! They have a 280,000 square feet warehouse of freshest fruits and vegetables. They're quality products with exceptional value. If you haven't already, check out their site. It's a foodie's heaven!
As soon as I found out I was getting rhubarb, I knew exactly what recipe I was going to make, my Mom's famous Rhubarb Crisp. My husband had never had rhubarb, gasp! We used to have rhubarb plants growing in the garden when I was a young pup and every summer we'd always have Rhubarb Crisp. Rhubarb is tart, but when you cook it down with some sugar it becomes sweet and mouth-watering. The husband approved of this recipe, despite his chocoholic tendencies. Let me show you how to make one of my favorite summer treats 🙂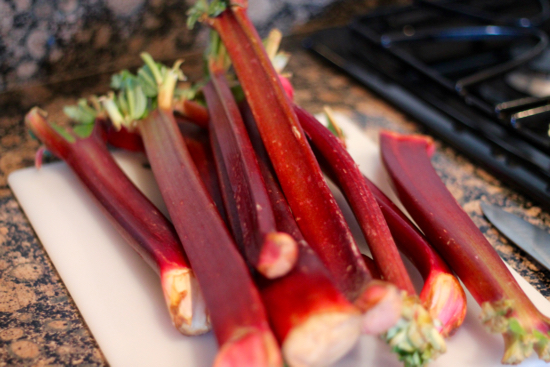 Chop up your Rhubarb into 1/2″ size pieces.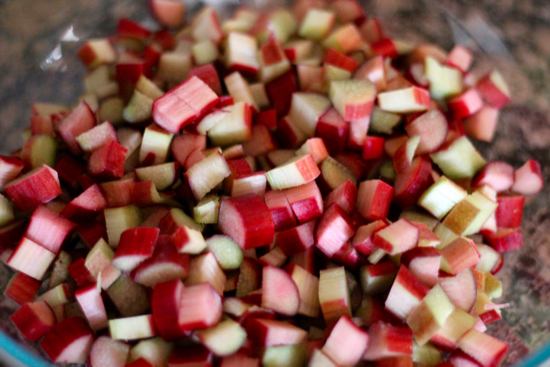 Place in a large bowl.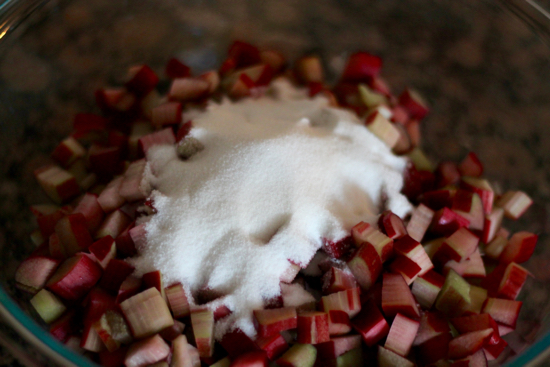 Add in sugar…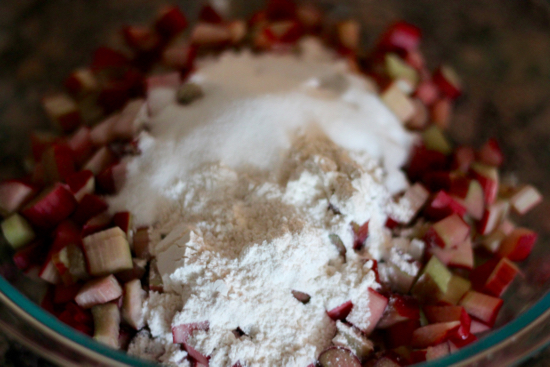 …and flour.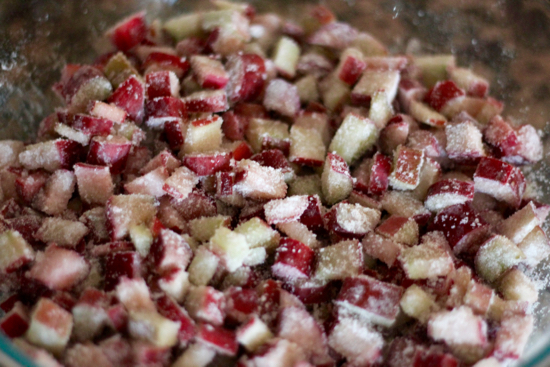 Mix it all together and set aside.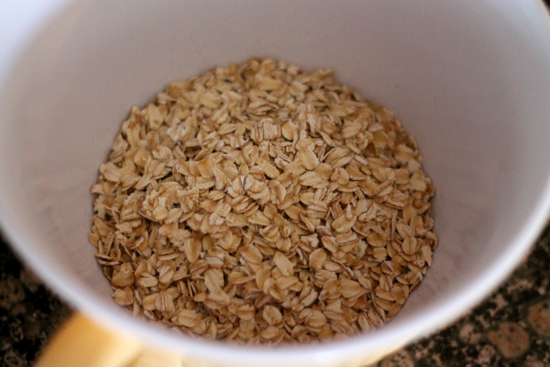 Now to make the crisp, this is where my mom takes crisp to a new level. The crisp goes on the top AND bottom! There can never be enough crisp, am I right? In a bowl, add in the rolled oats…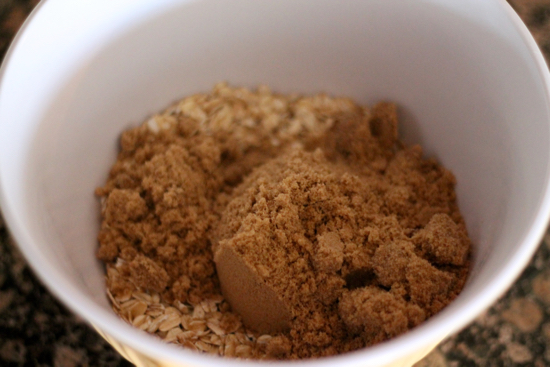 and brown sugar.
Next, add in the flour…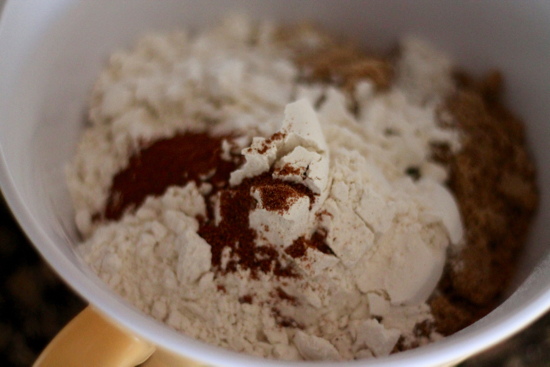 …nutmeg and cinnamon.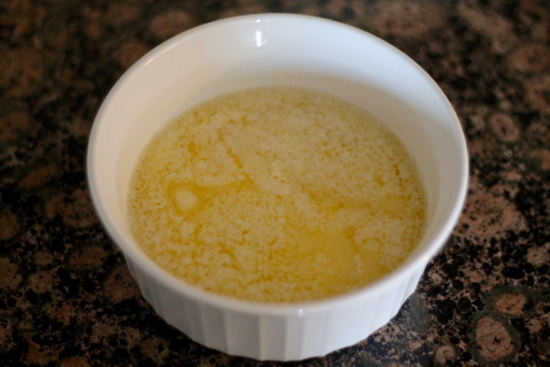 Get your melted butter ready.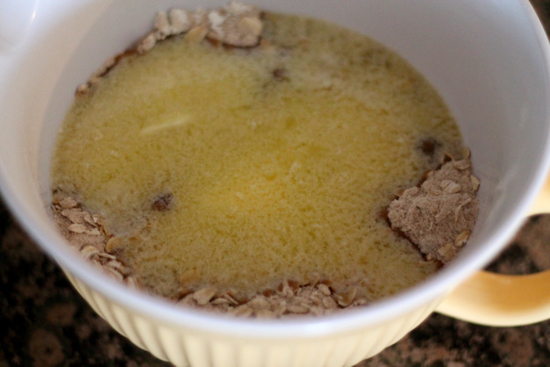 Pour that right over the other ingredients.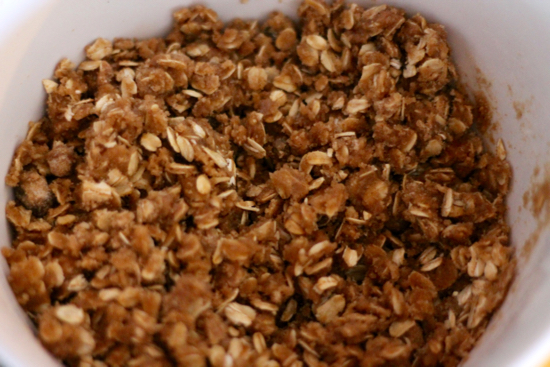 Mix until everything is combined. Pick off a few crumbles and give a taste, strictly for quality control purposes of course.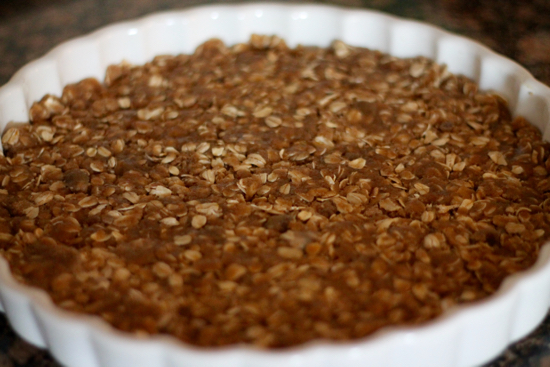 Pat half of the mixture into a round baking dish. My tart dish worked perfectly. Any 8″x 1 1/2″ dish will do.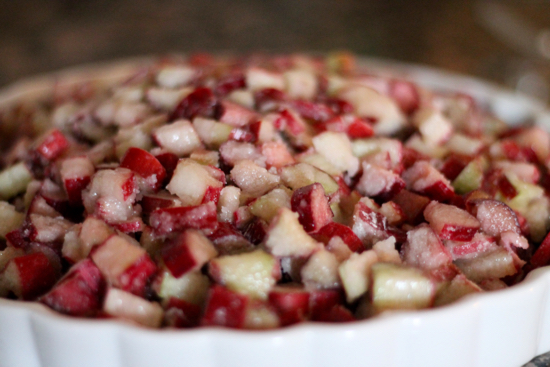 Now top the crisp crust with the rhubarb.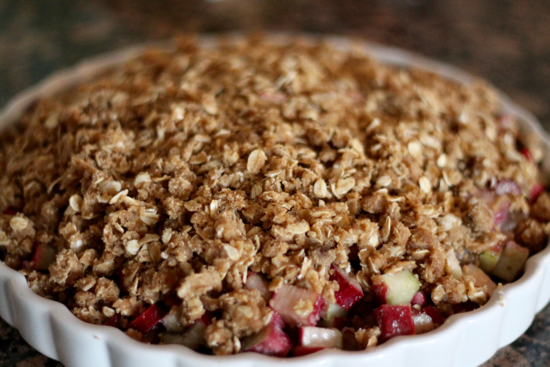 Finally, crumble the rest of the crisp right over the top. There are few things as beautiful in this world as this site!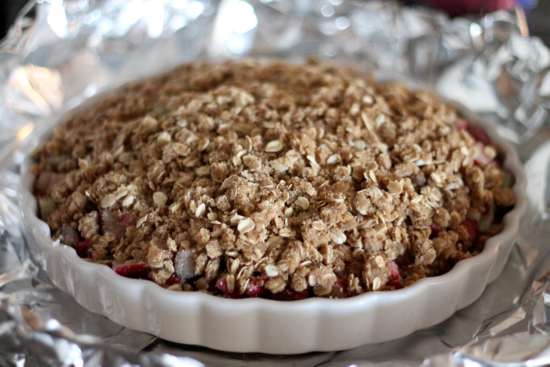 Place on a sheet pan, we lined it with aluminum foil for easy clean up. Bake at 350 for 50-60 minutes until rhubarb is soft and crumble is GBD (Golden, Brown and Delicious).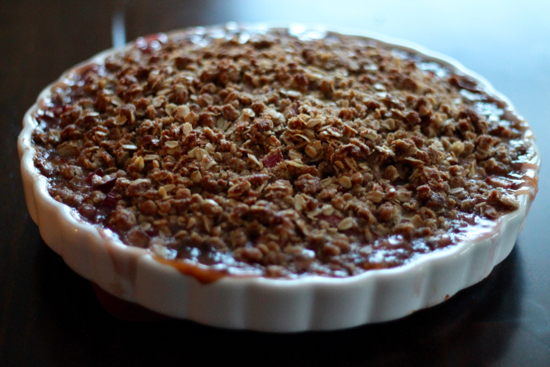 Devour immediately, if not sooner! I recommend topping this with a good quality vanilla bean ice cream. This is what summer dreams are made of my friends 🙂
Rhubarb Crisp
Author:
Sarah 'n Spice's Mom
Ingredients
For the Filling:
5 Cups Cubed Rhubarb
1 Cup Sugar
3 Tablespoons Flour
For the Crisp:
1½ Cups Rolled Oats
1½ Cups Brown Sugar
¾ Cup Flour
¼ Teaspoon Nutmeg
½ Teaspoon Cinnamon
¾ Cup Butter, melted
¾ Cup Chopped Walnuts
Instructions
Pre-heat oven to 350 degrees.
For the Filling: Place rhubarb, sugar and flour in a large bowl and stir to combine. Set filling aside.
For the Crisp: In a separate bowl add in the rolled oats, brown sugar, flour, nutmeg, cinnamon and melted butter and nuts. Mix together until everything is incorporated.
In an 8" x 1½" Round baking dish, press half of the crisp into the bottom.
Pour the rhubarb mixture right on top.
Sprinkle the remaining crisp right over rhubarb.
Place baking dish on a sheet pan lined it with aluminum foil for easy clean up. Bake for 50-60 minutes until rhubarb is soft and crumble is GBD (Golden, Brown and Delicious).
Devour immediately, if not sooner! I recommend topping this with a good quality vanilla bean ice cream.
I was sent a  OXO Green Saver and Melissa's Rhubarb to try and review. I was not compensated for this post and all opinions, as always, are my own.