Looking for something different for dinner or a weekend lunch…look no further! This pizza has so many flavors coming at you from every direction, but they work so well together. This is one of the most interesting yet best pizza's I've ever had. You might look at the ingredients and go…what? Trust me, you will enjoy it!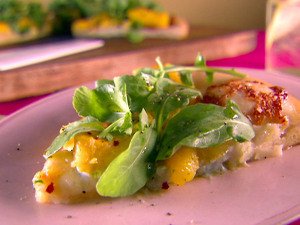 Roasted Acorn Squash and Gorgonzola Pizza
(Printable Recipe)
Ingredients
* 1 (1- pound) acorn squash
* 2 tablespoons maple syrup
* 1 tablespoon olive oil
* 1 teaspoon red pepper flakes
* 1/4 teaspoon salt, plus 1/4 teaspoon
* 1/4 teaspoon freshly ground black pepper, plus 1/4 teaspoon
* 1 pound pizza dough
* 1 cup shredded whole milk mozzarella
* 1/2 cup crumbled Gorgonzola
* 1 cup arugula
Directions
Preheat the oven to 375 degrees F.
Slice the squash in half from top to bottom. Scoop out the seeds. Slice the squash into 1/2 to 3/4-inch wide half moons and place in a medium bowl. Toss the squash with the syrup, olive oil, red pepper flakes, 1/4 teaspoon salt, and 1/4 teaspoon pepper. Place the squash on a parchment-lined baking sheet. Bake the squash until tender and golden, about 20 to 25 minutes.
Keep the temperature on the oven at 375 degrees F. Roll out the pizza dough on a flour dusted piece of parchment paper to a 13-inch diameter. Place the pizza and the parchment paper on a baking sheet. Sprinkle the mozzarella cheese and the Gorgonzola on the pizza dough. Bake in the oven until golden and cooked through, about 25 to 30 minutes.
Peel the skins off the squash. Top the cooked pizza with the cooked squash. Top with arugula and the remaining 1/4 teaspoon salt and pepper. Slice and serve.
Recipe and Photo Courtesy of FoodNetwork.com
Mmmm Mmmm Good!