I saw this episode of Everyday Italian and though it was very relevant…the episode is called "Penny Stretcher" and it had a lot of great ideas for leftovers and how to creatively use them to make new dishes. I loved this recipe cause it is very unique and I wouldn't think to use leftover chicken this way. My husband to be really enjoyed these, I'm sure you will too!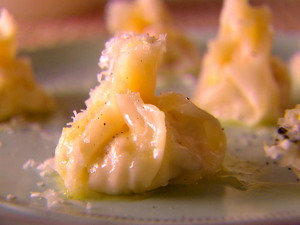 Roasted Chicken Purses
(Printable Recipe)
Ingredients
* 1 1/4 cup shredded roasted chicken (or any leftover chicken, light and/or dark meat)
* 3/4 cup whole milk ricotta cheese
* 1/2 lemon, zested
* 1/2 teaspoon chopped fresh thyme leaves
* 1/2 teaspoon salt, plus more for sprinkling
* 1/4 teaspoon freshly ground black pepper, plus more for sprinkling
* 32 small, square wonton wrappers
* 1 large egg, lightly beaten
* 4 tablespoons butter
* 1/4 cup grated Parmesan
Directions
In a small bowl combine the chicken, ricotta cheese, lemon zest, thyme, salt, and pepper. Stir to combine.
On a dry work surface place 8 wonton wrappers. Place a rounded teaspoon of the chicken mixture in the center of each wrapper. Using a pastry brush, brush the egg wash around the chicken mixture. Bring four corners of the wonton square together over the filling to form a purse. Press the edges together tightly to form a seal. Wipe the board with a towel until dry and continue making batches of 8 with the remaining wonton skins
Meanwhile, bring a large pot of salted water to a boil over high heat. Add
the purses and cook until they float to the surface, stirring occasionally, about 4 to 5 minutes. Drain the ravioli.
Melt 4 tablespoons of butter in a medium skillet. Turn off the heat, add the cooked pyramids and gently toss. Transfer the pyramids to 4 serving plates. Sprinkle with grated Parmesan and sprinkle with salt and pepper. Serve immediately.
Recipe and Photo Courtesy of FoodNetwork.com