If you haven't visited FoodGawker.com, do so. It's an amazingly visual feast for you eyes. Len is on here often. He picks his favorites and shows them to me to re-create in our home.
This was one of the only "non-desserts" he picked. As most of you know Len is a first and second dessert kind of guy every night. So to have him to pick out an actual dish for dinner was very welcomed 🙂 I changed up the recipe a bit and used Chorizo sausage instead of the hot Italian sausage it calls for. It was spicy and delicious. The next morning he also had it with some eggs. A very versatile dish!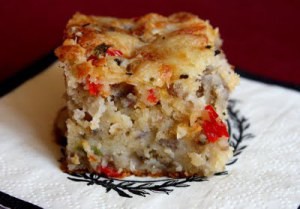 Sausage Cake
(Printable Recipe) 
Ingredients
* 1 pound of hot bulk sausage (or in my case, Chorizo)
* 1/2 cup of chopped onions
* 1 cup of chopped red bell peppers (I omitted both bell peppers since Len is not a fan)
* 1 cup of chopped green bell peppers
* 1/4 cup of grated Parmesan cheese
* 1/2 cup of grated pepper jack cheese
* 1 egg, beaten
* 1/4 teaspoon of Tabasco
* 1 1/2 teaspoons of a combination of salt, black pepper and garlic powder
* 2 cups of biscuit mix
* 3/4 cup of milk
* 1/4 cup of sour cream
Directions
Preheat the oven to 350 degrees.
Brown the sausage and vegetables in a skillet over medium heat.
Drain off excess oil. Add the cheeses, egg, hot sauce and seasoning mix.
Make a batter with the biscuit mix, milk and sour cream.
Gently fold the sausage mixture into the batter and put into a greased 9×9 inch baking tin.
Bake until light browned, about 45 minutes.
Remove from the oven and cool to room temperature. At this point, it can frozen for later use.
To serve, cut into squares.
Recipe and Photo courtesy of Elizabeth's Edible: Helpful Husband
Another recipe, in the same theme, I wanted to post up here is not a recipe I made but rather my charming fiance. He made these Sausage Balls for his brother's Christmas Party and they were gone fast! They are so easy to make!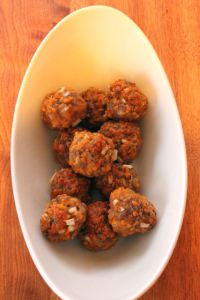 Sausage Balls
(Printable Recipe) 
Ingredients
* 2 pkgs. (16 oz. each) Regular Flavor Jimmy Dean Pork Sausage
* 1-1/2 cups all-purpose baking mix
* 16 oz. (4 cups) shredded sharp Cheddar cheese
* 1/2 cup finely chopped onion
* 1/2 cup finely chopped celery
* 2 teaspoons black pepper
* 2 teaspoons minced garlic (optional)…garlic is never an option in our home but rather a necessity
Directions
Preheat oven to 375 F. Combine all ingredients in a large mixing bowl; stir well. Form into 1" balls. Place on ungreased baking sheet; bake 18-20 minutes or until golden brown. Remove from oven; cool 5 minutes before removing from pan. Serve with cocktail forks or toothpicks.
Note:
May be prepared ahead and frozen uncooked. To bake from frozen: thaw on baking sheet 15 minutes; bake in preheated oven 20-25 minutes or until golden brown. Variation: for firmer texture, add 3 cups baking mix and 2 cups shredded cheese to the ingredients listed above.
Serving size:
Makes about 6 dozen; variation – 9 dozen
Recipe and Photo Courtesy of Jimmy Dean