Do you want a delicious, vegetarian, crunchy yet gooey and cheesy appetizer…of course you do, who doesn't 🙂 Give these a try for your next get together or a dinner side dish.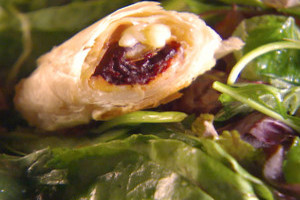 Smoked Mozzarella and Sun-dried Tomato Cigars
(Printable Recipe)
Ingredients
* 6 sheets phyllo dough
* 4 tablespoon butter, melted
* 8 ounces smoked mozzarella, sliced 1/4-inch thick
* 8 ounces sun-dried tomatoes, drained
* 1/2 cup extra-virgin olive oil
* 1/4 cup Prosecco
* 2 tablespoons cider vinegar
* 1 teaspoon kosher salt
* 1 teaspoon freshly ground black pepper
* 6 cups field greens
Directions
Preheat the oven to 325 degrees F.
Lay a sheet of phyllo dough on a clean dry work surface. Use a pastry brush to brush the phyllo sheet with melted butter. Fold the phyllo sheet in half lengthwise, resulting in a 12 by 8-inch rectangle. Brush the top of the phyllo with melted butter. Place a few slices of smoked mozzarella at a narrow end of the phyllo rectangle, leaving 1-inch on each side. Top the cheese with a few pieces of sun-dried tomatoes. Carefully roll up the phyllo dough into a cigar shape starting with the cheese and tomato end. About half way through the rolling, tuck in the 1-inch ends of the phyllo dough, and continue rolling. Place on a foil-lined baking sheet, seam side down, and brush the top with butter. Continue rolling the 5 remaining cigars. Bake until golden, about 25 to 30 minutes.
Meanwhile, in a small ball jar or in a plastic container with a tight-fitting lid combine the extra-virgin olive oil, Proseco, cider vinegar, salt, and pepper. Shake well. Toss the Proseco vinaigrette with the field greens. Place the dressed greens on a serving platter or on individual serving plates.
Slice the cigars into 2-inch pieces. Place atop the dressed field greens. Serve immediately.
The baked cigars are about 1 1/2 inches in diameter. The flavor is great. YUM!!
Recipe and Photo Courtesy of FoodNetwork.com