At the request of some of my friends and my future husband, I have decided to add some of my favorite recipes that are not from Good Eats on this new page. I've been making some fun things and I wanted to share them with you all!
First up…Cake Balls!
These delicious little balls were a huge hit at our friends Hanukkah party. They're so simple to make and are sure to please just about everyone.
I got this idea from one of my favorite blogs Bakerella. She has the cutest baking ideas I've ever seen! They are super easy to make and you can even use boxed cake mix and frosting from the grocery store just to make things easier. But if you want to make them really, really, really good, use Paula Deen's recipe (the queen of Red Velvet as far as I'm concerned!) for Red Velvet Cake and Cream Cheese Frosting.
Red Velvet Cake Balls
(Printable Recipe)
Ingredients
* 1 box red velvet cake mix (cook as directed on box for 13 X 9 cake)
* 1 can cream cheese frosting (16 oz.)
* 1 package chocolate bark (regular or white chocolate)
* wax paper
Directions
1. After cake is cooked and cooled completely, crumble into large bowl.
2. Mix thoroughly with 1 can cream cheese frosting. (It may be easier to use fingers to mix together, but be warned it will get messy.)
3. Roll mixture into quarter size balls and lay on cookie sheet. (Should make 45-50. You can get even more if you use a mini ice cream scooper, but I like to hand roll them.)
4. Chill for several hours. (You can speed this up by putting in the freezer.)
5. Melt chocolate in microwave per directions on package.
6. Roll balls in chocolate and lay on wax paper until firm. (Use a spoon to dip and roll in chocolate and then tap off extra.)
I also only melt a few pieces of chocolate bark at a time because it starts to cool and thicken. It's easier to work with when it's hot.
Recipe and Photo Courtesy of Bakerella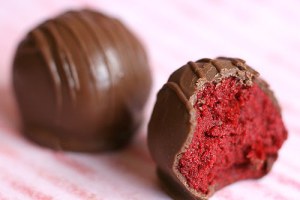 Next Santa Hat Cake Pops!
These are also from Bakerella. I brought these as a gift to our friends Vince and Julia for Christmas. They turned out really cute. It takes more time and requires patience, but the result was well worth it.
It is the same recipe as above except this time I made it with a Chocolate cake instead of Red Velvet, I still used the Cream Cheese Frosting. For the decorating you will need a few more things…You can find all of these at any Craft Store.
Hats: Red Candy Melts and White Candy Melts
Fur: White Sugar Crystal Sprinkles
Tops: White Chocolate Chips
Paper Lollipop Sticks and Styrofoam Block
Make the Hats: Make a cone shape instead of a ball. Put in the freezer until firm. Then, holding the top part of the hat, dip the bottoms in white candy melts, insert the lollipop stick and set in a Styrofoam block to dry. Once dry, dip the tops in red candy melts so that it meets where the white ends. Gently place the balls to the top of the hat while still wet. Let them dry. Then, use a toothpick to generously dab more white candy melts all around the bottom of the hat. While still wet, sprinkle the sugar crystals on.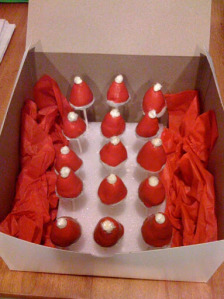 So come back here for more fun recipes. I will put a link at the top of my Good Eats Page. Happy New Year!