I saw this picture a while ago on Pinterest and knew I had to make it. It is what dreams are made of. Filled with delicious meat, salty olives, creamy cheese all stuffed into a crusty piece of bread. Thank you Baking Obsession for bringing this into my life! It looks kind of complicated, hollowing out the bread and all, but it's surprisingly easy. You will impress the socks off your friends and family. Make this right now, if not sooner!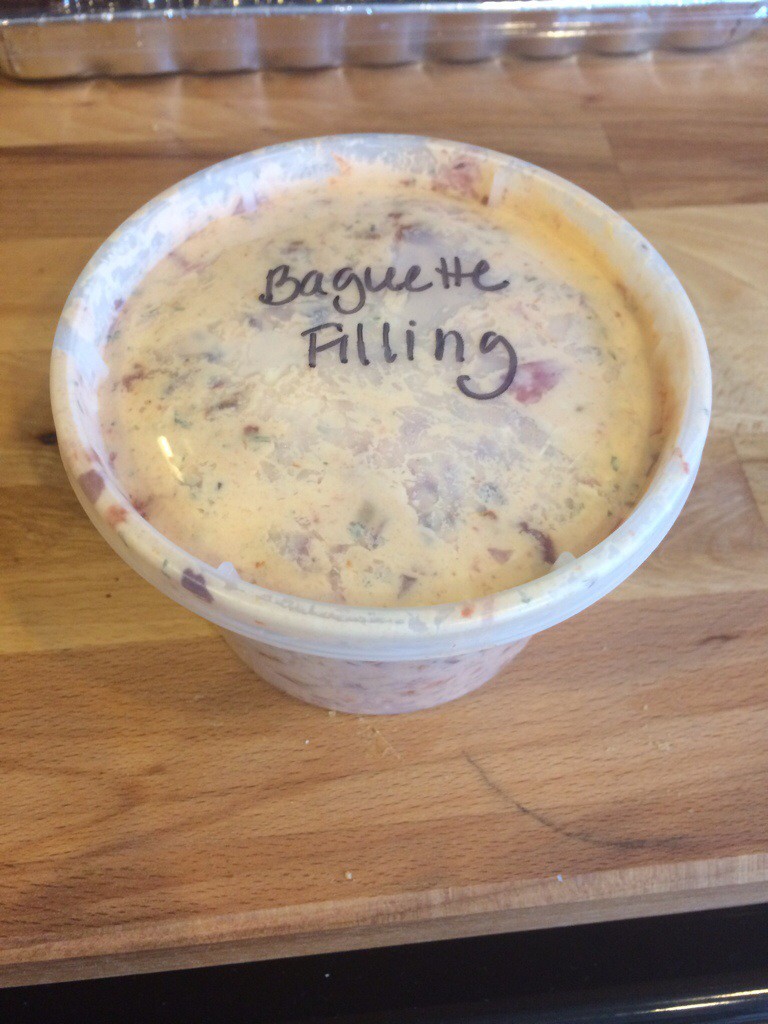 You can make the filling ahead of time and pop in the fridge.
Whenever I try to make the filling a day ahead of time, there's always mysteriously less than what I started with 😉
Makes one 12-inch long baguette; about 24 slices
Ingredients
Long Baguette
8 oz cream cheese, at room temperature
4 oz fresh goat cheese
1 garlic clove, minced or 1 tsp of garlic powder
½ cup chopped sun dried tomatoes in olive oil
¼ cup chopped Kalamata olives
3 oz thinly sliced salami
2 tbsp chopped Italian parsley
1 tsp chopped fresh thyme or 1/4 tsp of dry thyme
Freshly ground black pepper
Salt to taste only if needed
Directions
Slice off both ends of the baguette. Using a long spoon and begin scooping out the bread filling.
Using an electric mixer beat the cream cheese until smooth. Add in the goat cheese, mix until smooth. Add in rest of ingredients.
Working from the both ends, you can use a gallon sized zip top bag and cut off the corner and pipe it in, or fill with a spoon. Pack it nice and tight. I use a shot glass for pressing it down. Wrap the stuffed baguette very well in plastic and refrigerate for at least two hours and up to two days. Right before serving, slice the baguette into ½-inch thick slices and serve. For the most neat looking slices, treat it as a cheesecake – each time slice it with a hot dry knife.