It's not easy to get an appetizing picture of Chicken Stroganoff. Not the prettiest of dishes, but absolutely tasty and incredibly easy. The Hubby requests this often and we make it about once a month in our house. I love Crock-Pot recipes for summer so you don't have to heat up your whole house, and who doesn't love to come home to dinner already made. Prepare yourself for one of the easiest recipes you'll ever make.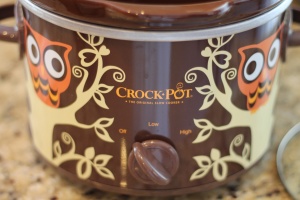 Oh, and here's a picture of my Crock-Pot, just cause I think it's cute!
Crock-Pot Chicken Stroganoff
Ingredients
1lb Chicken Breasts (can be frozen, thawed, whole, cut up, any which way…I've done all of these and it turns out every time)
16oz Container of Sour Cream (full fat, light or fat-free…I've tried all three and they're all great)
1 can of cream of mushroom soup (again any kind)
1 packet of onion soup mix
Directions
Place all ingredients in Crock-Pot and cook on low for 6-8 hours.
That's it. Super Easy! I say 6-8 hours because the cooking time is very forgiving. I got stuck at work late one day and it cooked for 10 hours, it was still good. This makes about 4 servings. Throw it on top of noodles or rice and you've got a wonderful weeknight meal.
What are some of your favorite go to recipes? Do you like using your Crock-Pot? What's one of the easiest dishes you make?