This "Ramen Burger" has been a unique food trend for a little while now, and when I saw it (being a ramen and burger lover) I knew I had to give it a try! Here's how you recreate one at home yourself.
Ingredients
1 package ramen noodles
2 eggs, divided
2 tablespoons canola oil
1 tablespoon ketchup
1/2 tablespoon sriracha
1 beef burger patty
Soy sauce
Sesame oil
1 slice Cheddar Cheese
1 scallion, thinly sliced on the bias
1/2 cup arugula
Directions
Cook the ramen according to the directions on the package (including the seasoning), then drain off the liquid. I used beef ramen to keep the company of the beef patty. Let cool to room temperature. In a small mixing bowl, whisk 1 egg until no streaks of yolk remain. Add the ramen, tossing thoroughly to coat with the egg. Divide the egg-dressed ramen into two portions, and place each half into a ramekin.
Cover the ramen with plastic wrap, and weigh it down with a can of soup to compress it into a bun shape. Refrigerate for at least 15 minutes.
Add the oil to a skillet, and set over medium-high heat. Once the oil begins to shimmer, unmold the ramen buns into the pan, and cook until the bottom is a dark golden brown. Flip both of the patties, and cook until a dark golden brown on both sides.
Whisk together the sriracha and ketchup in a small bowl. You can make a little extra of this is you're serving french fries or tater tots like I did.
Season the hamburger patty with salt, pepper, a splash of soy sauce, and sesame oil. Wipe out the skillet, and cook the burger over medium-high heat until medium rare, or to your preferred degree of doneness. Finish with a splash of soy sauce and sesame oil. Top with a slice of cheese.
Wipe out the skillet, and lower the heat to medium. Add 1 tablespoon of oil to the pan, and fry 1 egg sunny side up.
Assemble the burger in this order: ramen bun, arugula, ketchup, burger patty (cheese side up), fried egg, scallions, and the second ramen bun. Wrap in wax paper for easier eating, and serve hot.
Here's a video so you can see how it's made in action.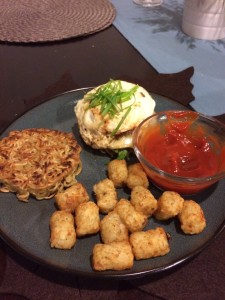 Forgive me in advance for this photo. It was taken with my cell phone in a dark kitchen. This burger disappeared so fast there were no opportunities to take any others…not always a bad thing 🙂
Are there any food trends you're in love with or so over? Let me know what you think!