I was looking for a quick and easy weeknight dinner that was healthy, but made me feel like I wasn't necessarily eating healthy. I love pasta, and how can you make that healthy? This recipe, that's how. It's just a couple ingredients and takes a few minutes to make. You feel like you're eating pasta without the heavy high carb sluggish feeling after. Perfect for summer! (And your swimsuit will thank you 😉 )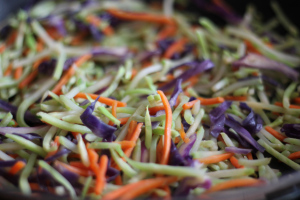 Pour a bag of broccoli slaw in a pan on medium-high heat with a 1/4 cup of water. Cook for 5-8 minutes until slightly soft.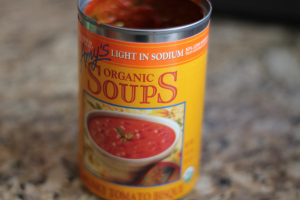 Add a cup of Amy's Chunky Tomato Bisque Soup.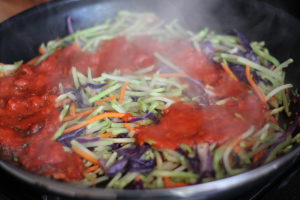 Also add in garlic, onion powder, salt, pepper, red pepper flakes.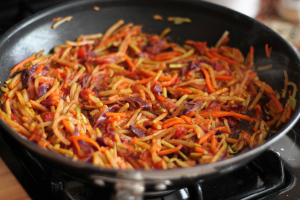 And 2 Tbsp of Parmesan, cook another 3-4 minutes and you're done!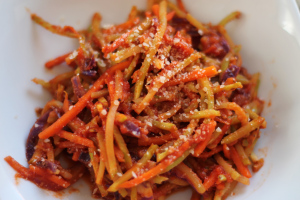 Add a little more parmesan on top.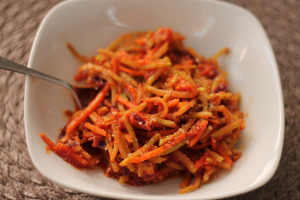 Enjoy!
Also tastes great the next day and doesn't get soggy.
Broccoli Slaw Pasta
Ingredients
One 12-oz. bag (4 cups) dry broccoli cole slaw
1 cup low-fat creamy tomato soup (like Amy's Chunky Tomato Bisque) or canned crushed tomatoes
1 tsp. chopped garlic, or more to taste
Dash onion powder, or more to taste
Dash each salt and black pepper, or more to taste
Dash crushed red pepper, or more to taste
3 tbsp. Parmesan, divided
Instructions
Bring a skillet sprayed with nonstick spray to medium-high heat on the stove. Add slaw and ¼ cup water. Stirring occasionally, cook until water has evaporated and slaw has softened slightly, about 5 - 8 minutes.
Add soup/tomatoes, garlic, spices, and 2 tbsp. Parmesan. Stir and continue to cook until hot, about 3 - 4 minutes.
Season to taste with additional spices, if you like. Top with remaining 1 tbsp. grated Parmesan.
MAKES 2 SERVINGS