Hi All! Sorry about the lack of posts lately! I will try to stay on top of this blog while planning our wedding now that things have slowed down a little bit 🙂
The Genius (aka Len my fiance) had a serious days work on the 24th…18 hours in fact with the new iPhone launch, which by the way is amazing! And for those of you out there that think I get the hook up for knowing one of these fine Genius', false! I was out in line at 4 am on launch day to pick up my own!
So anyway, I wanted him to come home to a nice filling meal and then go straight to bed. We LOVE Indian food and can't seem to get enough of it, but I will admit it's mostly in restaurants or the frozen Trader Joe's kind. While checking out my favorite blogs I came across this gem of a dish and knew it would be the perfect comfort food he would need! I've never made Indian food before so I was a little nervous, but the end product was incredible. I even caught the Genius having it for a very late second dinner on a few occasions 😉 Give this recipe a try, but be aware, you must like spicy foods to enjoy this one, if not, cut back on the Cayenne…A LOT!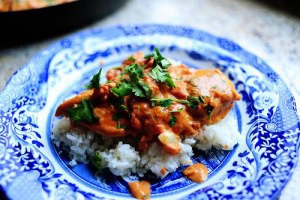 Butter Chicken
(Printable Recipe) 
Ingredients
• 4 pieces Boneless Skinless Chicken Breasts (cut Into Bite Sized Pieces)
• 5 cloves Garlic, Minced
• 1 teaspoon Salt
• ½ teaspoons Black Pepper
• ½ teaspoons Cayenne Pepper
• ¼ teaspoons Ground Coriander
• ¼ teaspoons Cumin
• ¼ teaspoons Cardamom
• 1 whole Lime, Juiced
• 1 whole Onion, Diced
• ¼ cups Butter
• 1 can (14.5 Oz. Can) Tomato Sauce
• 1 can (14.5 Oz. Can) Petite Diced Tomatoes
• 1 pint Whipping Cream
• 1 bunch Chopped Cilantro, to taste
• 2 cups Basmati Rice (or However Much You Want)
Directions
Combine first 9 ingredients and marinate overnight.
Saute the onion in the butter until soft. Add marinated chicken and cook about 10 minutes. Add the tomato sauce and diced tomatoes. Cook for 30 minutes over medium-low heat with the lid on. Add the whipping cream (I have used light cream or half-and-half also) and cilantro just before serving over Basmati rice.
Note: this is a little spicy, but you can cut back on the cayenne if you want.
Photography and Recipe Courtesy of Tasty Kitchen/The Pioneer Woman