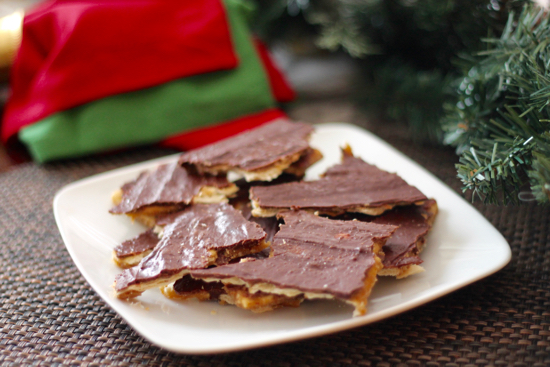 Christmas is Friday! Where has 2015 gone?  Is everyone ready? I can finally say with full certainty that I am. The last few weeks we've had full schedules, but everything has fallen into place nicely 🙂 I am currently prepping as much as I possibly can for the big day. We have quite the menu prepared. It's been a long time since I've had the chance to plan and cook the meal, and I couldn't be more excited! You'll be seeing those recipes on the old blog here shortly.
Until then…here is my new favorite Christmas treat, Christmas Crack! Not the best name, but oh is it good. It's sweet and salty and takes about 15 minutes to make. It's a Chocolate Saltine Toffee, what's not to love? It's a nice change of pace from the traditional Christmas cookies. This stuff didn't last a day in our house. I also handed out bags to my friends and they LOVED it!
You still have time to make this addictive Christmas treat, and I'm guessing you already have the ingredients on hand in your pantry. So, do it…do it now and don't argue.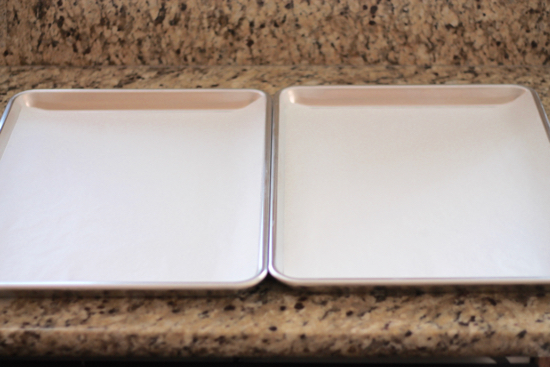 Pre-heat oven to 350 degrees. Get a couple of half sheet pans and line them with parchment paper. I doubled the recipe, so I needed 2 pans.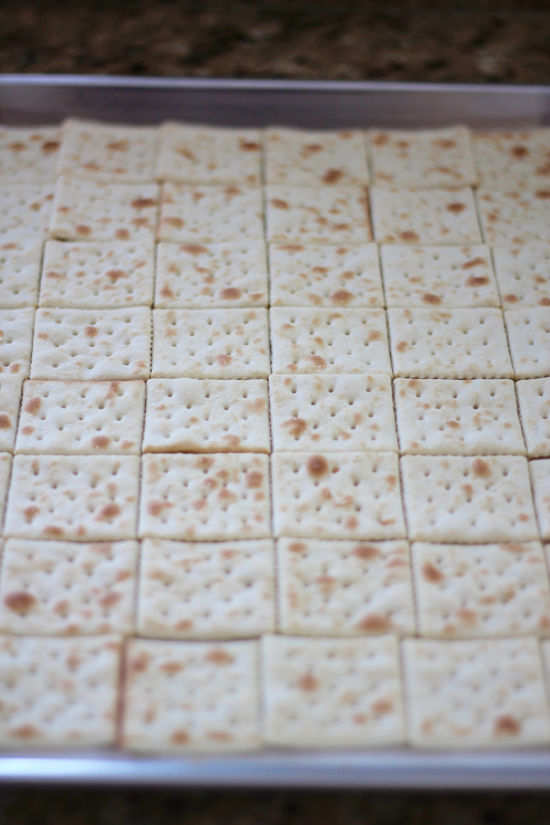 Line up the crackers side by side over the entire pan making sure there's no leftover space. This will be a little more than 1 sleeve.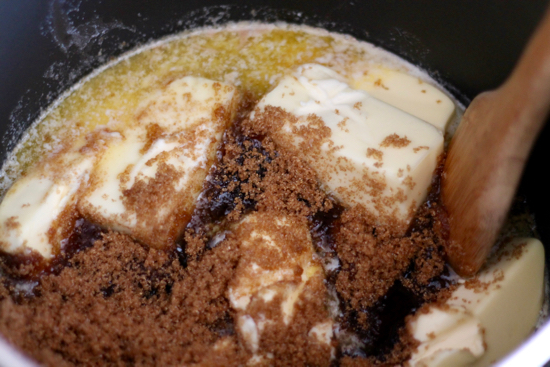 Melt the butter and sugar in a sauce pan and bring to a boil. Turn heat down to medium low and continue cooking another 5-7 minutes until sugar is melted and mixture thickens. Be careful not to burn it.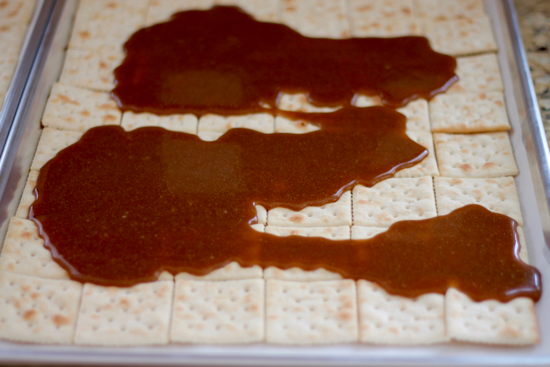 Pour the mixture over the crackers.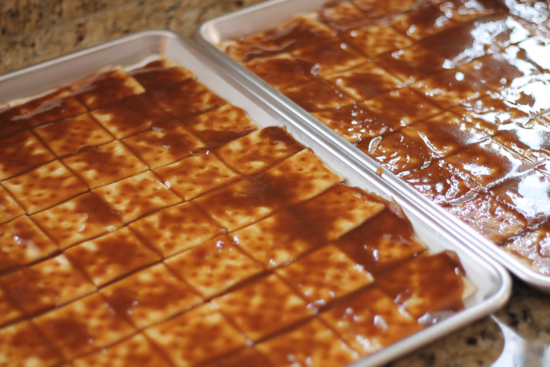 Spread evenly over the entire pan. Bake in the oven for 7 minutes.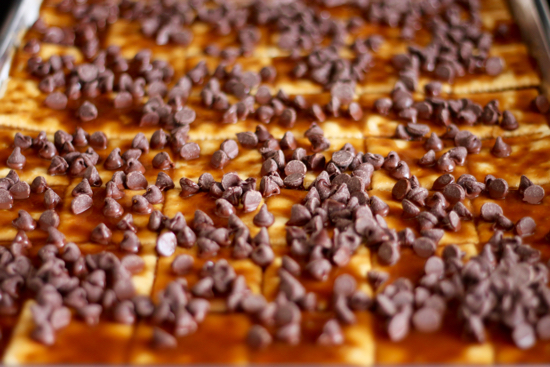 Remove and immediately sprinkle on the chocolate chips. The residual heat will help melt the chocolate chips.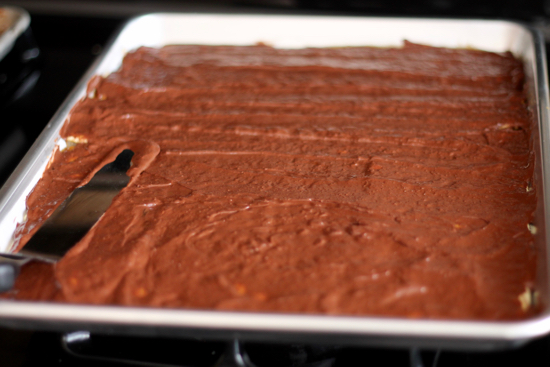 Spread the melted chocolate evenly over the pan.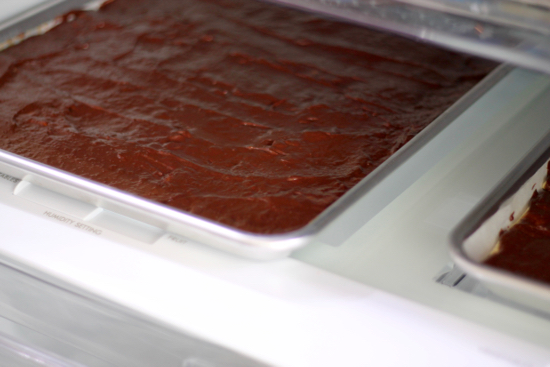 Refrigerate for at least an hour.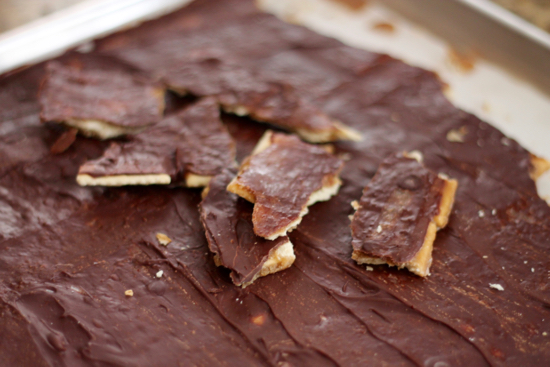 Once it has hardened, pull out of the fridge and break off pieces. They don't have to be uniform. Just let the pieces break where they may.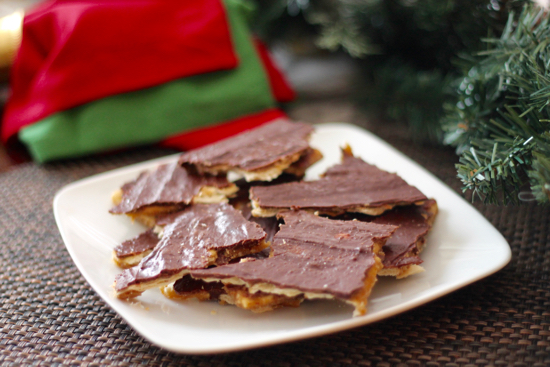 Store in an airtight container for 1 week…if it lasts that long 😉
Wishing you all a Merry Christmas!
XO, Sarah
Christmas Crack
You can easily double or triple the recipe and use multiple pans. More Christmas Crack = More Happiness 🙂
Ingredients
40-50 Saltine crackers (a little more than 1 sleeve, depending on the exact size of your pan)
1 cup butter
1 cup brown sugar
1½ cups chocolate chips
Instructions
Pre-heat oven to 350 degrees.
Line a sheet pan with parchment paper.
Line up the crackers side by side over the entire pan making sure there's no leftover space. This will be a little more than 1 sleeve.
Melt the butter and sugar in a sauce pan and bring to a boil. Turn heat down to medium low and continue cooking another 5-7 minutes until sugar is melted and mixture thickens. Be careful not to burn it. Pour the mixture over the crackers and spread evenly over the entire pan.
Bake in the oven for 7 minutes.
Remove from the oven and immediately sprinkle on chocolate chips. The residual heat will help melt the chocolate chips. Spread the melted chocolate evenly over the pan. Refrigerate for at least an hour.
Once it has hardened, pull out of the fridge and break off pieces. Store in an airtight container for 1 week...if it lasts that long 😉