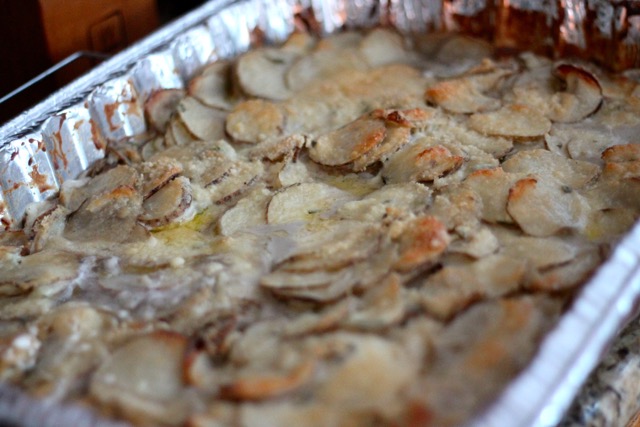 This might be my favorite side dish! Sliced potatoes with sautéed garlic and onions in a creamy cheesy sauce topped with fresh rosemary, YES PLEASE! I made this over the weekend for a Christmas Party at my brother-in-law's house. He had over 100 people in attendance! All the food was delicious and by the end of the night these potatoes were gone. I more than doubled the original recipe and that didn't seem to slow down the disappearing act. This would be perfect for your Christmas table or any table where you want an amazing side dish. Just don't forget to invite me over 😉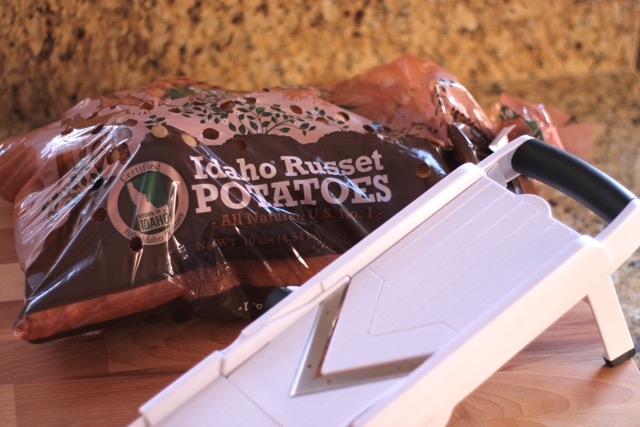 Ready your potatoes and madoline. Cut the potatoes into thin slices. You could use a sharp knife as well, but the mandoline will save time. I'm in love with this one.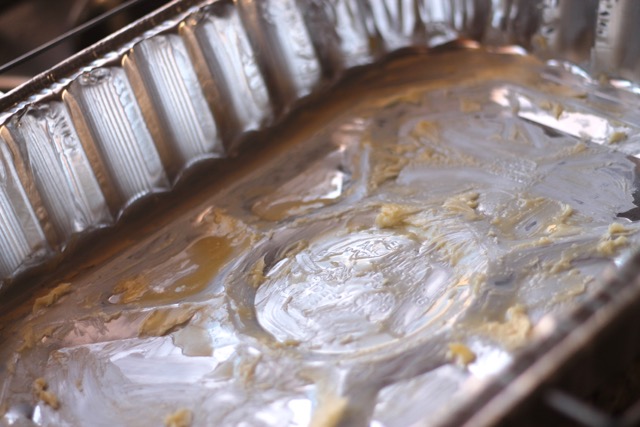 Rub the bottom of your dish with butter.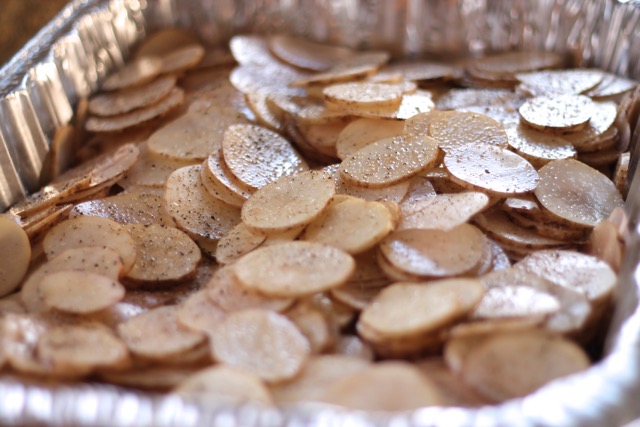 Add in your potatoes and sprinkle with salt and pepper.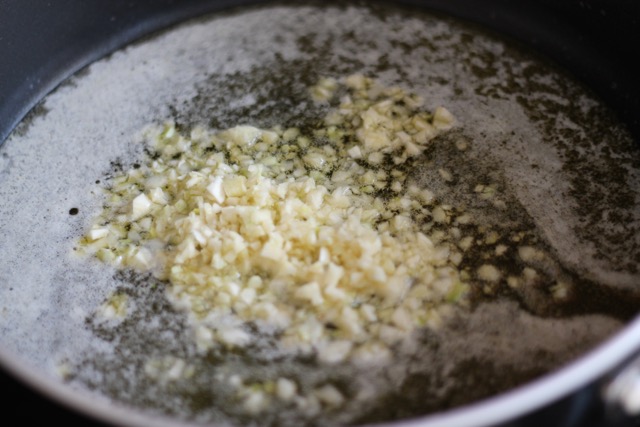 Melt some butter and saute garlic…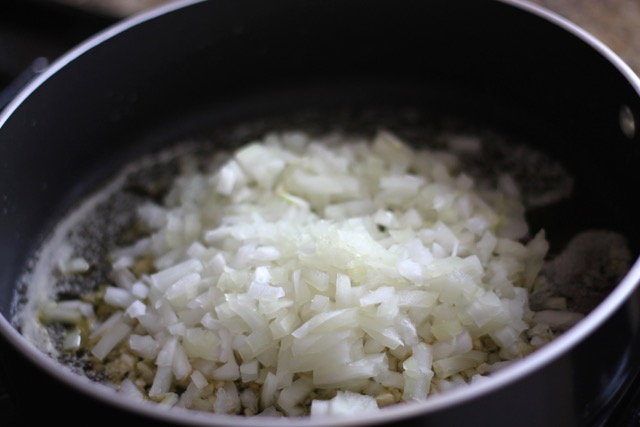 and onions.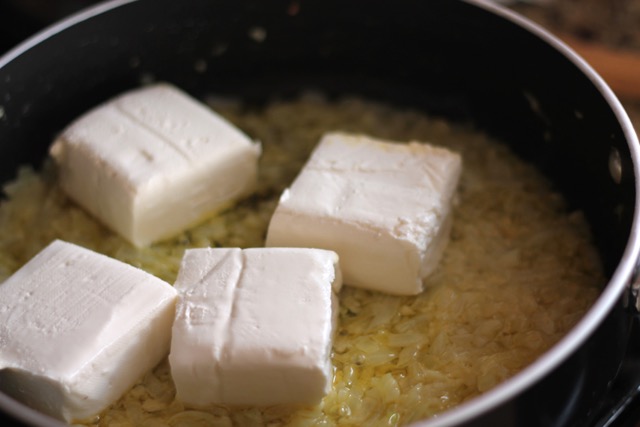 This is where it get's real serious. Add in the softened cream cheese.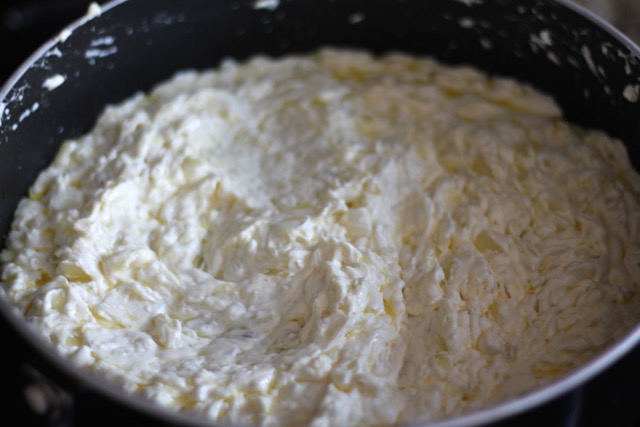 Stir until it has melted into the onions and garlic. It smells heavenly!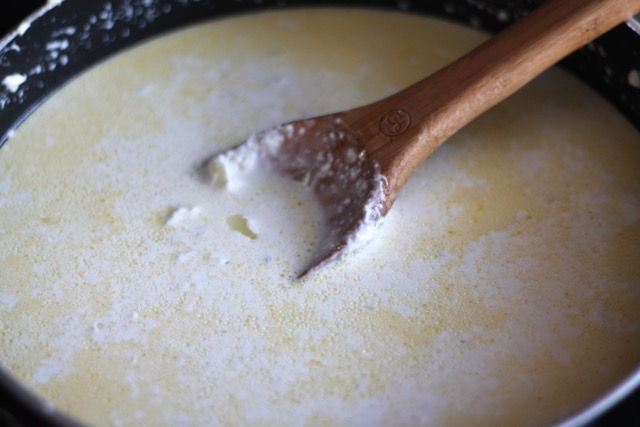 Pour in heavy cream and half-and-half. I never said this was a healthy dish.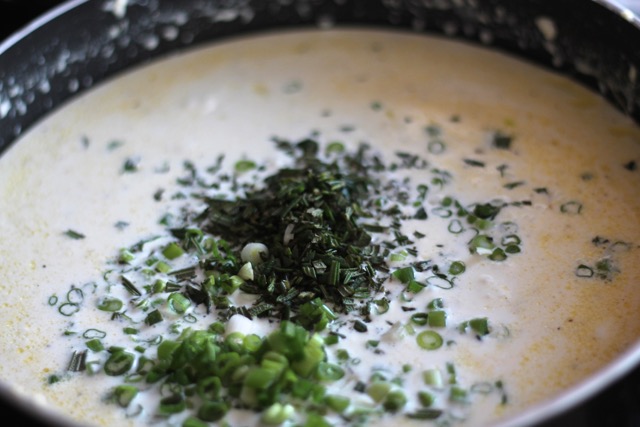 Sprinkle in sliced green onion and rosemary.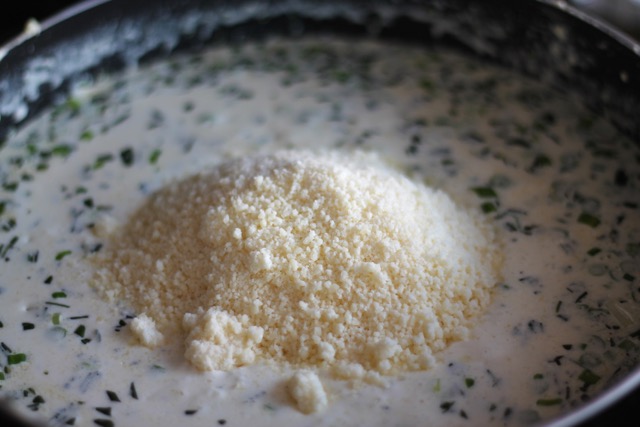 Then add some A LOT of parmesan cheese.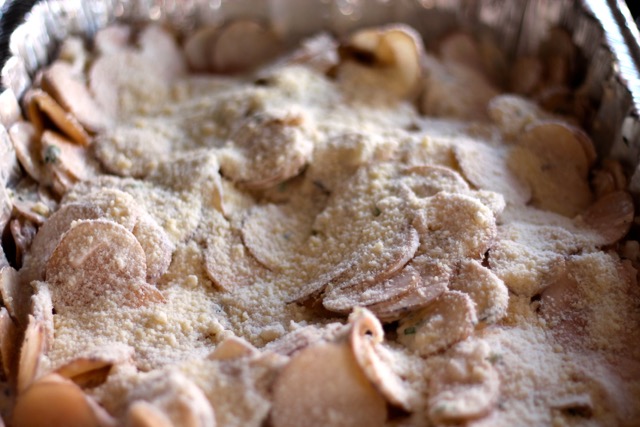 Pour this creamy mixture all over the potatoes and sprinkle on some more parmesan cheese.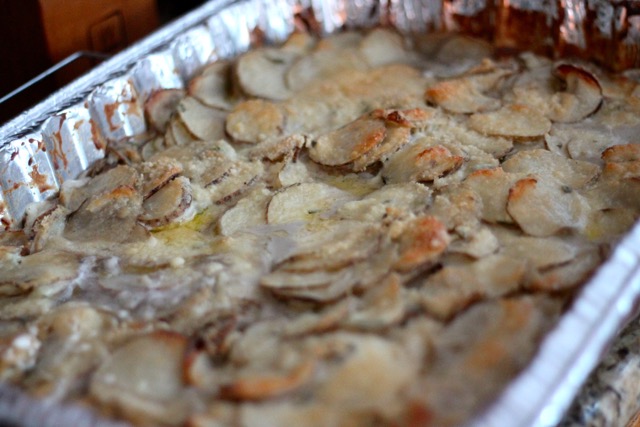 Bake for at least an hour. I ended up baking these for an hour at my house, and another 30 minutes at my parents house before heading over to the party.
Creamy Rosemary Potatoes
Ingredients
4 tablespoons (1/2 stick) butter, plus softened butter, for the baking dish
5 to 6 medium russet potatoes
1 teaspoon salt, or to taste
Freshly ground black pepper
4 cloves garlic, finely chopped
1 medium onion, finely diced
One 8-ounce package cream cheese, at room temperature
¾ cup half-and-half
½ cup heavy cream
2 tablespoons minced fresh rosemary
3 green onions, light green and medium green parts, thinly sliced
1 cup grated Parmesan
Instructions
Preheat the oven to 350 degrees F. Rub the bottom of a 9-by-13-inch baking dish with softened butter.
Using a mandoline or a very sharp knife, thinly slice the potatoes.
Place the potatoes in the baking dish and sprinkle with ½ teaspoon salt and pepper.
In a large skillet over medium-low heat, melt the butter. Add the garlic and onions and cook until translucent. Cut the bar of softened cream cheese in half and add the halves to the skillet, stirring constantly. Continue stirring until the mixture is fully combined. Pour in the half-and-half and heavy cream, stir to combine. Mix in ½ teaspoon salt and some pepper. Taste and adjust the seasonings as necessary. Remember there are a lot of potatoes that need a good amount of seasoning. Add the rosemary and green onions and stir to combine. Finally, mix in ½ cup of the grated Parmesan.
Pour the cream cheese mixture over the top of the potatoes. Sprinkle the remaining ½ cup grated Parmesan generously over the top and bake until golden brown and bubbly, at least 1 hour. Let stand for 10 minutes before serving.