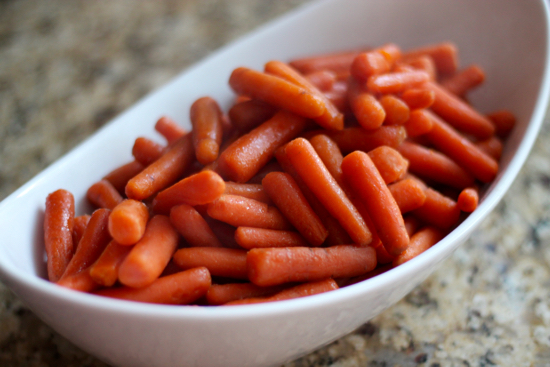 Friday is here again! We've been busy little bees the past couple of weeks, but I managed to sneak in a couple new recipes that will be in my regular fall rotation. The best part about this recipe is using the Crock-Pot. I love Crock-Pot recipes this time of year. Throw everything in, set it and come home to a nice hot meal. I recently got a new Crock-Pot that I have to rave about, but more on that in a later post.
These Crock-Pot Brown Sugar Carrots are a perfect side dish to any meal. I paired mine with a roast and it was nothing short of fantastic. The carrots came out perfectly cooked and not soggy at all. Soggy vegetables are the worst! They have a nice light sweetness, nothing over powering and heat up wonderfully for leftovers. Get these in your Crock-Pot sooner rather than later. I know you guys are just going to love these!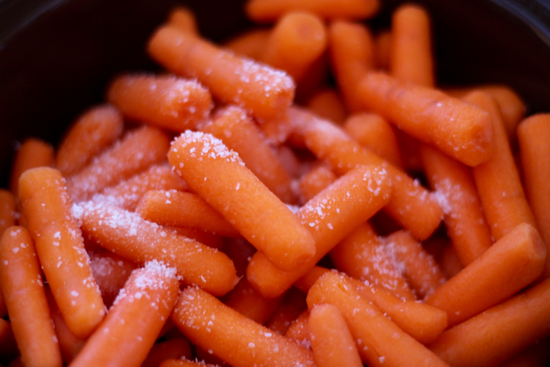 Throw 2 pounds of baby carrots into the Crock-Pot (that's 2 small bags) and add 1/2 teaspoon of salt. This is going to balance out the sweetness.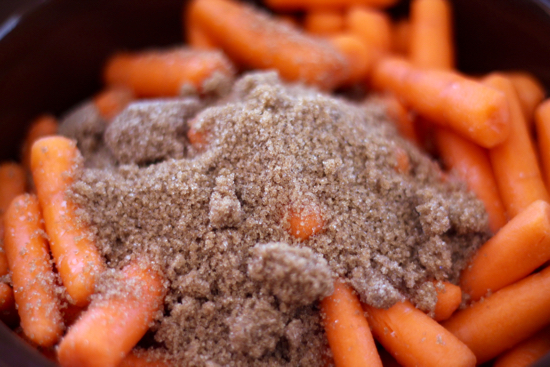 Next, pour 1/2 cup of brown sugar on top.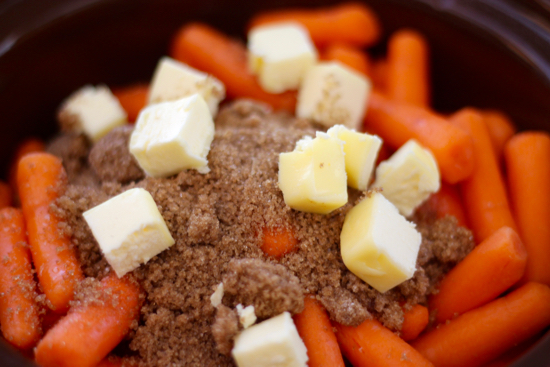 Finally, cut up 2 tablespoons of butter and sprinkle over the top. Pop on the lid and cook on high for 4-5 hours, stirring once after 2 hours.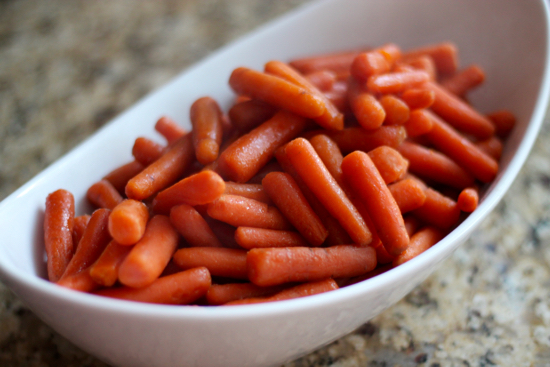 Perfectly cooked carrots your whole family will love.
Here's your handy printable recipe. Wishing you all a safe and happy weekend!
XO, Sarah
Crock-Pot Brown Sugar Carrots
Ingredients
32 oz baby carrots
½ teaspoon kosher salt
½ cup packed brown sugar
2 tablespoons butter, cut into small pieces
Instructions
Throw 2 pounds of baby carrots into a Crock-Pot (that's 2 small bags).
Add salt, brown sugar and butter right on top.
Turn Crock-Pot on high, pop on the lid and cook for 4-5 hours to your desired tenderness, stirring once at the 2 hour mark.
Scoop carrots into a serving bowl and spoon over sauce from the Crock-Pot. Serve immediately.
Notes
Recipe slightly adapted from Pillsbury
 I'm excited to bring these over to my friends at the Fiesta Friday party co-hosted by  Julie @ Hostess At Heart and Liz @ spades, spatulas & spoons!