The easiest week night dinner ever! And it tastes delicious too. Throw 2 ingredients in the Crock when you leave in the morning, and come home to dinner ready to be served. This is a welcome gift in my household at the end of the day.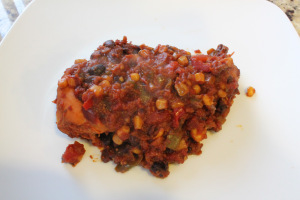 Crock Pot Chicken
Ingredients
* 2 8oz Boneless Skinless Chicken Breasts (Fresh or Frozen)
* 1 16oz Jar of Salsa (Any kind you like, I sometimes will do a jar and a half if I want extra salsa over rice)
Directions
Place chicken breasts in Crock Pot. Pour the salsa over the top. Get creative here, you can literally use any kind you like, a bean based salsa, salsa verde, mango salsa, the sky is the limit. Set Crock Pot to low and cook for 6 hours.
That's it folks. I will usually pair this with rice or shred it up and put it in tortillas to make tacos.