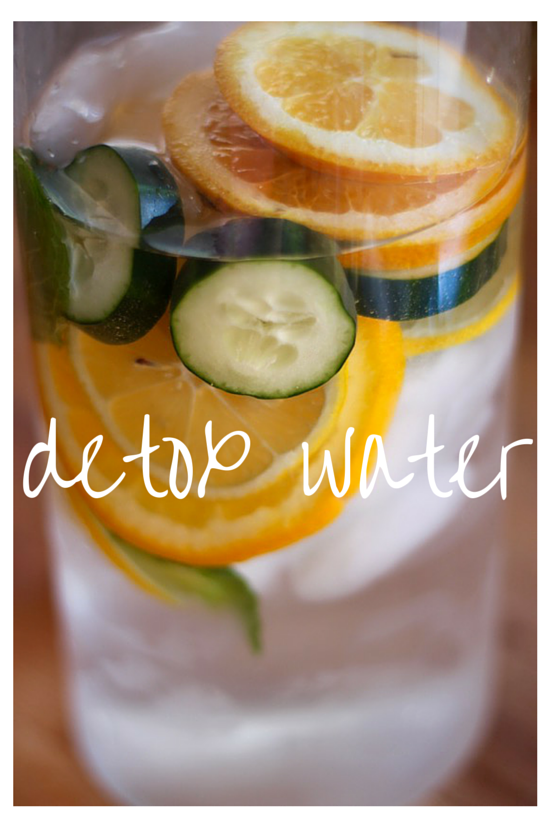 Happy Monday! Spring is definitely in the air. Heck, it feels like summer around here. I worked outside in my yard most of the weekend and I've got to tell you, there's nothing more refreshing than a big tall glass of infused water. It's so important to make sure we drink enough water every day, especially as the temperatures begin to climb. Sadly, many of us fall short of the recommended minimum. Every body is different, but I try to get at least 8-8 oz. glasses per day. If you don't like the taste of plain old boring water, this is a fun and fresh way to kick up the flavor. Why is it called Detox Water? Well, this particular combination helps flush the toxins out of your body and debloat. Here's how!
– Cucumbers prevent water retention and have many anti-inflammatory properties.
– Lemons improve digestion and boost mineral absorption.
– Oranges contain flavonoids in the peel and juice that stimulate the immune system, help reduce cholesterol levels and aid with healthy blood circulation.
– Mint supports the digestive system by activating salivary glands and digestive enzymes helping the body to digest more easily and soothe cramping stomachs.
Pretty great benefits, right!
So what are you waiting for? Whip up a pitcher of this deliciously flavored, healthy detox water today!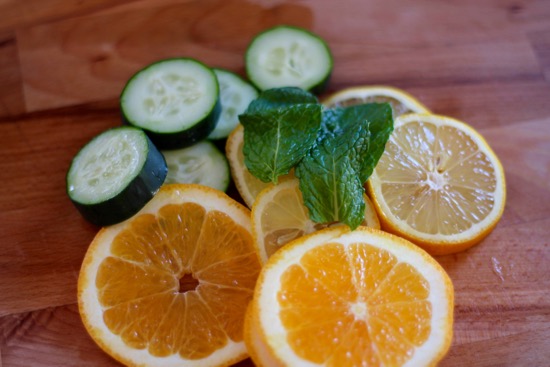 Chop up your lemons, oranges, cucumbers and grab a few mint leaves.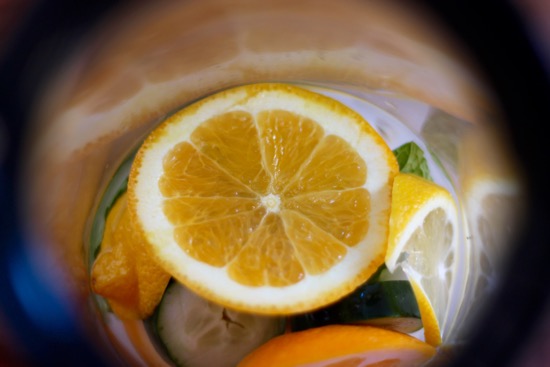 Fill the pitcher with some ice and drop the fresh cuts in a large pitcher. Here are the pitchers I have. They're my favorite!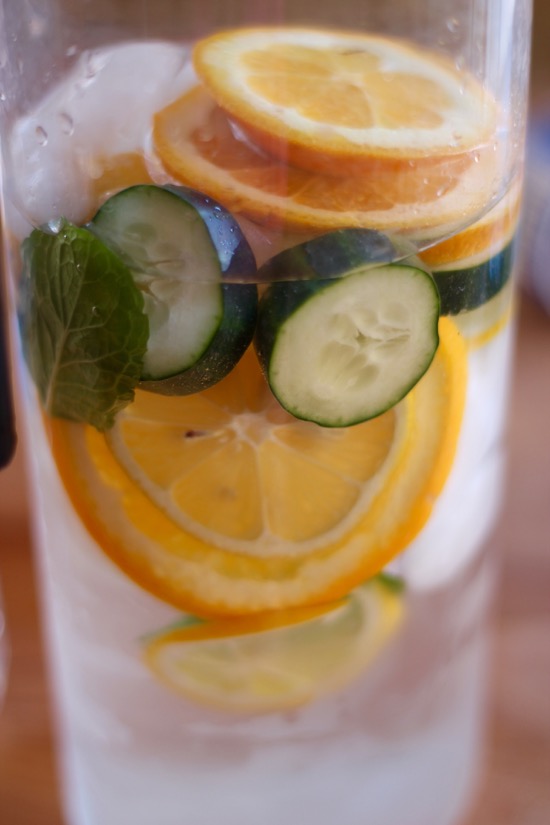 Pour in the water and let infuse for an hour in the fridge. You can refill the water in the pitcher 1 or 2 times throughout your day. Discard the fresh cuts and replace with new every day.
What are some of your favorite water infused combinations?
Detox Water
Ingredients
1 cup ice
½ lemon, sliced
½ orange, sliced
½ cucumber, sliced
3 mint leaves
Instructions
Fill a 2 quart pitcher with ice.
Add in sliced fruits, cucumber and mint leaves.
Fill the pitcher full of water. I'm usually able to get 6 full cups of water in the pitcher.
Let everything infuse for an hour in the fridge.
Pour in a glass and sip throughout the day.
You can refill the water in the pitcher 1 or 2 times per day.
Make sure you discard your fresh cuts and replace them daily.
Notes
Recipe slightly adapted from Blogilates