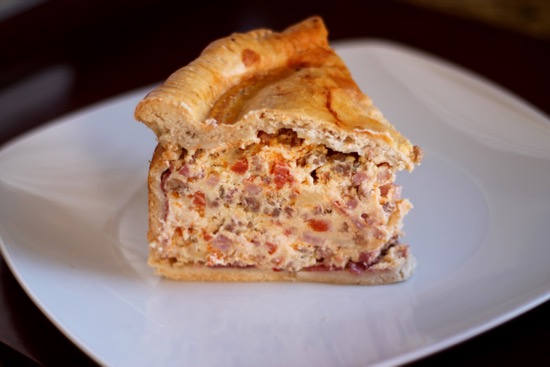 Italian Easter Pie, known by many names: Pizzagiana, Torta Pasqualina, Pizza Rustica, Pizzachino, and Pizza Piena to name a few, is a staple in Italian households on Easter. Each recipe varies drastically from region to region, so everyone has their own. For those of you who haven't had it before, it's essentially a Quiche enclosed in pastry, filled with Italian meats and cheeses. It's a bit of work, especially if you're making your own dough, but it's well worth the time and effort. The husband picked a recipe with ground sausage for me to make. This is how my grandmother used to make it, so I was excited to get in the kitchen. There are a lot of delicious Italian meats packed into this pie. Make sure you get good quality meats (I used Boar's Head meats and cheeses, they are the BEST); It will make all the difference!
I present to you, Easter Pie!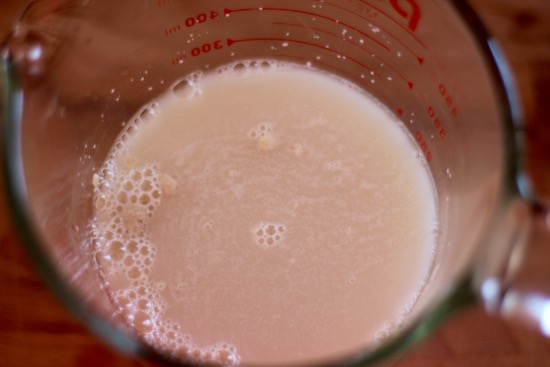 Starting with the dough, add yeast packet to warm water and mix.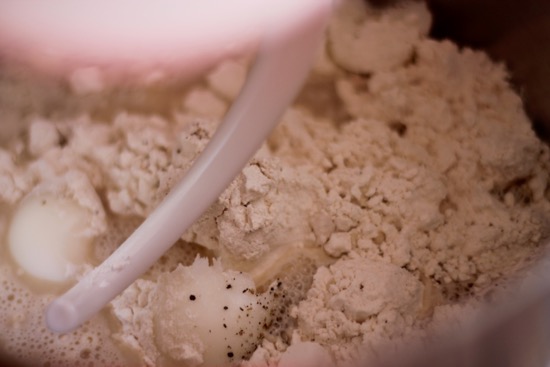 In your mixer, add flour, lard, salt, pepper and yeast water.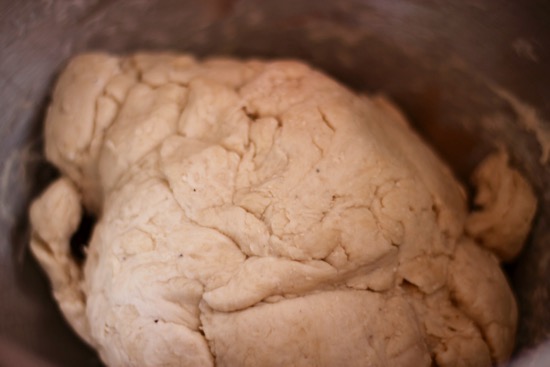 With the hook attachment, work on low-speed for 10-15 minutes until dough is smooth and elastic. It takes a little time, don't rush this step.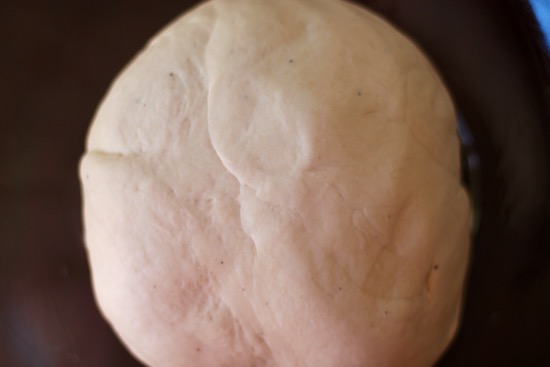 Place dough in lightly oiled bowl in a warm spot and cover with a towel for 2 hours to let dough double in size.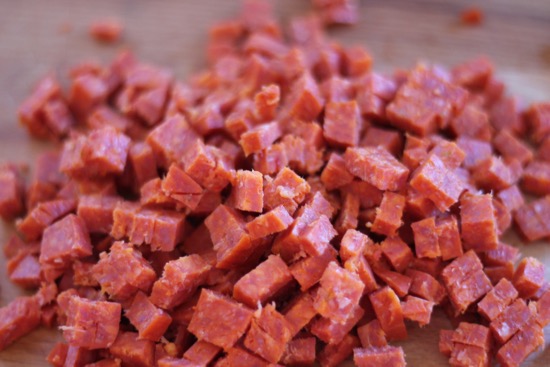 While the dough is rising, start dicing your pepperoni,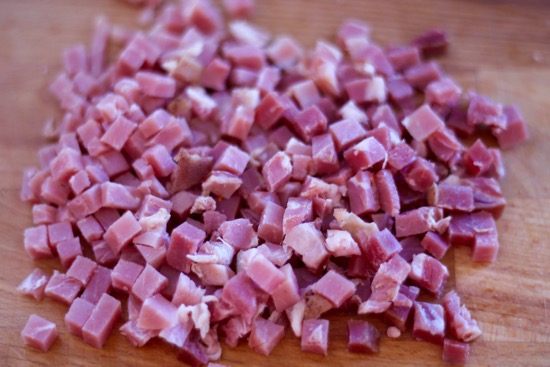 Prosciutto,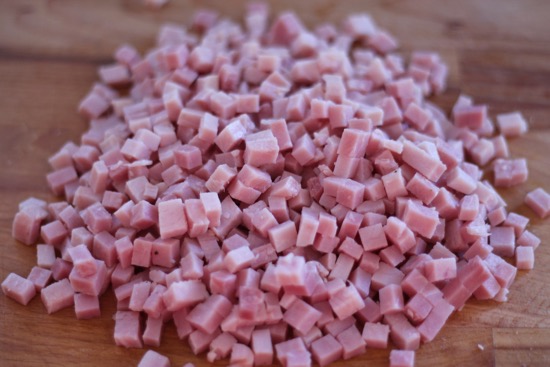 Ham,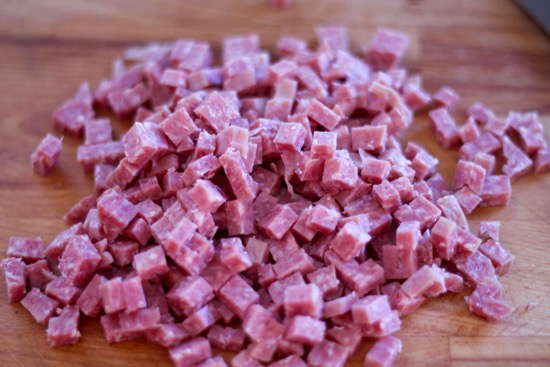 and Genoa Salami.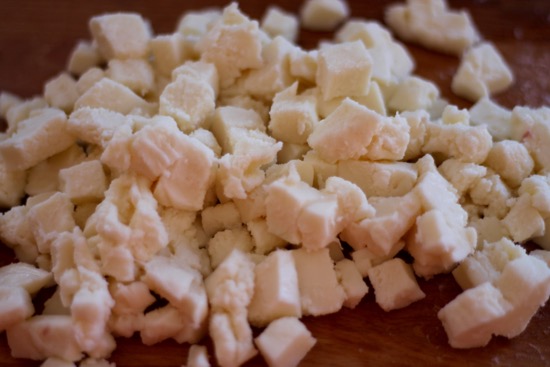 Next, prep the cheese. Dice up the mozzarella…
…and grate your Parmesan and Romano.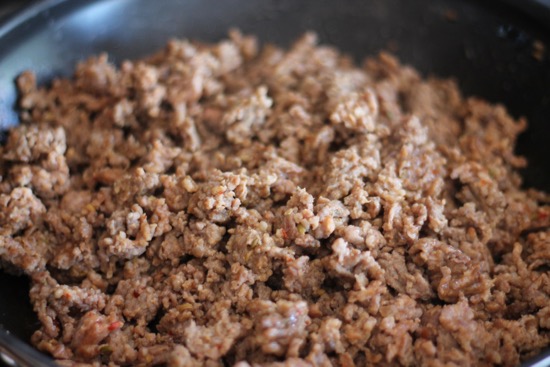 Brown up the crumbled sausage and let cool completely.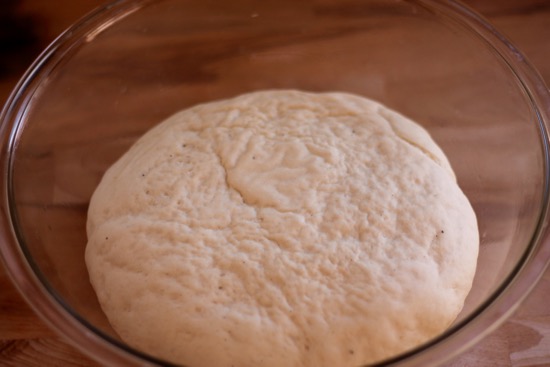 When the dough has doubled in size…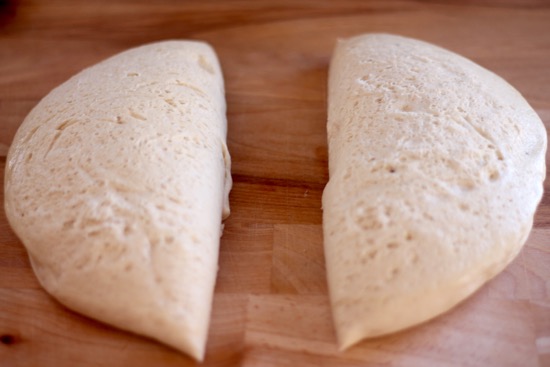 …cut it in half.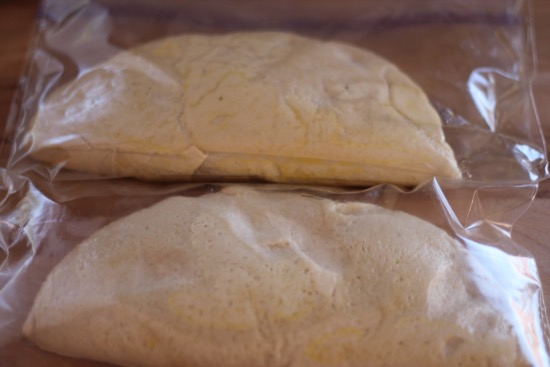 Place the dough in 2 oiled zip-top bags and pop in the fridge until you're ready to use.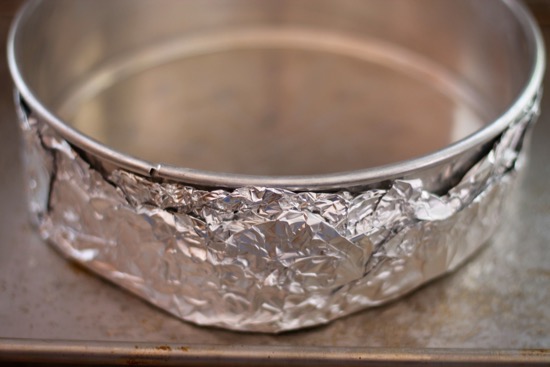 Wrap a springform pan in aluminum foil and set in a sheet pan. I've never had good luck with springform pans not leaking, so I take extra precaution 😉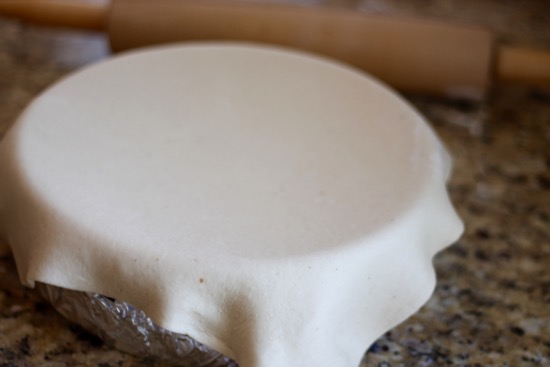 Roll out one piece of dough to line the pan.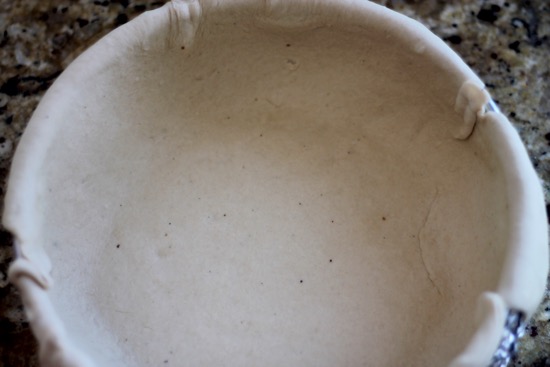 Form it in the pan so it comes all the way up on the sides. Trim off the excess.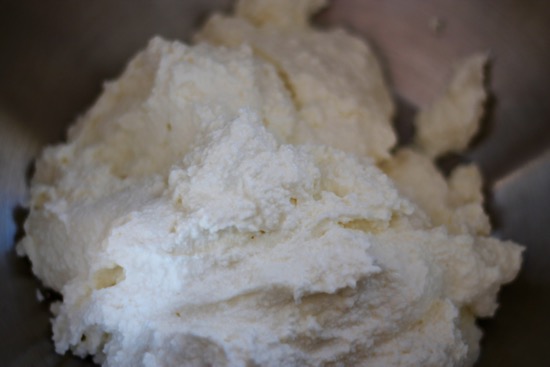 Now we can start the filling! In a LARGE bowl, emphasis on LARGE, add in ricotta cheese…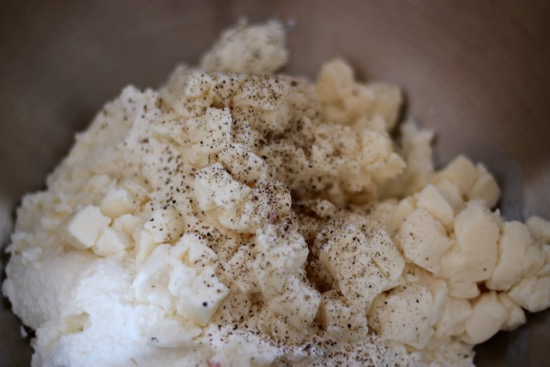 …mozzarella and pepper.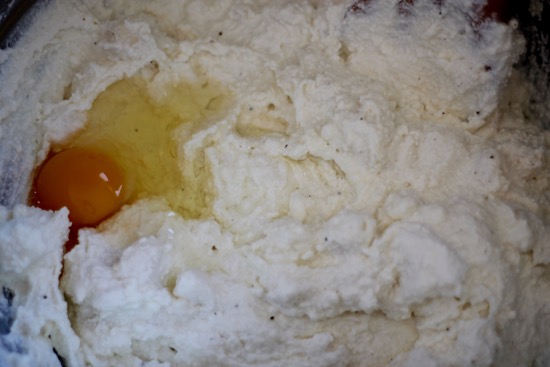 Stir in one egg at a time until fully incorporated.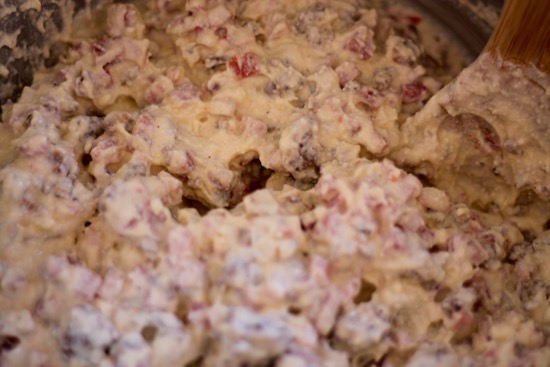 Add in all the meats and cheese to the ricotta mixture. Make sure you mix this well.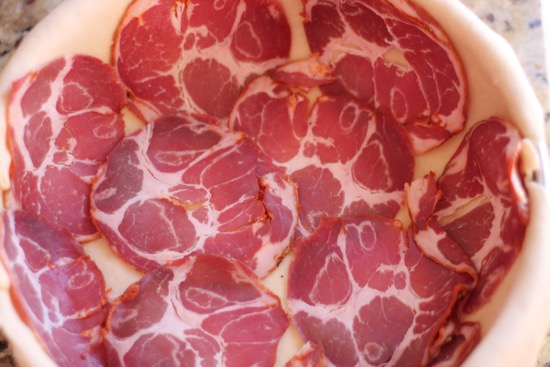 Line the dough with the thinly sliced capicola. Don't for get to take a couple of slices for yourself. It's quality control!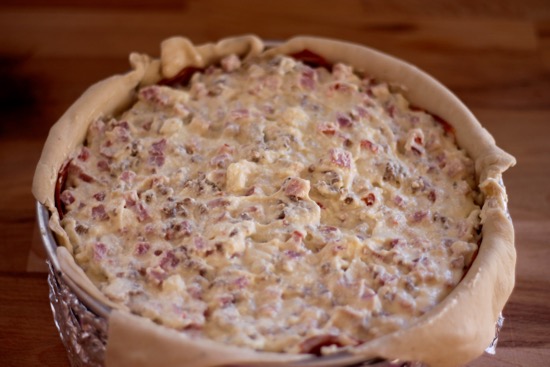 Pour in all that fabulous filling right on top. You may have some filling leftover depending on the size of your pan. Don't worry, you can use the extra to make a mini Easter pie if you want 🙂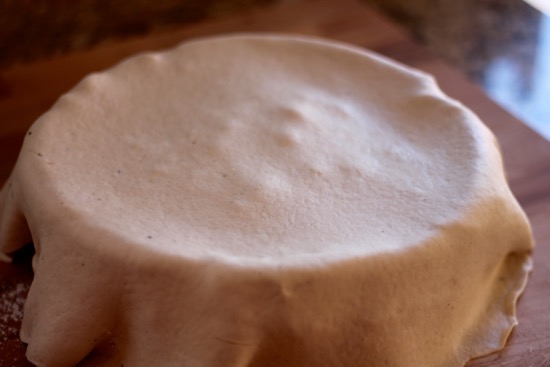 Roll ouy the other piece of dough you have in the fridge to fit over the top.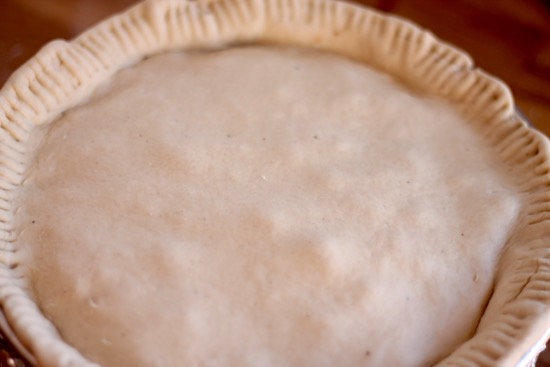 Remove all excess and seal the 2 edges together. Make sure you seal it well, otherwise it will make a mess.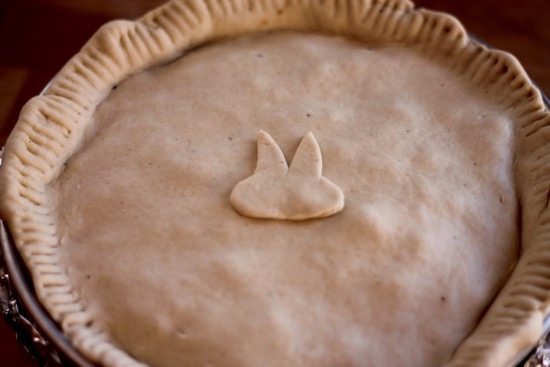 With any leftover dough, you can make a cute little bunny. It is Easter after all!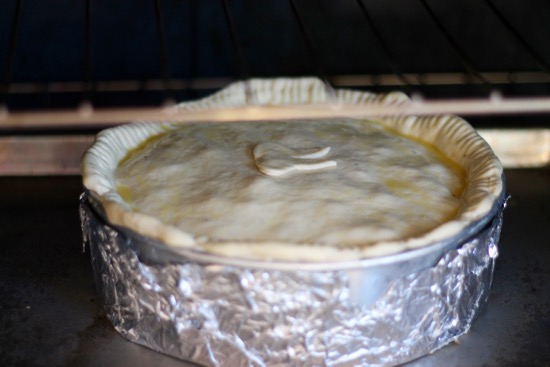 Bake in the oven for an hour and half. When it's done, let cool completely and put in the fridge for at least 2 hours. I prefer leaving it in there overnight to let it really set up.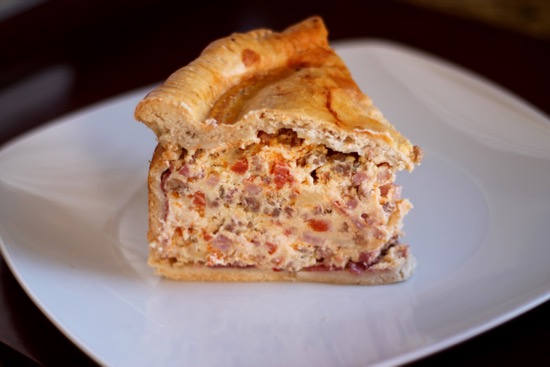 Look at that beast! You can serve this warm or at room temperature. Perfect for Easter brunch! Just make time to go run 10 miles with a weighted vest on before you dig in 😉
Happy Easter ~ Buona Pasqua!

Easter Pie
Ingredients
Yeast Dough Crust:
3¼ cups flour
1½ tablespoons lard or butter
⅛ teaspoon salt
⅛ teaspoon freshly ground black pepper
1 -- ¼ ounce active dry yeast envelope
1 cup warm water
Filling: (I used Boar's Head meats and cheeses)
1 lb. mild Italian sausage, ground
1 tablespoon water
¼ lb Prosciutto di Parma chopped, diced
⅓ lb Pepperoni, diced
⅓ lb Genoa salami, diced
½ lb ham -- regular boiled deli ham, diced
½ lb capicola, thinly sliced
2 lb whole milk ricotta cheese
12 ounces mozzarella cheese, diced
15 turns freshly ground black pepper
6 eggs, room temperature
⅛ cup Parmesan cheese, grated
⅛ cup Romano Cheese, grated
Egg wash, 1 egg + 1 tablespoon water
Instructions
In a measuring cup, mix yeast and warm water together.
Place flour in the bowl of a mixer with the hook attachment. Add the lard or butter, salt, pepper and yeast/water mixture.
Mix on low until dough forms and is elastic and smooth, about 10-15 minutes.
Place dough in a lightly oiled large bowl, cover with a towel and allow it to rise in a warm place for 2 hours, or until doubled in volume.
When dough has risen, cut into 2 pieces.
Stretch one piece to fit into a greased 9-inch springform pan. Reserve the other piece in an oiled zip-top bag in the refrigerator for later to make the top.
Preheat oven to 375 degrees.
Place lined springform pan in the refrigerator while making the filling.
Brown up sausage in a frying pan with the water to render the fat. Drain and cool.
In a large bowl, combine ricotta, mozzarella, and pepper. Add eggs one at a time, beating with a wooden spoon after each addition.
Add cooled sausage, prosciutto, pepperoni, salami, ham, and grated cheese to ricotta mixture and mix well.
Line the pastry crust with a single layer of the sliced capicola, all around including the edges. Any leftover can be placed on top of the ricotta and meat mixture before sealing the top with pastry.
Once the pie is lined with the capicola, fill with the ricotta and diced meat mixture.
Stretch second piece of dough and place over the filling, pressing the edges closed. Be careful not to tear the dough. The top must be sealed.
Make 4 slits in the dough for steam to escape.
Brush the crust with the egg wash to give it a beautiful glossy finish.
Bake for an hour and a half until crust is nice and golden brown.
Once done, remove pie from oven and let cool completely. Place in the fridge for at least 2 hours to fully set. It's best to let it set overnight if you can.
Slice and serve.
Notes
Recipe adapted from Franco Lania