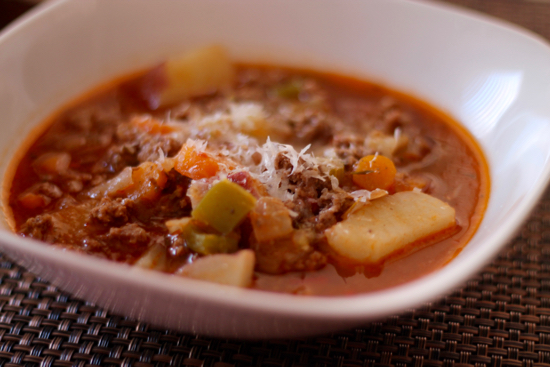 Looking to finish the last bit of ground beef off in the freezer, I turned to my main beef girl Ree, The Pioneer Woman! We had some pretty cold weather here and I wanted to make something warm, comforting and hearty. This Hamburger soup fit the bill perfectly. It's a wonderful blend of fresh vegetables and ground beef. Even better with a nice piece of crusty bread. It's a great way to use up that ground beef you have in a new way. You've got to get out of the meatloaf rut sometime…not that I don't love a good meatloaf. Seasoning is key here. Don't be afraid to add extra salt, pepper or cayenne if needed. Depending on your meat, you may need a little extra boost. I froze half of this and it freezes and reheats very well.
I've also got some pretty awesome new OXO products that you guys are going to want to check out!
Let's get to it!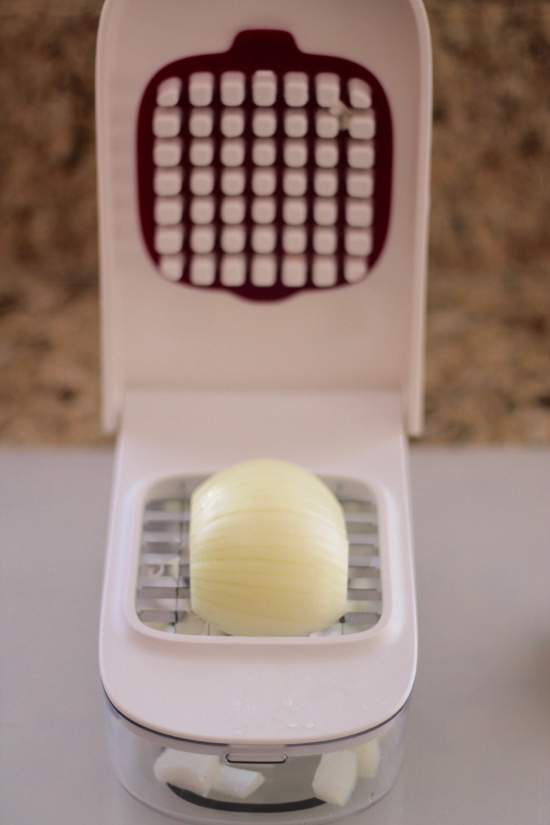 Start off by chopping some onions. I used the new OXO Vegetable Chopper with Easy Pour Opening. It's a huge time saver. I used to have a chopper similar to this that I loved, but sadly it broke. I could not wait to try this bad boy. I have super sensitive eyes and this is amazing for chopping onions without having, what looks like, a serious meltdown. You can quickly and safely chop onions, peppers, and more in one easy motion, and easily pour chopped fruits or veggies without removing the lid. This makes it so easy to just pour the food right out. The stainless steel blade pattern and recessed cutting area keeps food in place while the lid provides leverage for efficient chopping. Finally, my favorite feature, a removable grid helps clean between teeth of chopper and stores on board. This was such a pain with my old one!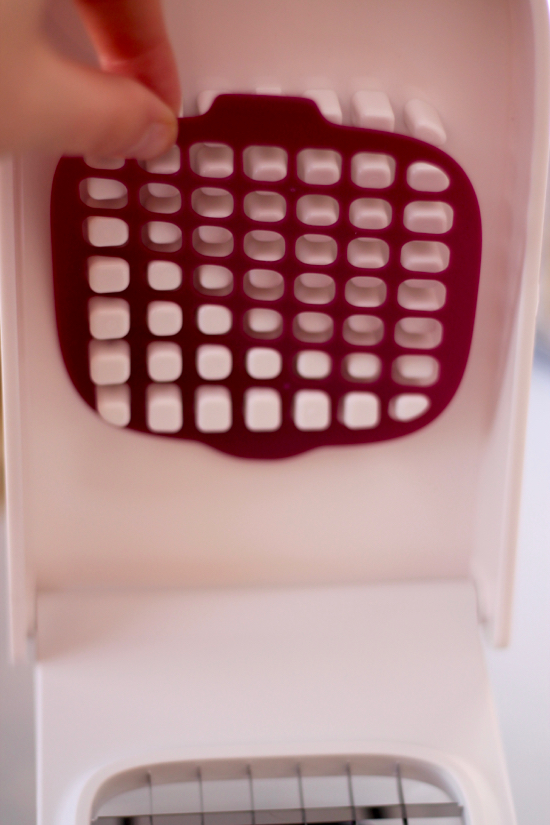 Check out the removable grid. It makes cleaning up so easy.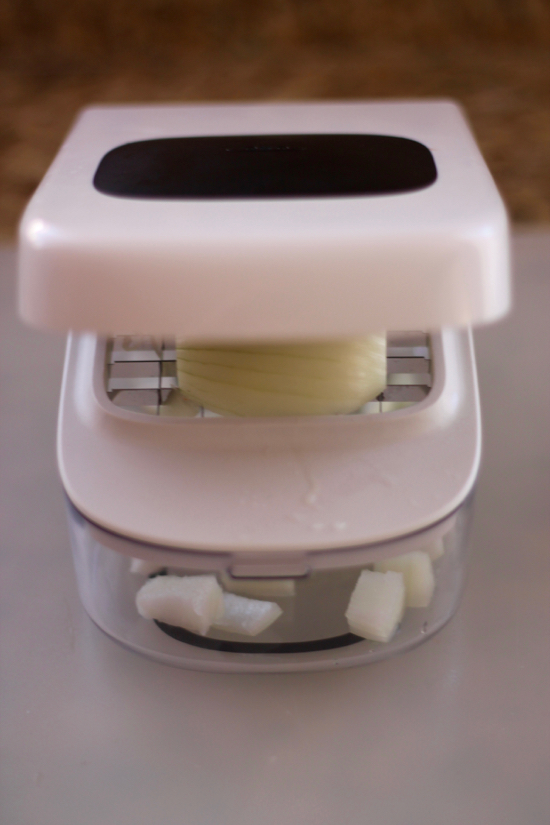 Pop in an onion and press down.
The easy pour opening allows you to just dump the veggies right in the pan.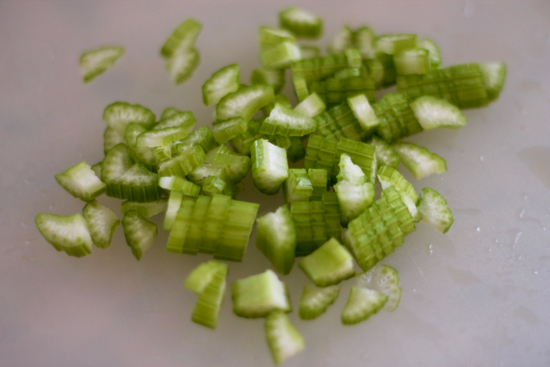 Chop up some celery.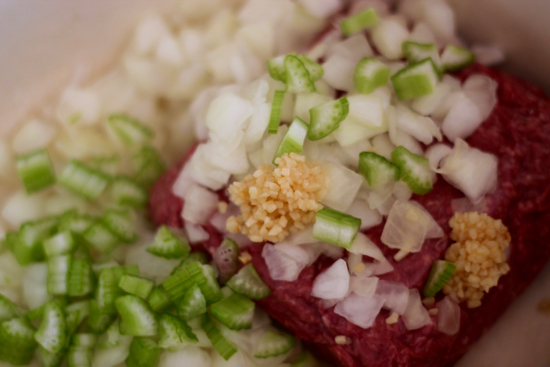 Put the onions, celery garlic and ground beef in a large pot or Dutch oven.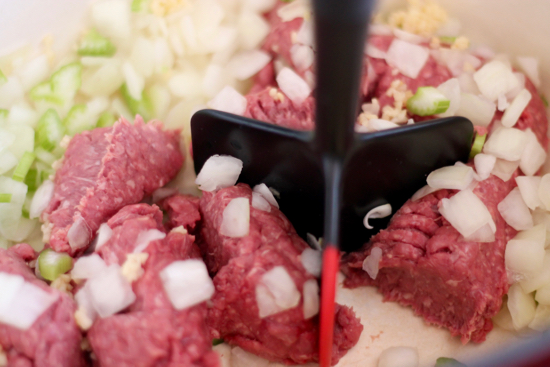 Break the meat up and cook until it's browned and the veggies are soft. This Ground Meat Chopper & Turner  is AWESOME! It has three wide blades help you stir without getting meat stuck in between. The silicone edge is great for scraping and transferring food out of pans. Its rounded design helps you scrape corners of saucepans, and it's heat-resistant up to 400° F. I've never broken up meat so fast!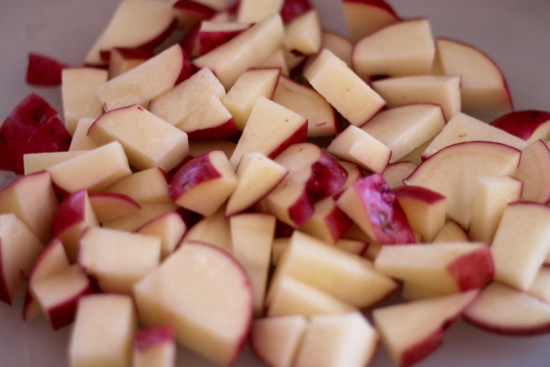 While that's cooking, chop up some potatoes.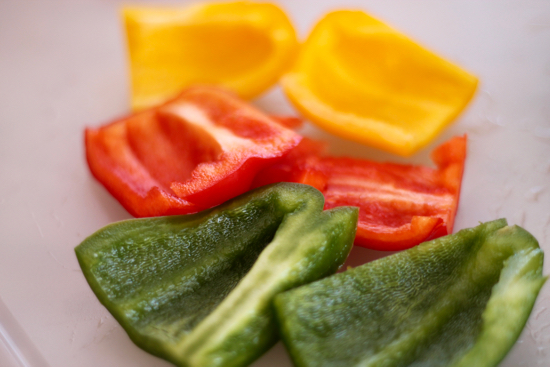 And gorgeous peppers.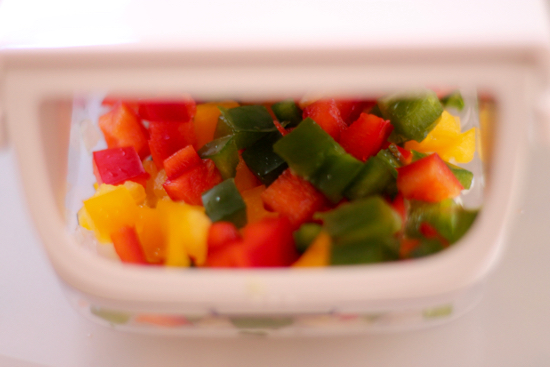 Right in the chopper they go.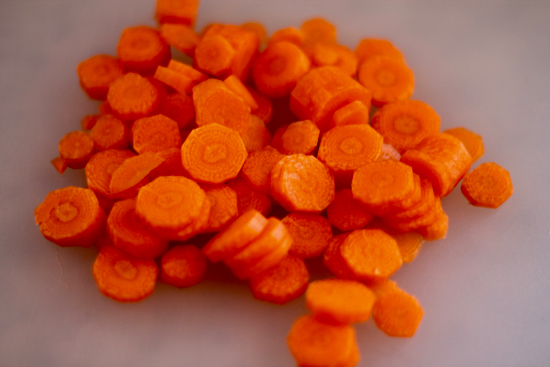 Don't forget the carrots.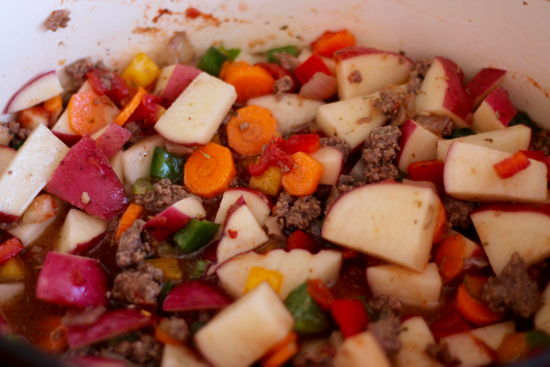 Add beef broth, diced tomatoes, tomato paste, parsley, oregano, potatoes, carrots, peppers, salt, pepper and cayenne to the pot. Bring to a boil and reduce heat to low. Cover and simmer for 15-20 minutes, until potatoes are fork tender.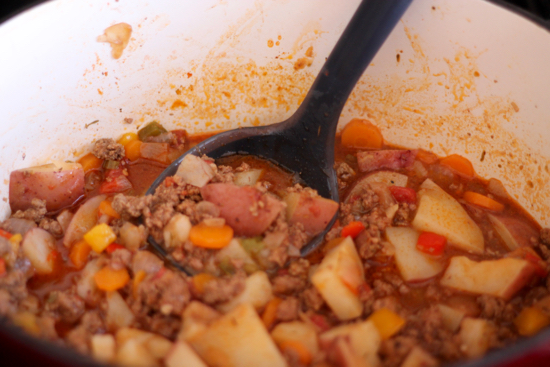 If you want a thinner soup, add some more beef broth. I prefer mine chunkier. Salt and pepper to taste. You're ready to ladle and serve. As soon as I got this Silicone Ladle, I immediately threw my other ones away, no joke. You know when you're ladling out that last little bit of stew or sauce out of the bottom of your pan and you can't quite get to it. Not with this ladle! Its flexible edges are designed to easily scrape that last bit out so there's no waste. This silicone utensil is heat-resistant up to 450 degrees. It's absolute perfection!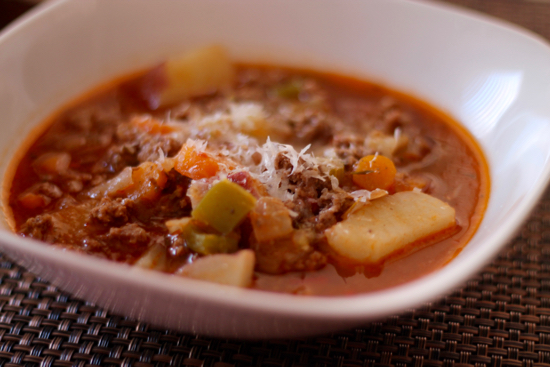 Scoop into the bowl and top with some freshly grated Parmesan cheese and serve with a nice piece of crusty bread.
Cheers to the weekend!
XO, Sarah
Hamburger Soup
Ingredients
2½ pounds ground chuck (I bought a chuck roast and had my butcher grind it up for me)
3 cloves garlic, minced
2 stalks celery, sliced
1 large onion, diced
3-4 cups beef broth (depending on desired consistency)
One 14.5-ounce can diced tomatoes
3 tablespoons tomato paste
2 tablespoons chopped fresh parsley
1 teaspoon dried oregano
½ teaspoon kosher salt, plus more if needed to taste
½ teaspoon freshly ground black pepper, plus more if needed to taste
¼ teaspoon cayenne pepper, plus more if needed to taste
5 red potatoes, cut into 1" chunks
4 carrots, peeled and sliced
1 green bell pepper, seeded and diced
1 red bell pepper, seeded and diced
1 yellow bell pepper, seeded and diced
Parmesan cheese for serving
Instructions
In a Dutch oven or large pot over medium-high heat, brown the meat with the garlic, celery and onions. Scoop out as much fat as you can.
Add in remaining ingredients and stir to combine. Bring to a boil, reduce heat to low, cover and simmer until the vegetables are fork tender, about 15-20 more minutes. For a thinner soup, add additional beef broth. Taste and adjust the seasonings, adding more salt, pepper or cayenne if needed.
Scoop into a bowl and sprinkle with a little Parmesan. Serve with some biscuits or a nice piece of crusty bread.
Notes
Recipe slightly adapted from The Pioneer Woman
I
was sent the OXO Ground Meat Chopper, Vegetable Chopper with Easy-Pour Opening and Silicone Ladle to try and review. I was not compensated for this post and all opinions, as always, are my own.
I'm bringing this hearty soup to my friends over at our weekly Fiesta Friday Party, co-hosted by  Suzanne @ apuginthekitchen and Zeba @ Food For The Soul.