Happy Friday to you all! I have the perfect sweet breakfast for you to make over the weekend! If you have yet to experience a Cronut, I urge you to make these immediately. If you have been lucky enough to taste one of these life changing treats, I will now give you to tools to make them at home! No, this isn't real Croissant Dough, just a fun way to make a Cronut in a pinch! I give you, the Easy Homemade Cronut.
Ingredients
For dough:
4-8 Cups Canola oil (depending on depth of pan, need enough to make oil 2″ deep)
2 (8-ounce) cans of  crescent rolls
2 snack-size (4-ounce) container vanilla pudding
For glaze:
4 cups powdered sugar
1 teaspoon vanilla extract
1 cup whole milk
1/4 cup sugar
1/2 teaspoon ground cinnamon
Directions
In a dutch oven or heavy pot, pour oil so it is at least 2 inches deep. Heat oil to 350 degrees.
Separate crescent dough into 8 rectangles. Press the perforations together on each rectangle to seal. Stack 2 rectangles on top of one another. Press them together gently, then fold in half width-wise. Repeat with remaining rectangles.
Use a 3-inch-round biscuit cutter to cut 1 round from each stack, and then use a 1-inch-round biscuit cutter to cut a small hole in the center of each round. Reserve the remaining dough and re-roll to cut another doughnut.
Fry the dough in hot oil for 1- 1 1 /2 minutes on each side or until deep golden brown and cooked through.  Drain on paper towels, and cool for 5 minutes.
Vanilla glaze: In a medium bowl, mix 4 cups of powdered sugar and 1 teaspoon of vanilla, and then add milk, 1 tablespoon at a time, until a smooth, glaze-like consistency forms.
Cinnamon sugar: In a small bowl, combine the sugar and cinnamon, mix together.
Assembly: Carefully split a a doughnut in half. Place pudding in a piping bag with a tip. Pipe vanilla pudding in the center. Sandwich the halves back together, drizzle vanilla glaze over the top, and sprinkle on the cinnamon sugar.
Recipe slightly adapted from YumSugar.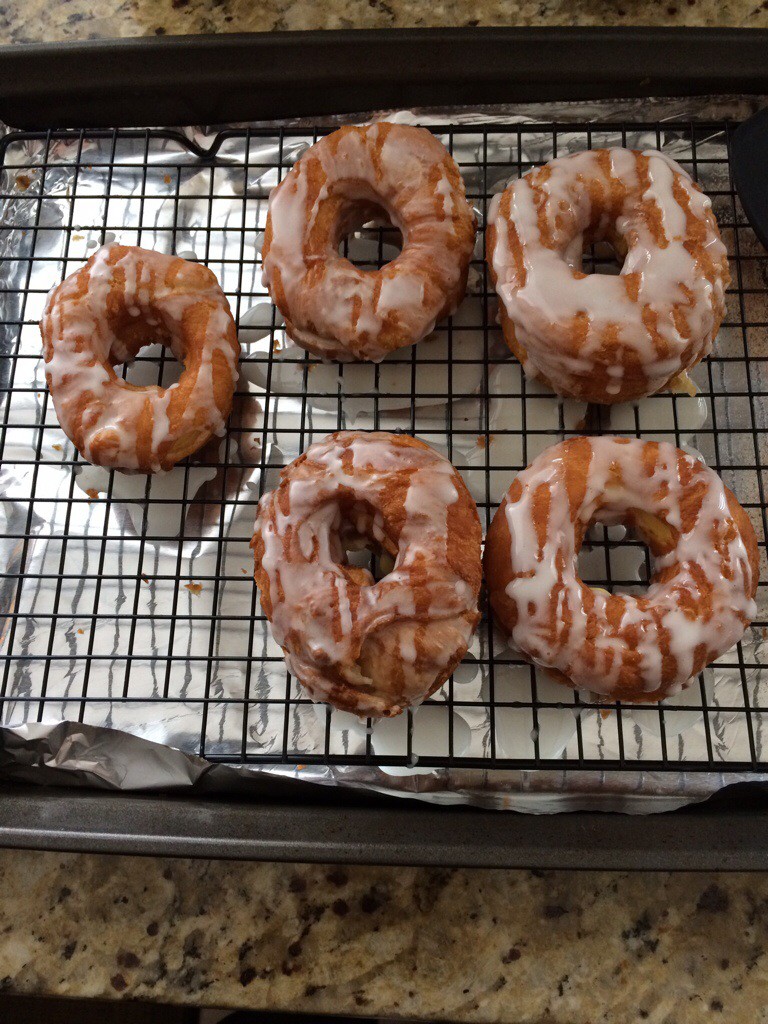 These were so yummy!
Who loves making doughnuts at home?
I'm bringing these over to the Fiesta Friday Party!