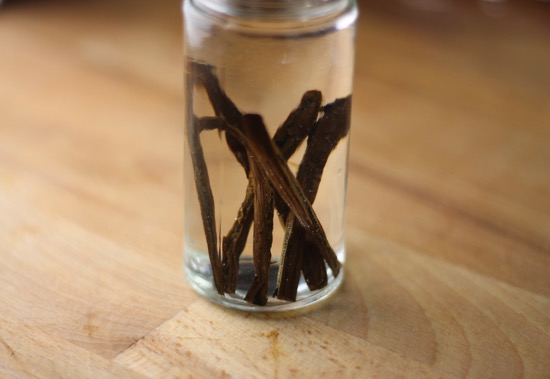 I love the scent of vanilla–candles, lotions and desserts. I always use a heavy hand when measuring vanilla for baking. Good quality vanilla extract can be pricey, but the taste is well worth it. I decided to try out making my own at home. Turns out, making Homemade Vanilla Extract is really easy. You only need 2 ingredients — Vanilla Beans and Vodka.  It does take a bit of patience as you have to wait 6-8 weeks for the alcohol to extract the flavors from the beans (hence the term vanilla extract), but word on the street is, it's the best vanilla you will ever have in your life. Let's find out!
Be as creative as you like by changing up the alcohol and the vanilla beans.  You could use brandy, bourbon or rum for a more unique flavor, but I'm using vodka because it has the most neutral flavor, for my first round. Vanilla beans come in so many varieties it's hard to choose. I have a soft spot for Madagascar vanilla beans, having that classic, robust flavor.  Other varieties include Mexican vanilla beans, which are slightly spicy and Tahitian vanilla beans, which tend to be more floral. Just make sure the beans are still moist and aren't all dried out. Really choose the flavors that suit you best, it's up to you.
A good rule of thumb to follow is 3-5 beans (depending on the size) for every cup of vodka. I'm using a small jar to test it off first, so I went with a little less than 1/2 cup of vodka and 1 very large vanilla bean.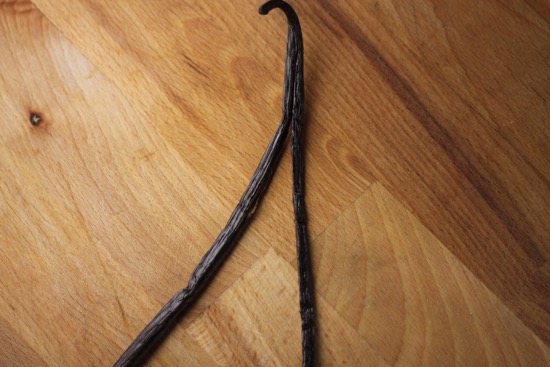 Start off by slicing the vanilla bean in half lengthwise.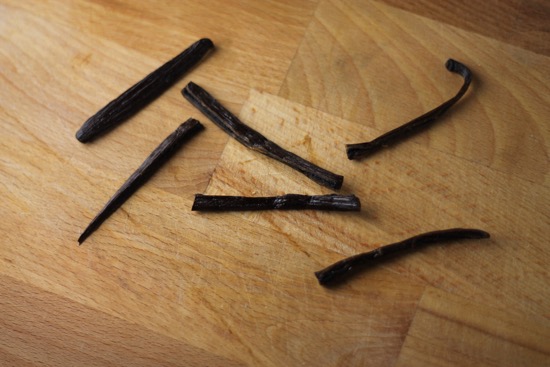 Then chop it up into smaller pieces to fit your jar.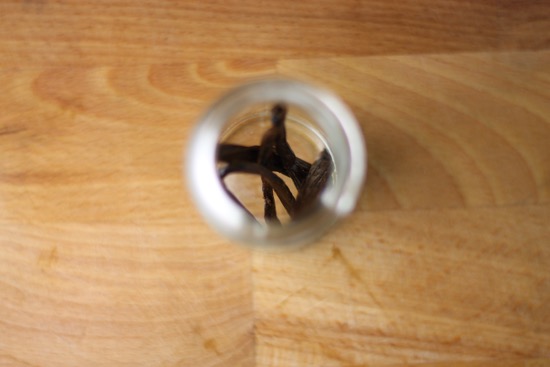 Drop the vanilla bean pieces in.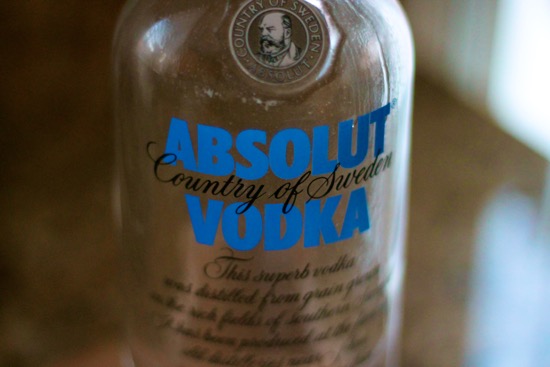 Grab your vodka…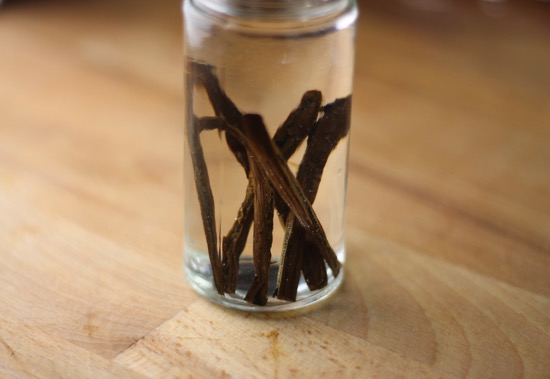 …and fill up the jar. Store in a cool dark place for 6-8 weeks.
I'll be checking back in soon to give you the results!
UPDATE: I will never buy vanilla extract again! This is so much better than anything you can get at the store.
XO, Sarah
Homemade Vanilla Extract
Ingredients
3-5 Vanilla Beans
1 Cup Vodka
Instructions
Get a clean glass jar with top.
Slice your vanilla beans in half lengthwise and chop into smaller pieces to fit the jar.
Place the vanilla bean pieces into the jar.
Pour in vodka into the jar and fill completely.
Seal jar and store in a cool, dark place for 6-8 weeks.