Hi Guys, happy Friday! Not only is it Friday, but it's also my birthday 🙂 I have a lot of cake coming at me in the not so distant future.
Birthdays are always a good time for reflection. This past year has been quite the journey for my family and I. My mother was diagnosed with breast cancer back in September. After 6 long months of chemotherapy and a double mastectomy, I am thrilled to say, that as of this past Monday, she is cancer free! We are truly blessed. She is strongest person I know. She is doing so extremely well and recovering so quickly, that we are going to do the Susan G Komen Race for the Cure. Our family is very big on giving back, so we are doing a fundraiser. If you are able to and would like to donate you can click here for our donation page. 75 percent of the money raised through the race stays in the community to fund local breast cancer education, screening and treatment programs. The remaining 25 percent supports groundbreaking breast cancer research. It's a wonderful cause and every little bit helps. Plus, it would be an awesome birthday gift 😉
Thanks for letting me share that with you. I feel very close to my blog friends and even more so now <3
Okay, let's switch gears and get to some delicious food tips!
Leeks are one of my favorite veggies. They have an amazing mild onion flavor. You can use them in soups, gratins, egg dishes, pretty much anywhere you use onions. My favorite though, is a dish where they star on their own, Creamed Leeks…recipe coming soon! Until then, here's how to clean, freeze and store your leeks so you always have them on hand.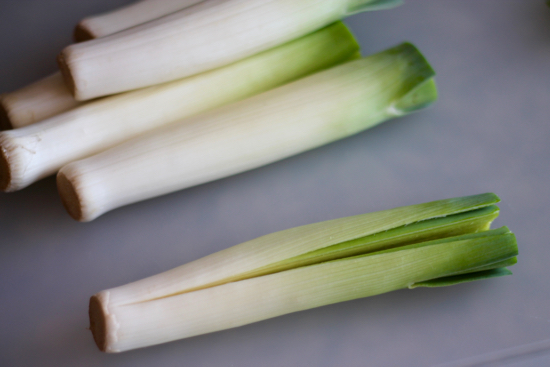 Leeks are known for being dirty. There are lots of layers where dirt can sneak in and hide, so unless you want gritty leeks (no one does), be sure to clean them thoroughly. Start by slicing off the dark green part at the top (I've noticed some stores are doing this for you, like mine above) and slice in half lengthwise.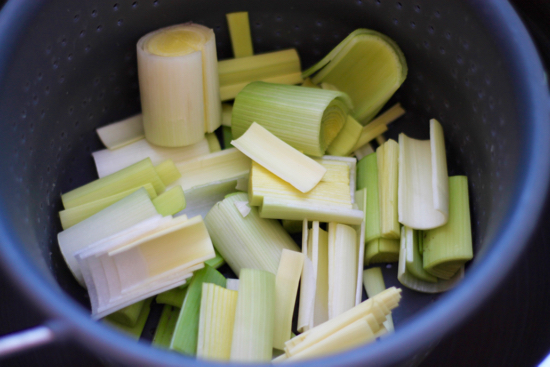 Then, slice crosswise into pieces. You can cut them smaller than I did here, if they're going to be an addition to a dish, like a soup. These were for creamed leeks, so I want them nice and big.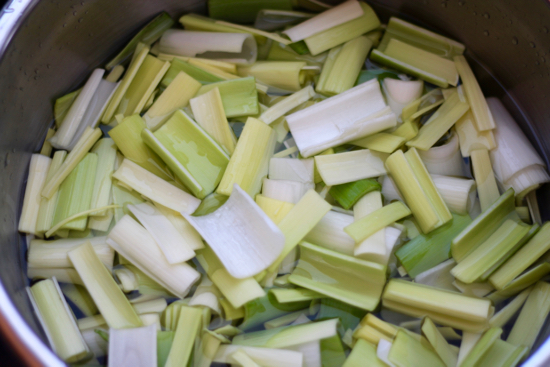 Fill a large bowl with water and add leeks. Agitate the water to break up the pieces and clean well. Let water sit for a few minutes so the dirt can sink to the bottom.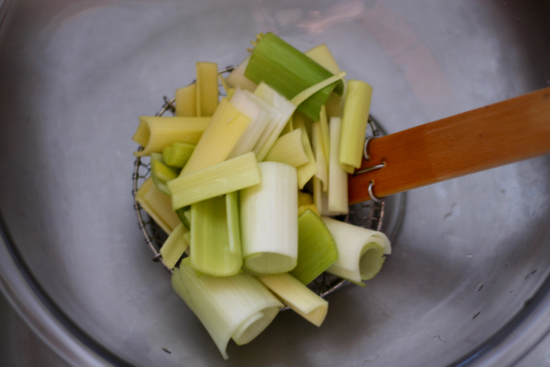 Take a spider strainer, or any other hand-held strainer, and scoop the leeks out of the water. You could also use a full-sized colander. I just like to use the spider strainer, because it dries them out a little more doing small batches at a time.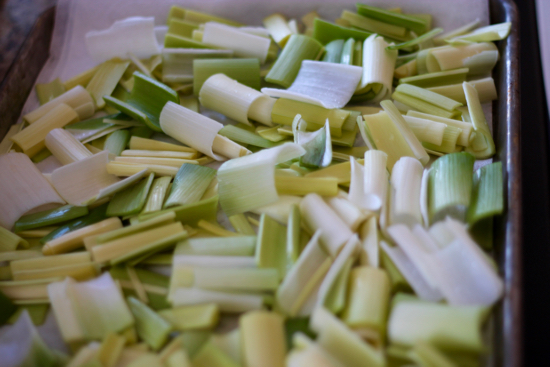 Scoop the strained leeks on a sheet pan lined with paper towels. These will need to air dry completely. You can speed up this process by gently blotting with paper towels. Just make sure they're completely dry before moving on to the next step.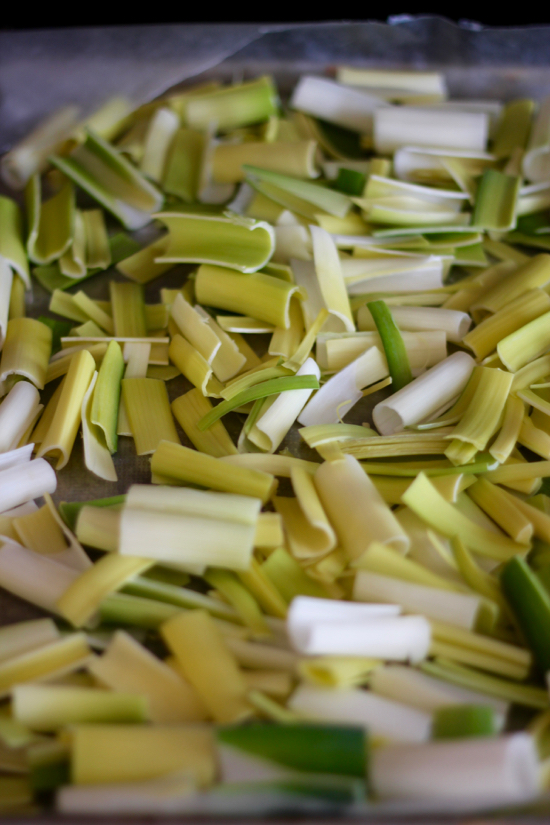 Once completely dried, transfer to another sheet pan lined with wax paper and stick directly in the freezer to flash freeze. This should take about 30-45 minutes, until they're just frozen. The wax paper will make it nice and easy for you to remove leeks from the pan so they don't get stick. This is also why you want them to be completely dried before the flash freeze. Otherwise, you'll end up with leek ice cubes and that's not good eats!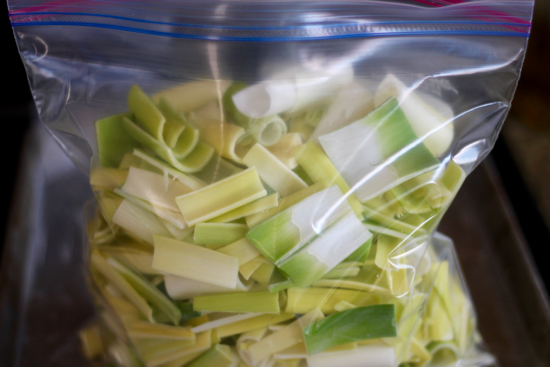 Pop leeks into a freezer bag to store. These will keep for about 5-6 months in the freezer. Just jot down the date on the bag so you know when to use them by. Again, you can cut the leeks into any size you'd like or do a couple different sizes for different dishes. This is a great way to keep this delicious veggie on hand at all times.
Here's that link one more time if you'd like to make a donation to our fundraising page in honor of my mother.
Have a safe and blessed weekend!
XO, Sarah
I'll be sharing these tips with my friends over at the Fiesta Friday Party co-hosted by  Julie @ Hostess At Heart and Ashley @ Too Zesty.