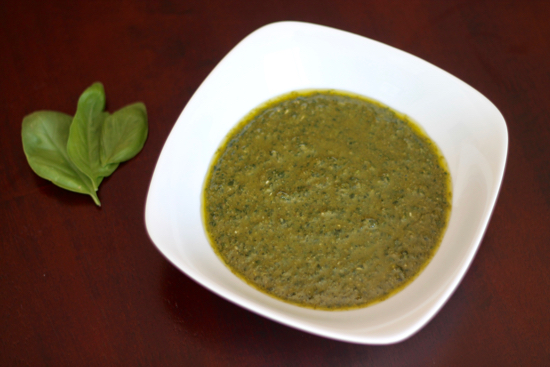 I'm loving all the summer produce right now, especially the stuff I get from my own garden! I'm new-ish to the whole gardening thing, but I have to say, I think I'm doing a pretty good job. So far, I haven't managed to kill anything. I did have a small problem with someone eating my cauliflower leaves, but a little neem oil cleared that right up.
Growing herbs is a great place to start. You don't need a lot of space, they aren't very fussy when it comes to maintenance and you'll always find uses for your growing herbs. My basil plant was more like a basil bush and seemed to sprout up overnight. I knew I needed to harvest it fast. I considered drying it or making some herb butter, but I was dealing with A LOT of basil, so naturally, I knew it was time to make pesto.
I LOVE PESTO! The freshness of the basil leaves, nuttiness from the pine nuts, fruity olive oil, salty Pecorino Romano cheese, all with a strong garlic flavor make it (IMHO) the perfect sauce. You can actually taste all the different layers in every bite. Pesto is a sauce you don't have to cook which makes it super easy to make and perfect for summer dishes. I could eat it right out of the bowl (I may have done 17 taste tests to be sure it tasted just right. Purely for quality control purposes, of course). You can bake it with bread, use as a spread on sandwiches, mix it into your salad dressing, add it on top of veggies or eggs, use as a pizza sauce or the most common use, a sauce for pasta. It is as versatile as it is delicious. And, it makes it a little more special coming from your garden.
Here's how easy this is to make!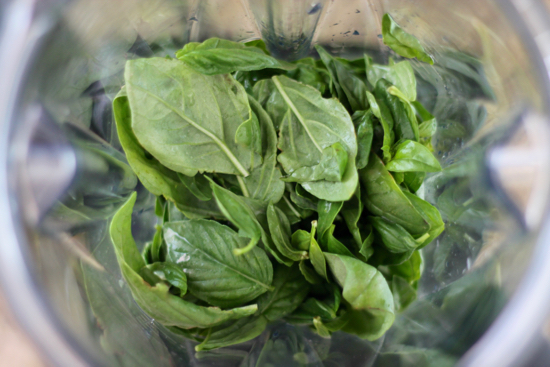 Add basil to food processor or blender.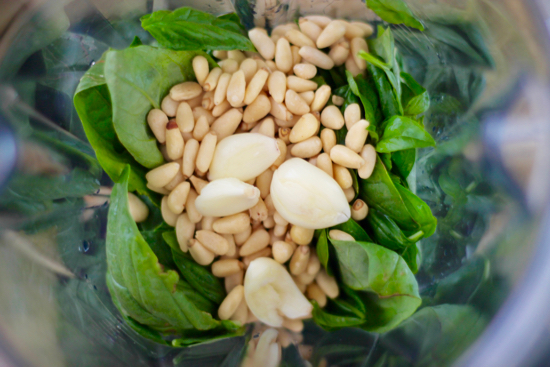 Add in pine nuts and garlic. You can leave the garlic whole since we're going to pulverize it.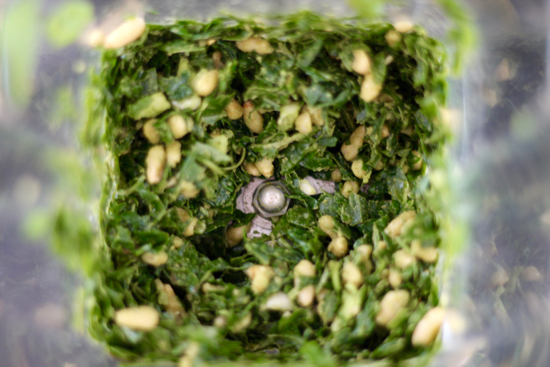 Pulse until it's coarsely chopped.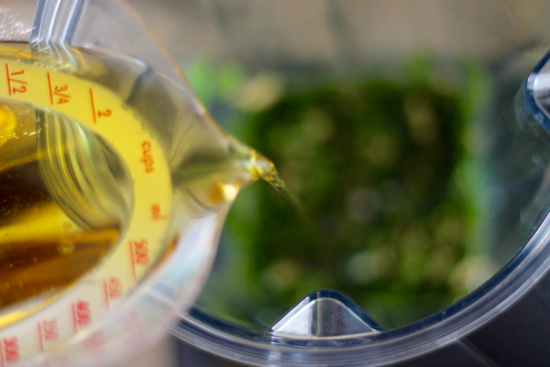 Pour in the olive oil and pulse until completely smooth.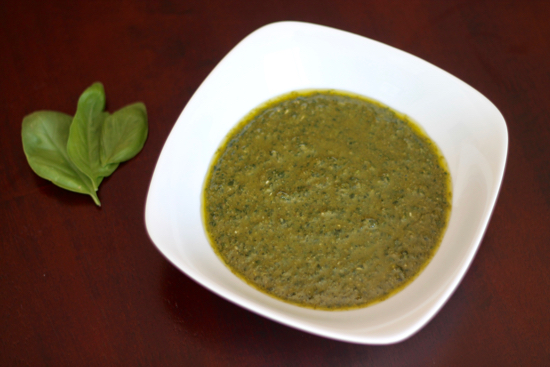 Stir in cheese and add salt and pepper to taste. Could it be any simpler?! 😉 You can also freeze this in an airtight container for up to 3 months.  Just leave the cheese out and stir in once thawed.
What fresh dishes are you making this summer?
Here's your printable recipe. Be sure to whip up a batch this week!
Pesto
Ingredients
2 cups packed basil leaves
2 garlic cloves
¼ cup pine nuts
⅔ cup extra-virgin olive oil
½ cup grated Pecorino Romano cheese
Kosher salt and freshly ground black pepper, to taste
Instructions
Add basil, garlic, and pine nuts in a food processor or blender and pulse until coarsely chopped. Add the oil and process until completely smooth.
Pour the pesto into a large serving bowl and stir in the cheese. (If freezing skip this step)
If freezing, transfer to an air-tight container and freeze for up to 3 months. Stir in cheese once thawed.
I'm sharing this dish with my friends over at our weekly
Fiesta Friday
party co-hosted by 
Suzanne @ apuginthekitchen
and
Jess @ Cooking Is My Sport.