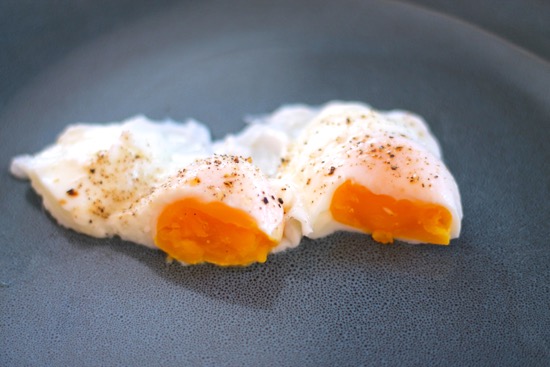 Over the weekend, I dove into the next Good Eats episode titled "Mission Poachable" which has recipes involving…you guessed it…poaching.  In the next few posts, I'll be sharing these 3 recipes with you. We're going to kick things off with Poached Eggs.
Poaching eggs couldn't be easier. There are just a few things to keep in mind.
1. When poaching eggs, you want to make sure you use a non-stick skillet, because the eggs are not non-stick.
2. Make sure you use fresh eggs. The fresher the better.
3. Separate the eggs before the big plunge. Slowly cracking an egg in simmering water is pretty difficult to accomplish. Don't be like me and think–pshhh, I can do that. Just separate them before, got it!
4. A little vinegar will help the egg whites feather less, meaning spreading out over the whole pan. This way you'll get a neater egg.
5. Poaching refers to cooking by submersion in a liquid held just under the simmer. Not a boil, a simmer. This is very important to achieve the perfect poached egg.
Are you ready? Let's do this!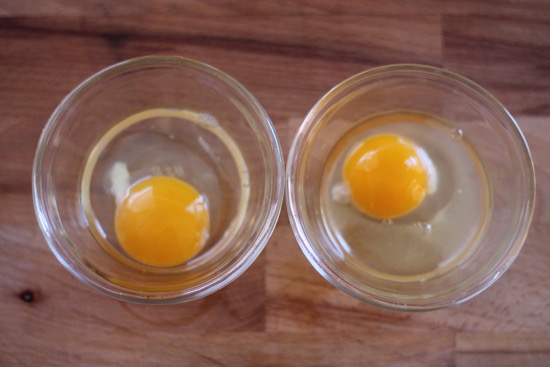 Get your eggs into separate custard cups or ramekins, and bring 1 inch of water to a simmer in a skillet.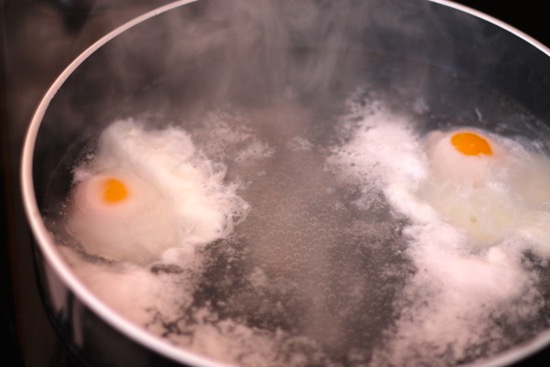 Once the water has reached a simmer, bring the cup all the way down in the water and gently ease the egg in. Two things I could have improved upon. One, I didn't get the cup all the way in the water before easing them in, and two, my simmer was starting to boil.  You can see I have some feathering here, but there's still a neat solid egg forming. Taking pictures and poaching is hard work! Don't worry if this happens to you, practice makes perfect 🙂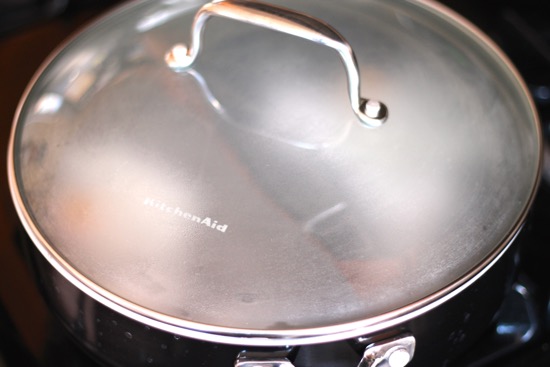 Turn off the heat and cover for 7 minutes. The heat stored in the water will finish cooking our eggs.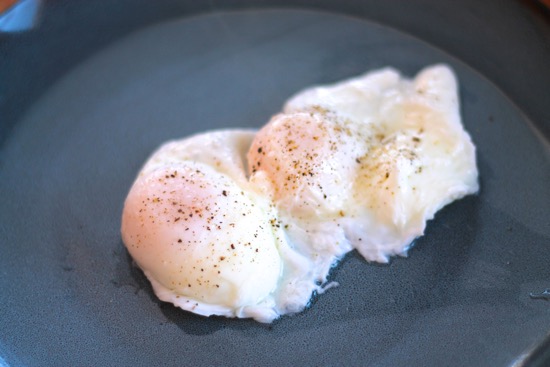 Carefully scoop them out with a slotted spoon. See, just because you have some feathering, does not mean your eggs are ruined.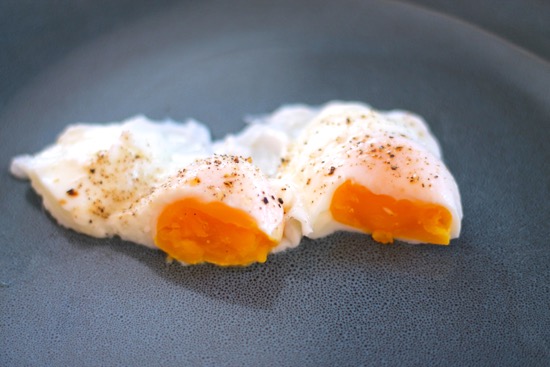 The yolk has set and has a slight, soft, golden lava flow in the center. Season with a little salt and pepper and dig in.
I like my eggs more runny, so next time, I'll pull them out at 6-6 1/2 minutes. Play with it and see what your preference is.
There are many methods to poach eggs, but this is my favorite. What are your favorite tried and true ways to perfectly Poached Eggs?
Poached Eggs
Ingredients
2 eggs
1 teaspoon salt
2 teaspoons of white distilled vinegar
Salt and Pepper
Instructions
Add enough water to come up one inch on the sides of a saucepan or skillet.
Add in salt and vinegar.
Bring to a simmer (not a boil) over medium-high heat.
Crack each egg into a separate, small custard cup or ramekin.
Once water has reached a simmer, lower the cup into the water and gently pour the eggs into the water one at a time.
Turn off the heat and cover for 6 minutes.
Remove the egg with a slotted spoon.
Season with salt and pepper and serve immediately.
Notes
Recipe adapted from Good Eats