Lasagna was my favorite meal in the entire world when I was growing up. Who doesn't love pasta, cheese and sauce? If you don't, stop reading here. If you do, let's be besties! 🙂 This is a lighter version from Weight Watchers. I love giving my favorite dishes light makeovers once in a while. It uses far fewer noodles, but it doesn't affect the taste at all, honestly! I'm not on board with tasteless food. It also reheats really well the next day. The perfect comfort food without all the guilt! I hope you love it as much as I do, it's a keeper for sure!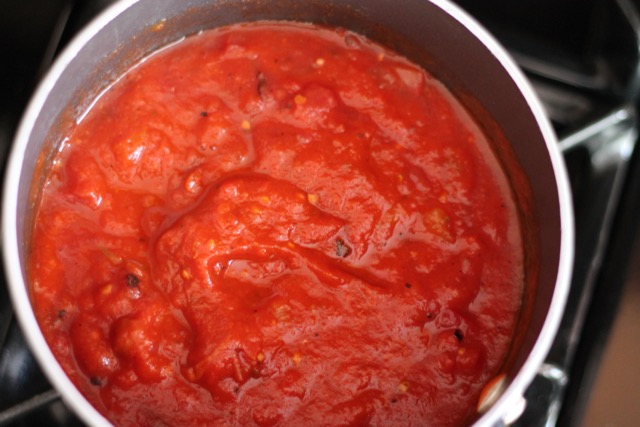 Pour your marinara sauce and fire roasted tomatoes in a pot and simmer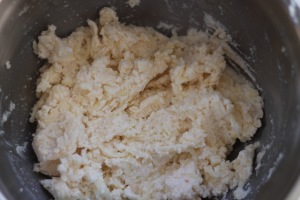 Ricotta, the stuff dreams are made of 🙂 I tried out Trader Joes Ricotta for the first time ever, and whoa, it's AMAZING! To that Ricotta, add in shredded mozzarella and Parmesan.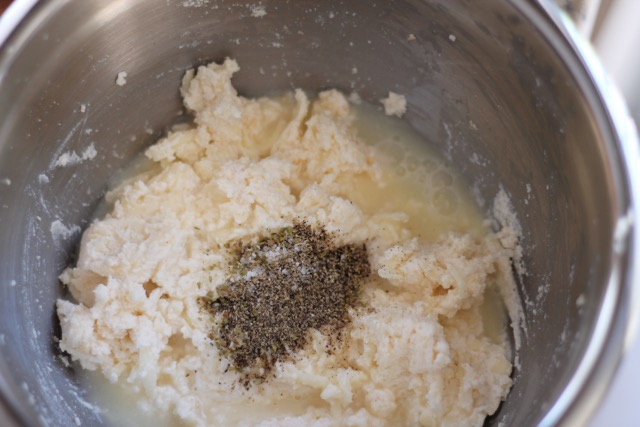 Next add in egg whites, salt, pepper and oregano. Mix together.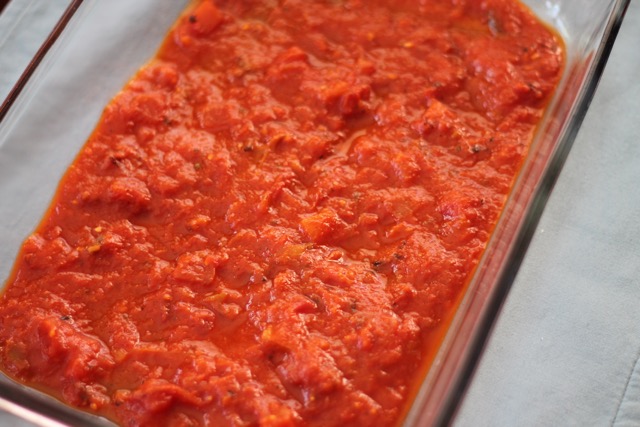 Spread 1 cup of the tomato sauce that's been simmering into an 11 x 7 baking dish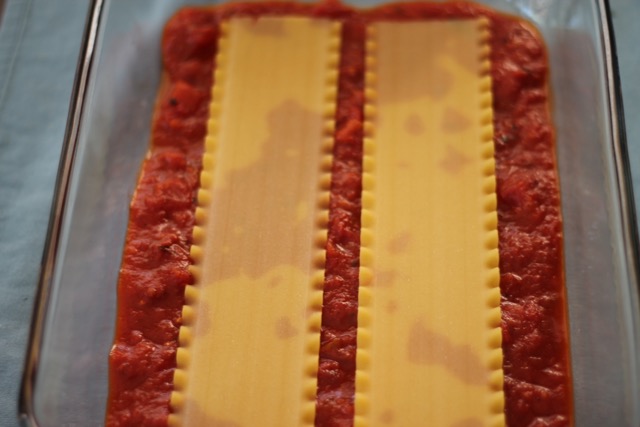 Top that with 2 lasagna noodles. I know this is a little strange, but I won't steer you wrong.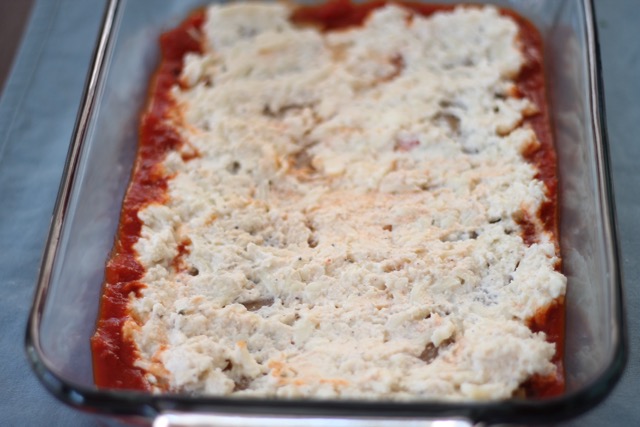 On top of that, spread 1/2 of the cheese mixture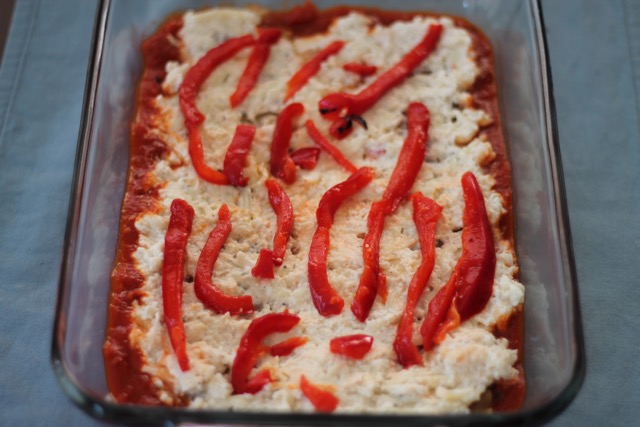 Then add  roasted red peppers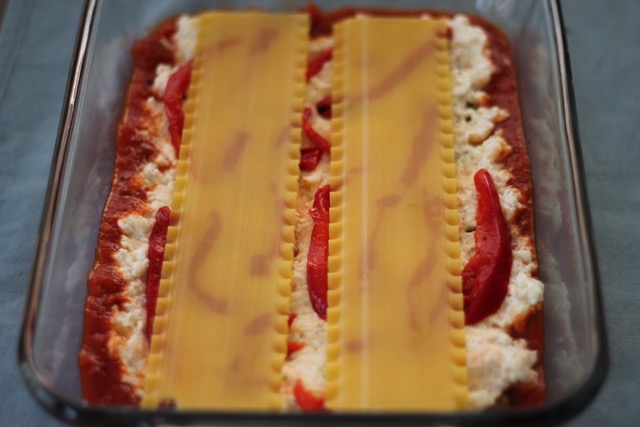 2 more lasagna noodles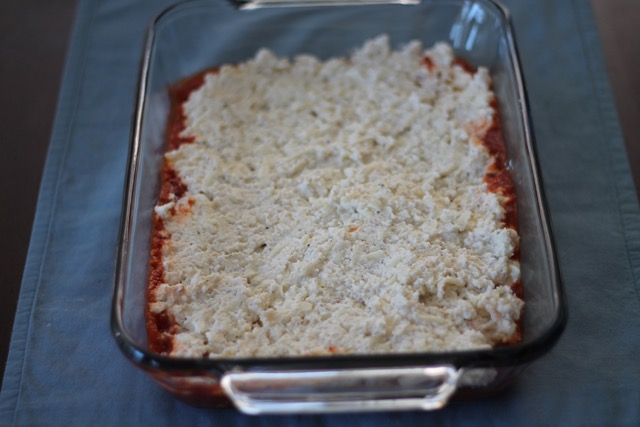 The other half of the cheese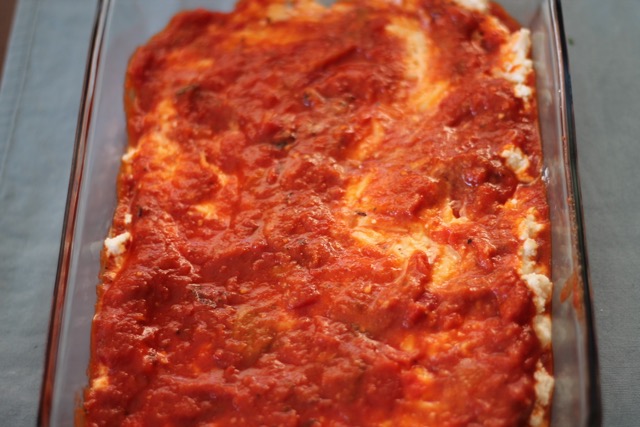 Another cup of the tomato sauce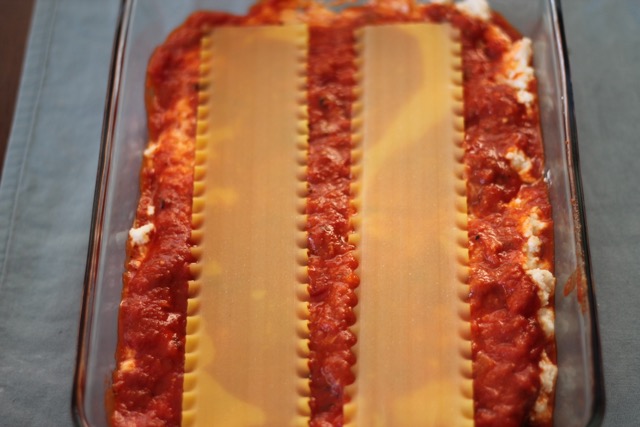 2 more noodles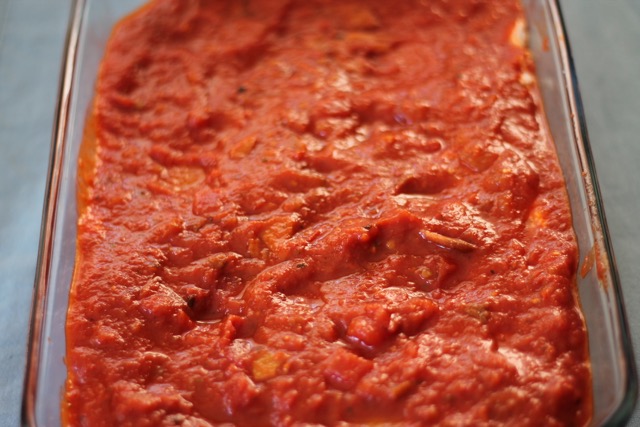 And finally the rest of the tomato sauce
Bake covered for 40 minutes, and uncovered for 10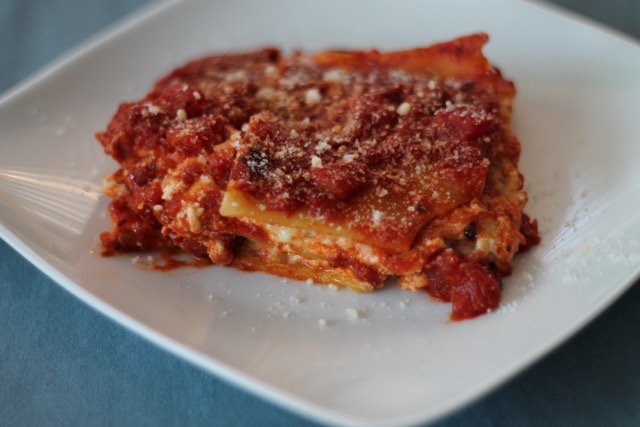 Nom Nom Nom!
Ingredients
24 oz store bought marinara sauce
1 cup(s) canned diced tomatoes, fire-roasted, drained
1 cup(s) ricotta cheese
1 cup(s) shredded part-skim mozzarella cheese
1 cup(s) shredded parmesan cheese, Parmigiano-Reggiano suggested
1/4 cup(s) egg whites
1/4 tsp table salt
1/4 tsp black pepper
1/4 tsp dried oregano
6 item(s) uncooked lasagna noodles, regular or whole-wheat
1/2 cup(s) roasted red peppers (packed in water), cut into thin strips
Directions
Preheat oven to 350ºF.
In a small pot, combine marinara sauce and tomatoes; set over low heat and simmer for 10 minutes to allow flavors to blend.
Meanwhile, in a large bowl, combine ricotta, mozzarella and Parmesan cheeses; stir to combine. Stir in egg substitute, salt, pepper and oregano.
Spoon 1 cup of sauce in bottom of an 11- X 7-inch glass baking dish. Arrange 2 lasagna noodles over sauce, down center of dish. Spread half of cheese mixture (about 1 1/2 cups) over noodles; top with pepper strips. Place 2 more noodles on top; spread with remaining cheese mixture. Top with 1 cup of marinara sauce; place remaining 2 lasagna noodles on top. Spoon remaining sauce over top and gently press down on lasagna.
Cover dish loosely with aluminum foil; bake for 40 minutes. Remove foil; bake until sauce is lightly browned and noodles are tender when tested with a knife, about 10 to 15 minutes more. Remove from oven and let sit for 5 minutes to firm up slightly. Slice into 8 pieces and serve. Yields 1 piece per serving.
Recipe slightly adapted from Weight Watchers