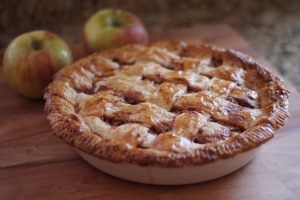 Apple Pie, is there anything better on a cool fall day? The warm spiced apples surrounded by the delicate flaky crust. It's the stuff dreams are made of. I took a trip to our local orchard and picked some delicious Granny Smith's. I knew their future looked bright with this pie. As promised in my Lattice Pie Crust Post, here is my spiced apples recipe.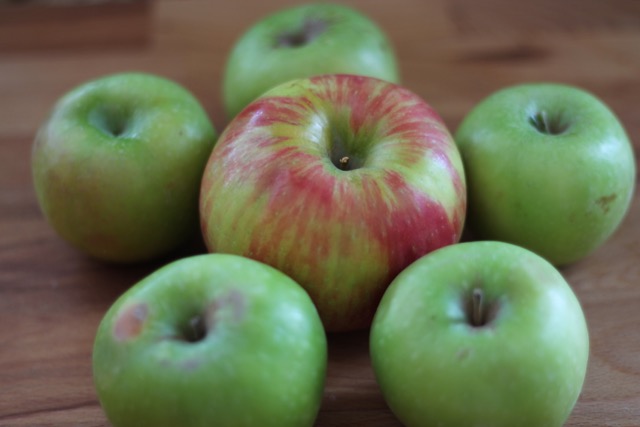 You'll need  approximately 6 apples depending on the size. I threw one Honeycrisp in with the Granny Smith's for good measure.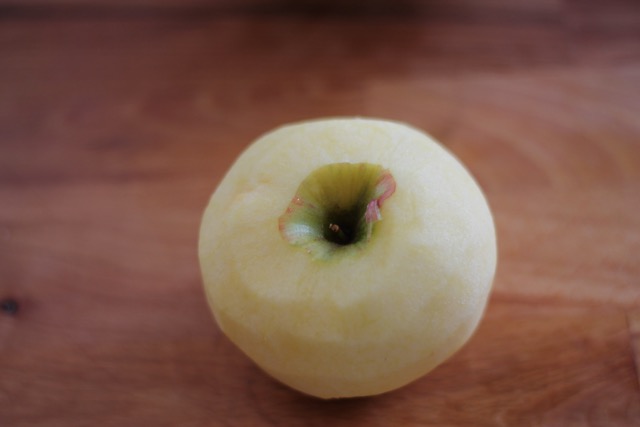 Peel all your apples. I found my Mid-West skills are rooted deep within me. I can peel an entire apple in one peel in under 15 seconds. Not to brag or anything 😉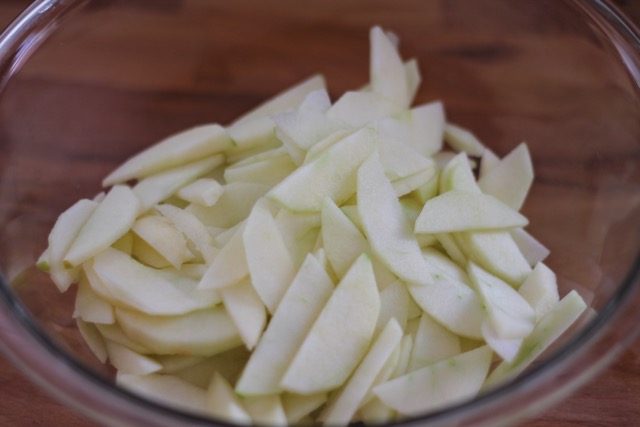 Slice the apples nice and thin.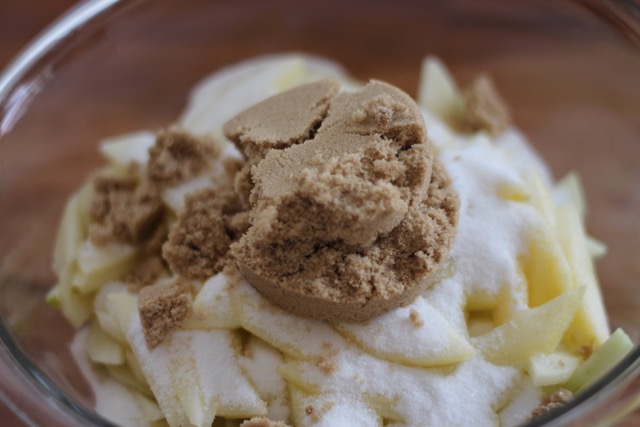 Add in your sugars and stir to combine.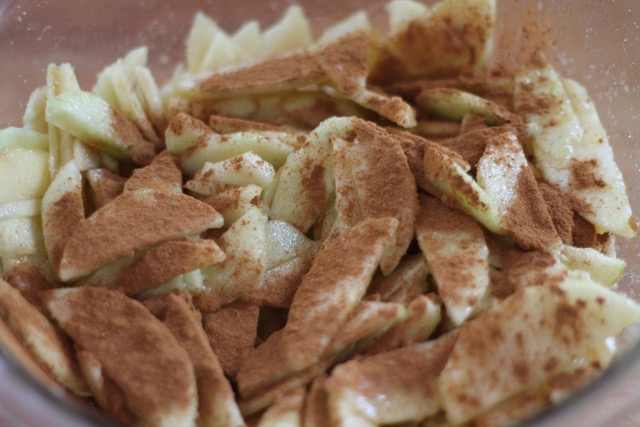 Next, sprinkle on your cinnamon and flour.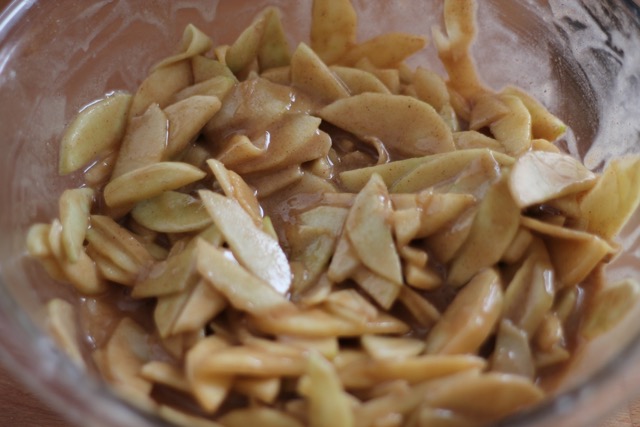 Add as much flour as you need, until it looks something like this. Not too dry and not too watered down.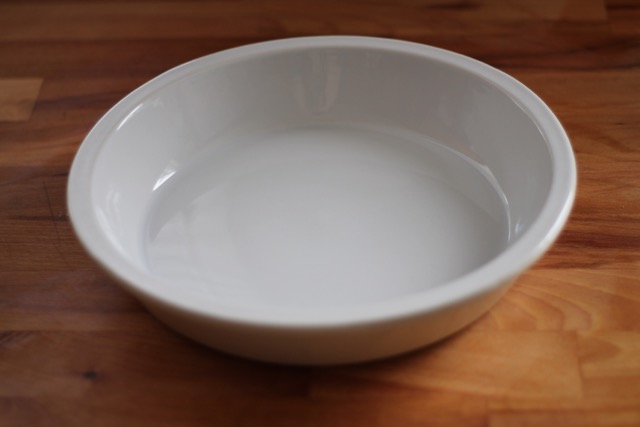 Get your pie plate ready.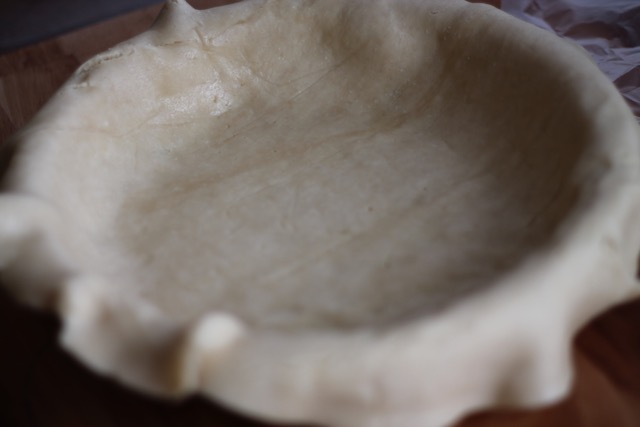 Lay out your pie crust in the pan. I just used 2 store-bought crusts for this, but you could always make your own.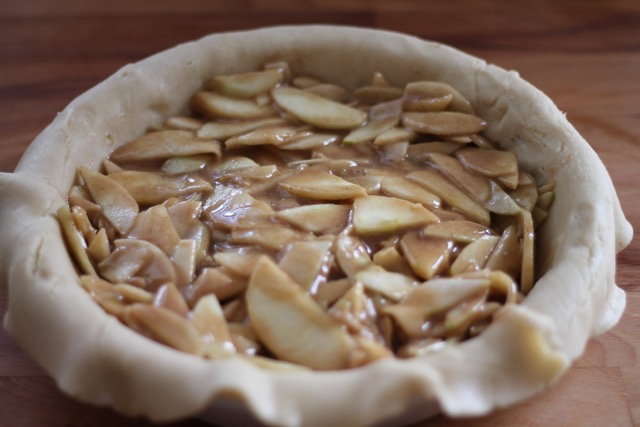 Pour in your spiced apples. If an apple slice or two is left behind in the bowl, don't stress, just eat it. Thank me later.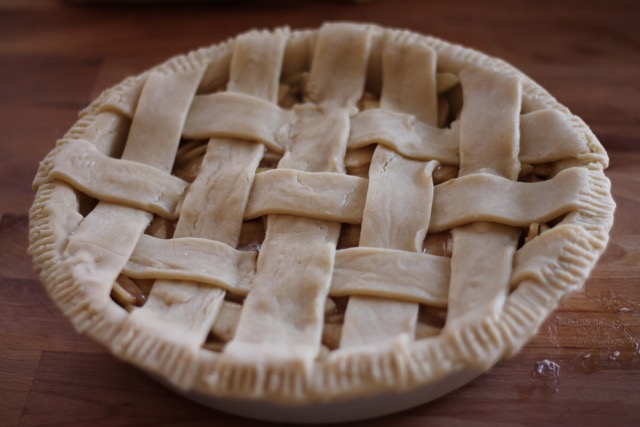 You can put a full pie crust on top, or lattice it like I did here.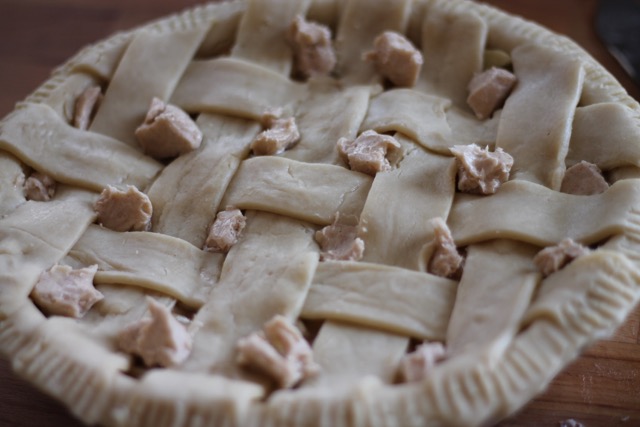 If you forget to put your butter on before your top layer of crust like me, just put it in the holes of the crust or don't be like me in the first place and forget. Oh, and I do recommend using this delicious Honey Cinnamon Butter instead of plain old butter.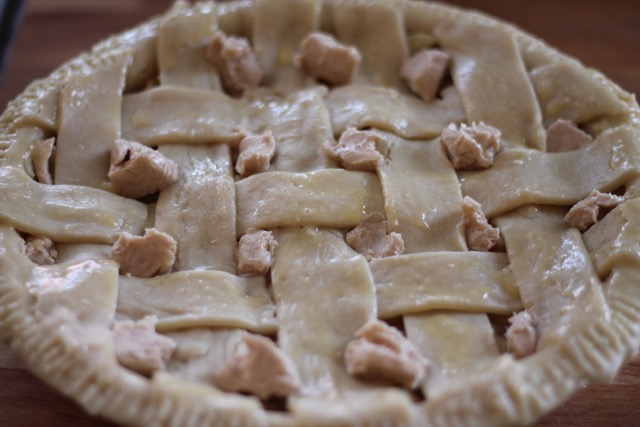 Gently paint a layer of egg wash right on top of the crust. Just take an egg, beat it and use a pastry brush to gently glide it on.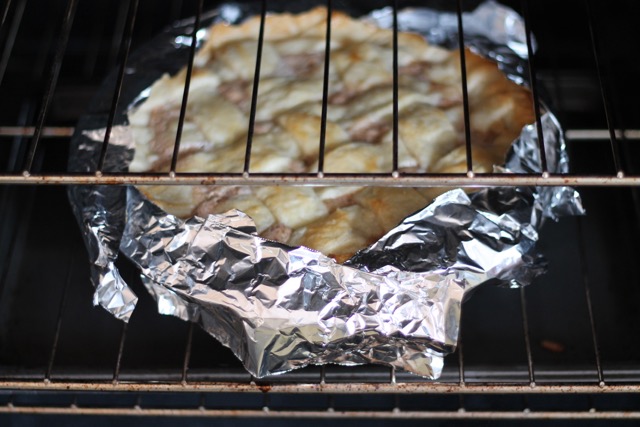 I always cover the edges in foil as they tend to brown more quickly than the rest of the pie, and you want everything to be baked evenly.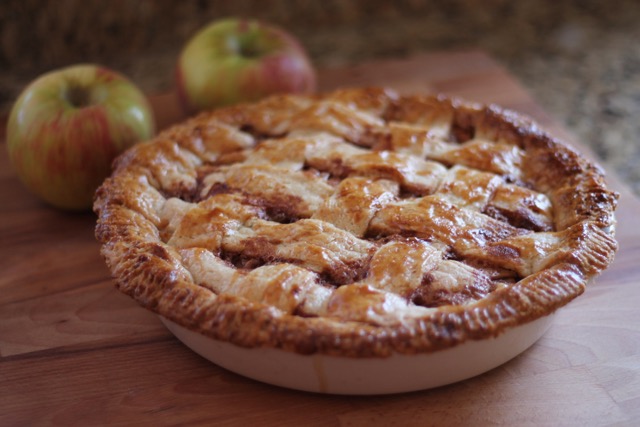 45 minutes later, take a good whiff of your house. You're the envy of all your neighbors! Best Apple Pie in town, folks!
Spiced Apple Pie
Ingredients
6 apples (your favorite kind)
1/2 cup granulated sugar
1/2 cup brown sugar
1 teaspoon cinnamon
1/2 cup to 1 cup all-purpose flour (depending on juiciness of apples)
2 tablespoons butter
1 egg
Directions
Pre-heat oven to 375. Peel, core and cut apples into thin slices. In a bowl, combine sliced apples and sugars. Stir until sugar thoroughly coats the apples. Add cinnamon and enough flour to coat the apples. Add store-bought pie crust dough to the bottom of a pie plate. Pour in the apple mixture. Make sure the apple slices are laying flat. Cut butter into small pieces and put on top of the filling. Cut a second store-bought pie crust dough into 1-inch strips.Using the dough strips, form a lattice pattern on the top. Crimp the edges, as desired. Paint an egg wash over the top dough. Bake for 45 minutes, or until pie is golden brown. Wrap foil around the edges of the pie if it begins to brown too quickly.
I'm sharing this recipe with my good friends over at the Fiesta Friday Party!
Also, my race is tomorrow, so wish me luck! I've never done one before 🙂