Happy Friday friends! As most of you have probably surmised by now, being that I'm a food blogger, I LOVE food. I not only enjoy cooking, but I also take pleasure in scoping out to new food joints and being on the receiving end of a deliciously prepared meal. The hubs and I like trying new places and develop favorites rather quickly. We have very similar tastes, thank goodness! So, today I thought I'd share with you our favorite eats and drinks in San Diego.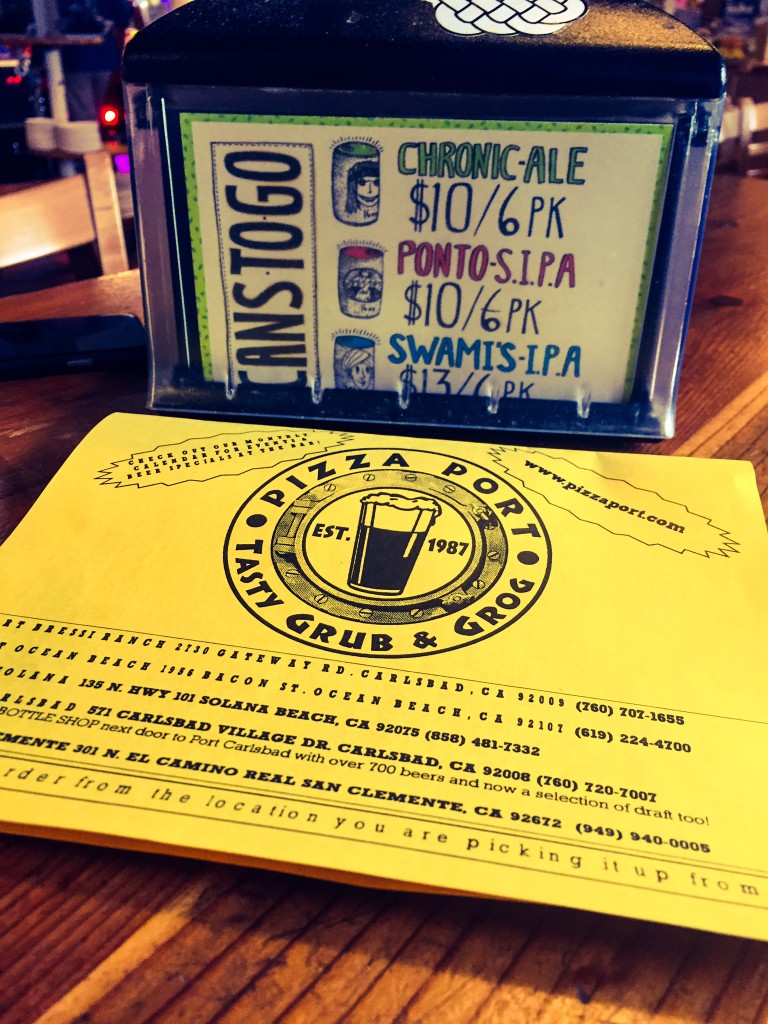 Let's start off with Pizza Port. Pizza Port is a brew pub with amazing beer and out of this world pizza.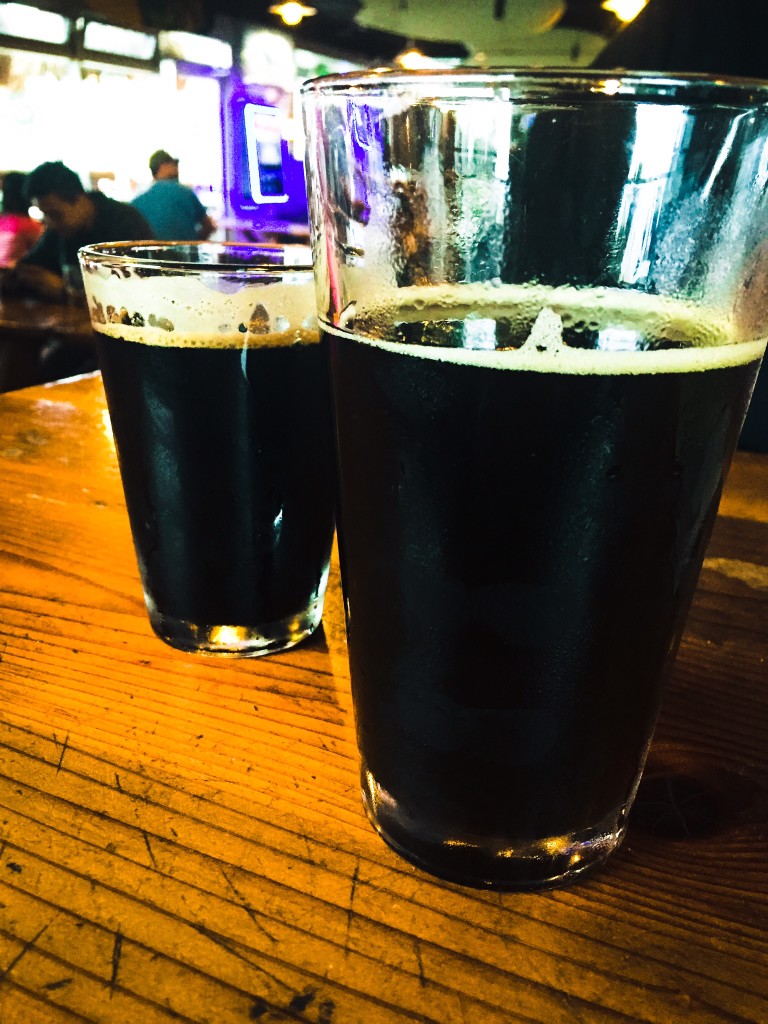 It's communal seating on long wooden tables, all just part of the experience. If you like dark beer, be sure to give the Junk 'n Da Trunkle Dunkle a try. Some of these beers have the best names 🙂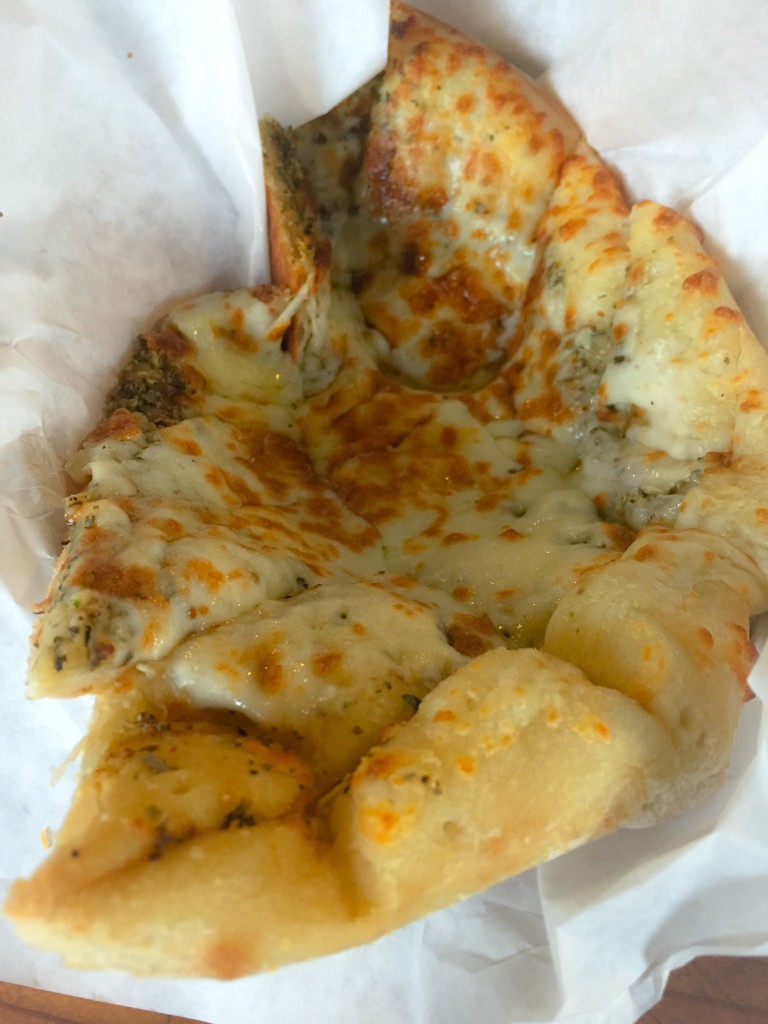 Get the cheesy bread. You can thank me later.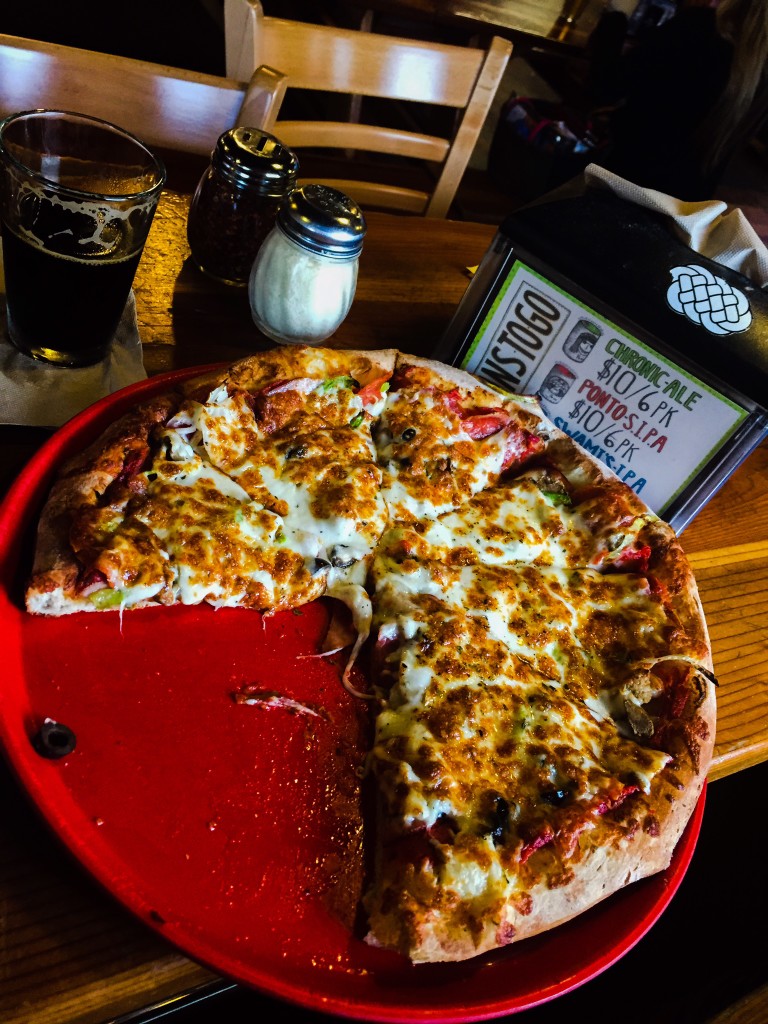 They have some really fun and unique topping combinations. One has black bean sauce, tomatoes, olives, red onions, topped with cheddar, mozzarella, Spanish spices and fresh cilantro and another has shrimp, clams, onions, olives, bell peppers, & mushrooms. They have the classics too, so you'll be sure to find something you like. It doesn't get much better than this.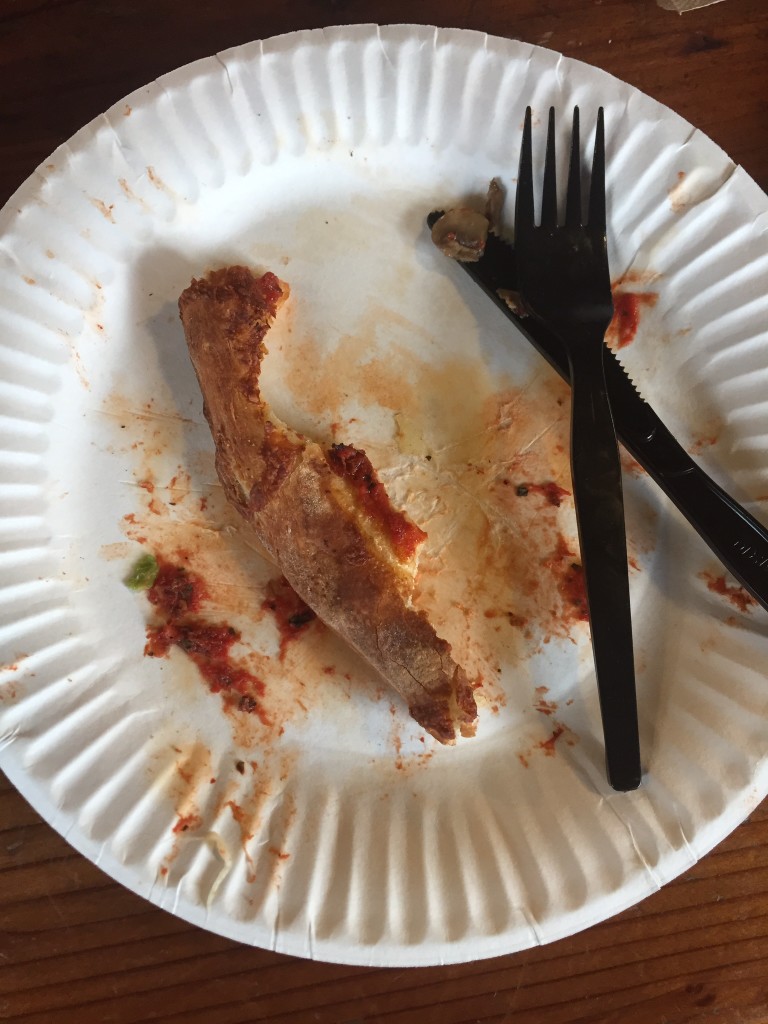 The aftermath.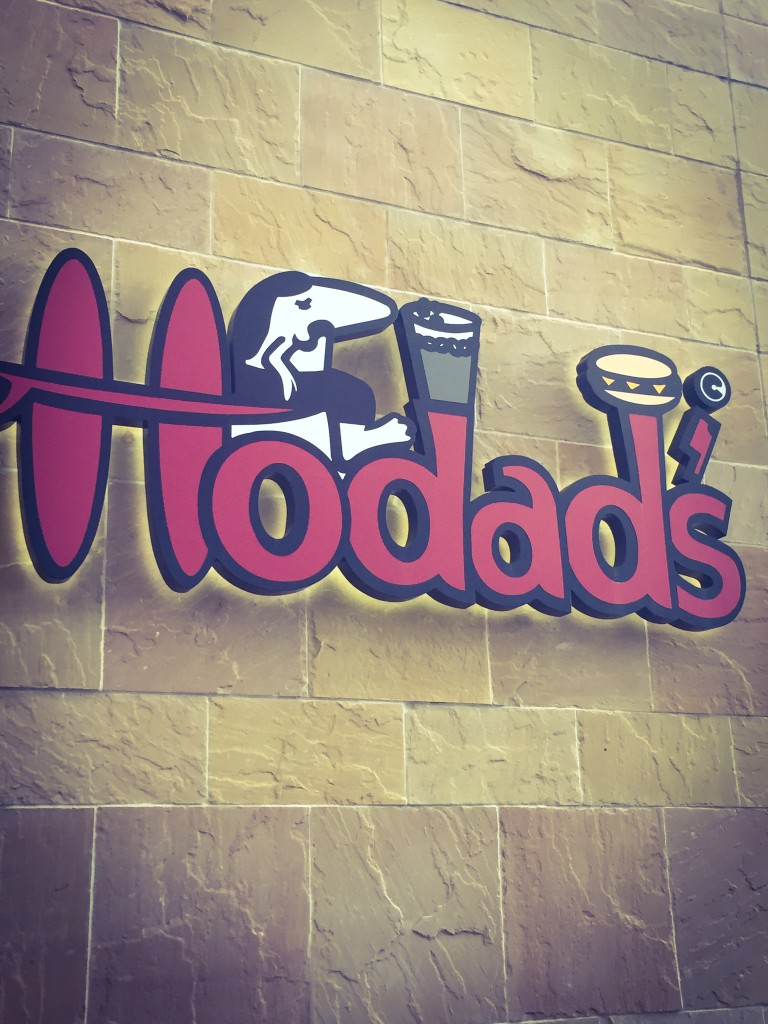 Another favorite stop is Hodad's. Hodad's is a famous burger joint (Guy Fieri featured it on Diners, Drive-ins and Dives) and most of the time, they have a line that wraps around outside the restaurant to get in. Despite the fact that it's insanely busy, it's a very laid-back atmosphere. They have 3 locations, one in Ocean Beach, one downtown and one another at Petco Park. We have visited Ocean Beach and Petco Park, but my favorite has to go to Petco Park.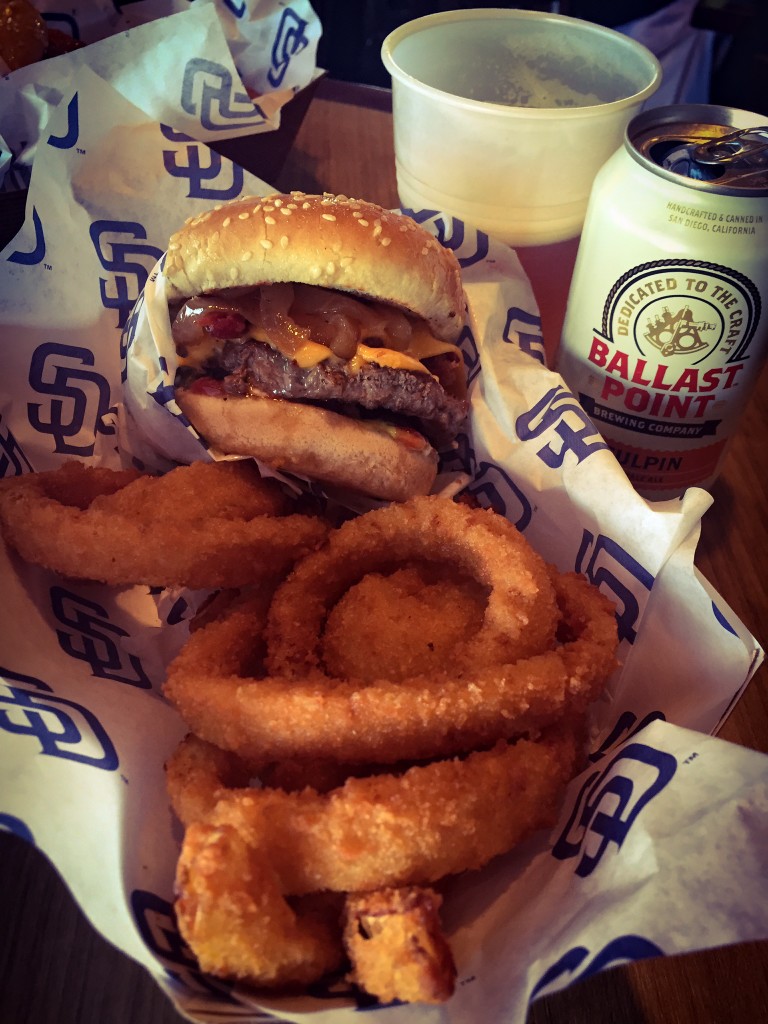 The food is INSANE! It's a fried extravaganza of epic proportions and it's oh sooooooo good! It's a MUST if you're in town.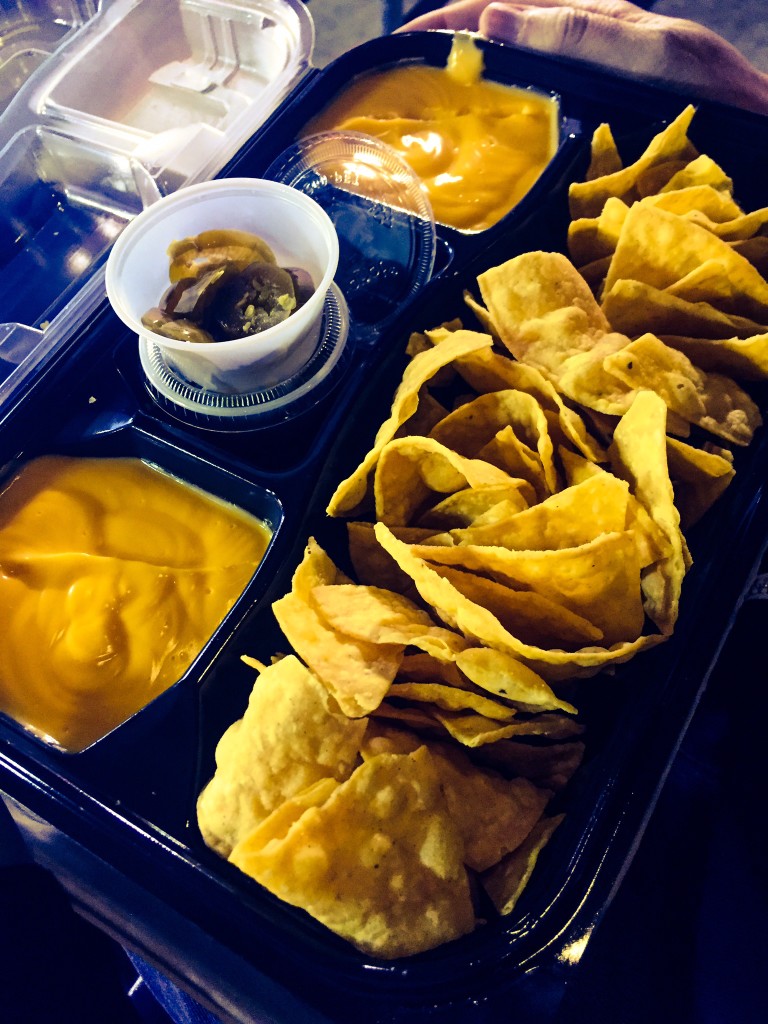 Speaking of Petco Park, make sure you mark it down on your list of places to eat. Yes, I'm serious. If you like baseball, it's a plus, but they have the most amazing food. I'm talking the traditional dogs, nachos, and burgers, and the not so traditional churros, pizza, pulled pork and sushi. Whatever you're little heart desires you shall have. In my case, one of everything 😉

The view's not bad either.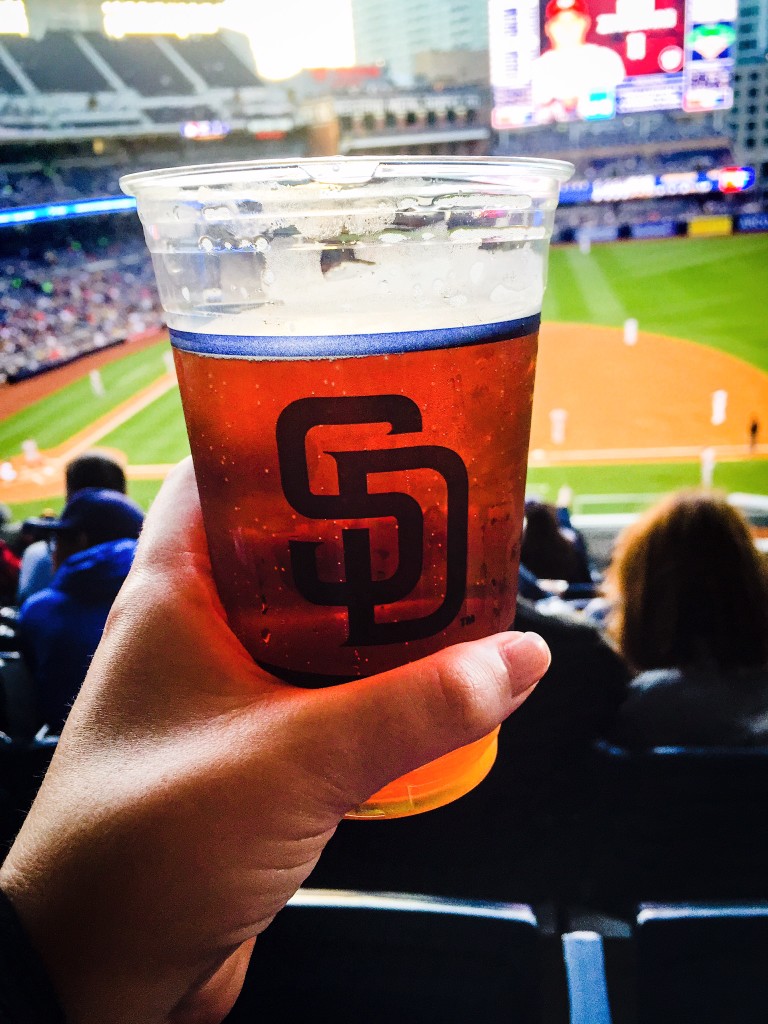 Their beer selection is impressive. With local craft beers and microbrews, you're bound to find something you'll love!
Peter Richmond said it best…"Beer needs baseball, and baseball needs beer – it has always been thus."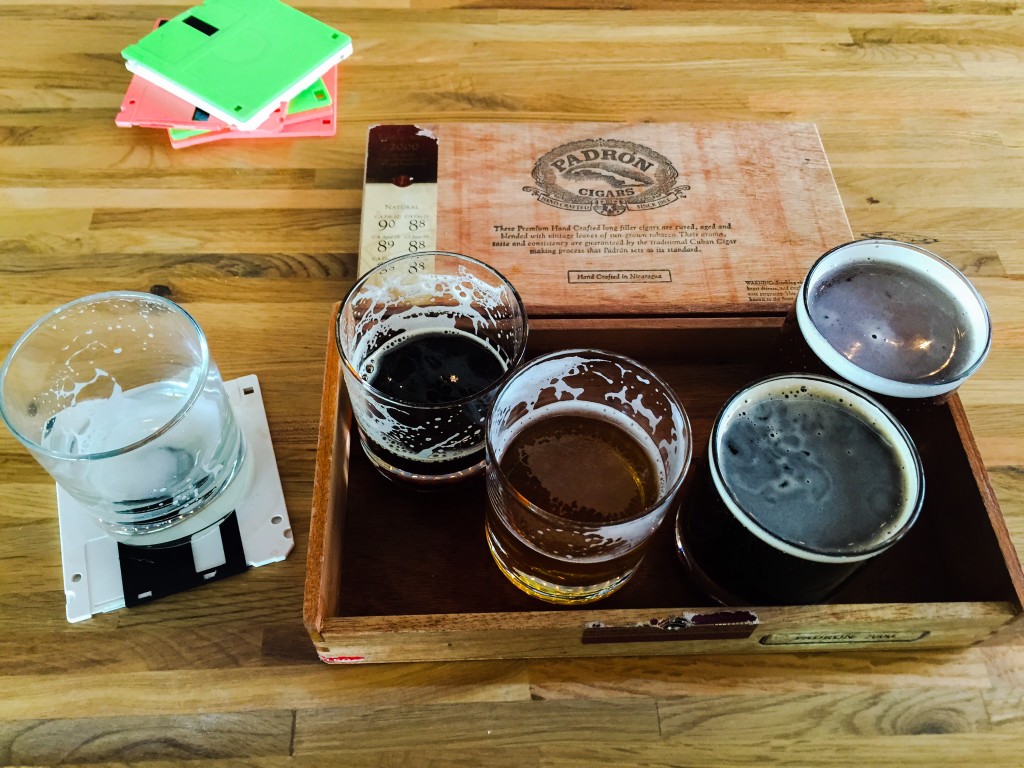 Keeping with the beer theme, another favorite spot of ours is Modern Times Beer. The San Diego craft beer game is on point and this gem ranks very high. I HIGHLY recommend the Black House with Coconut & Cocoa. It's what dreams are made of. You can also try a sampler that comes in a fancy little cigar box with floppy disks as coasters.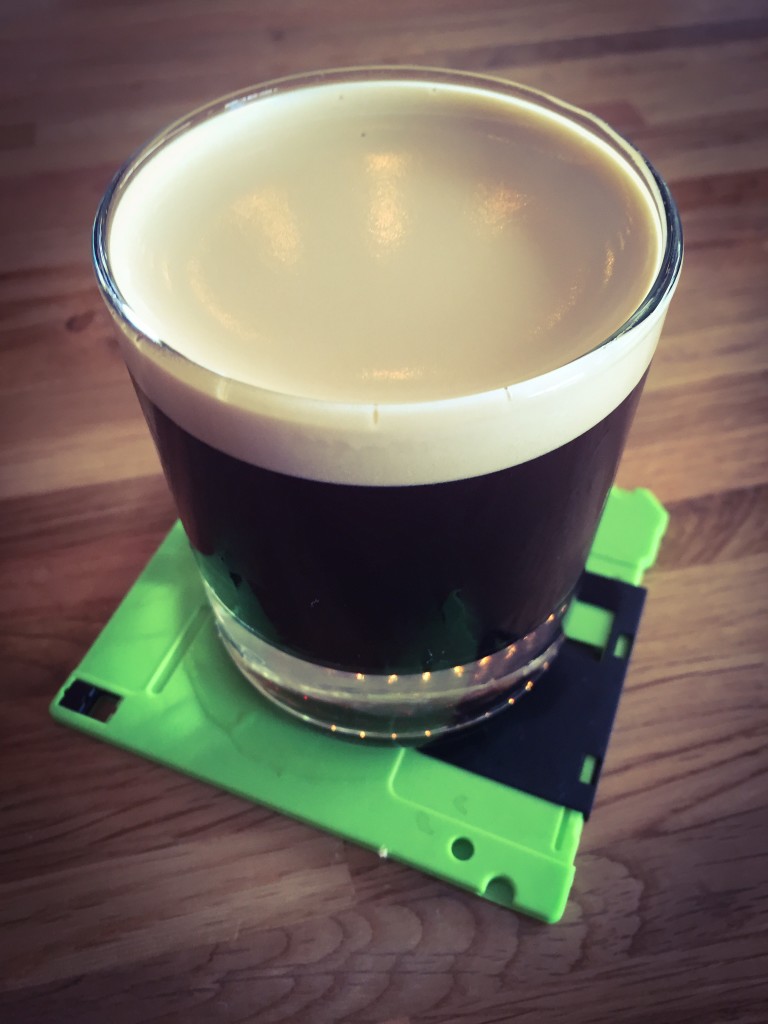 Can you say Nitro! Are you thirsty yet?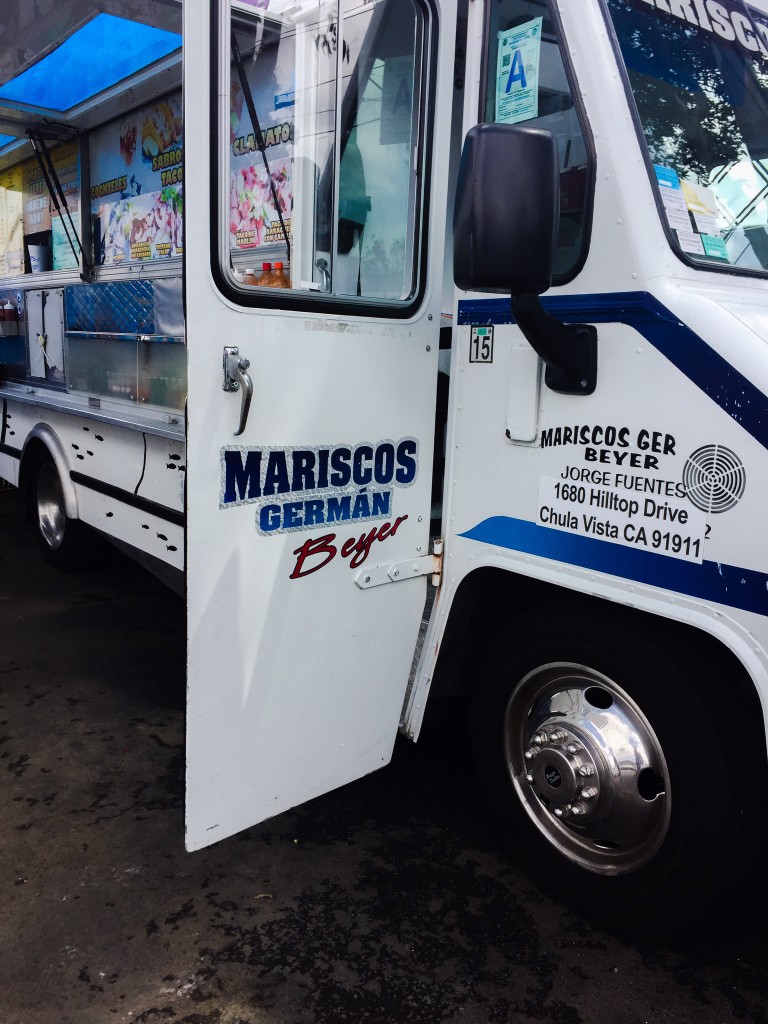 If you like fish tacos, this next place is going to knock your socks off.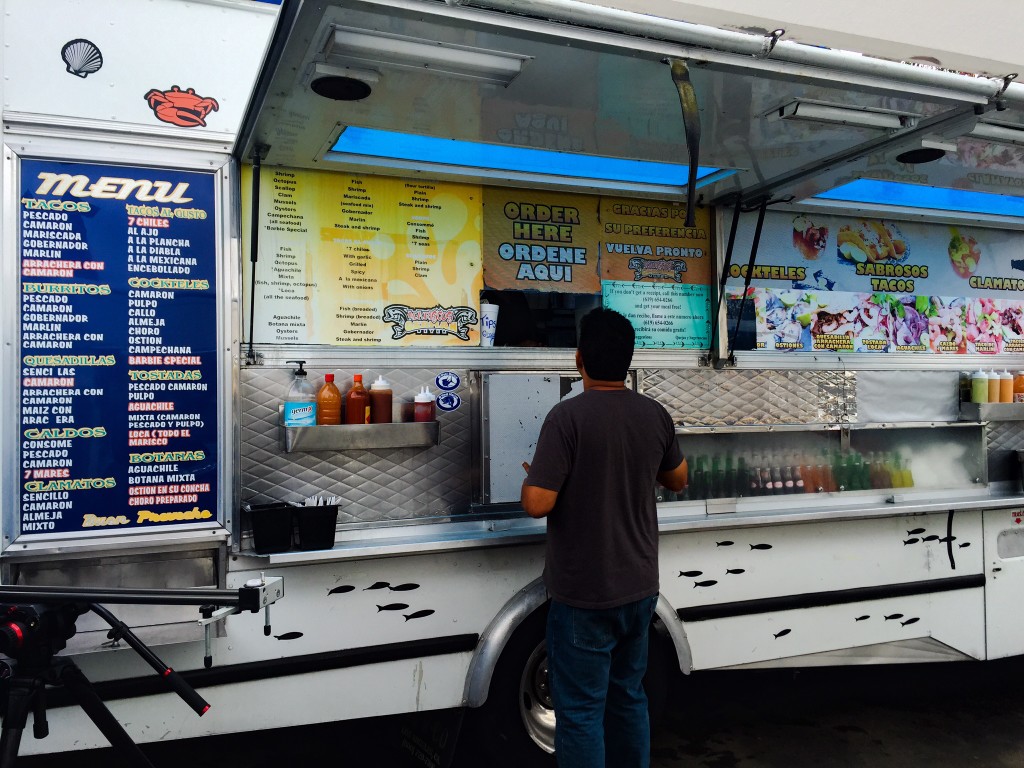 Mariscos German is a small food truck in a less than desirable strip mall parking lot. But don't let the location fool you. I read about this place on the Huffington Post and I'm so glad we checked it out.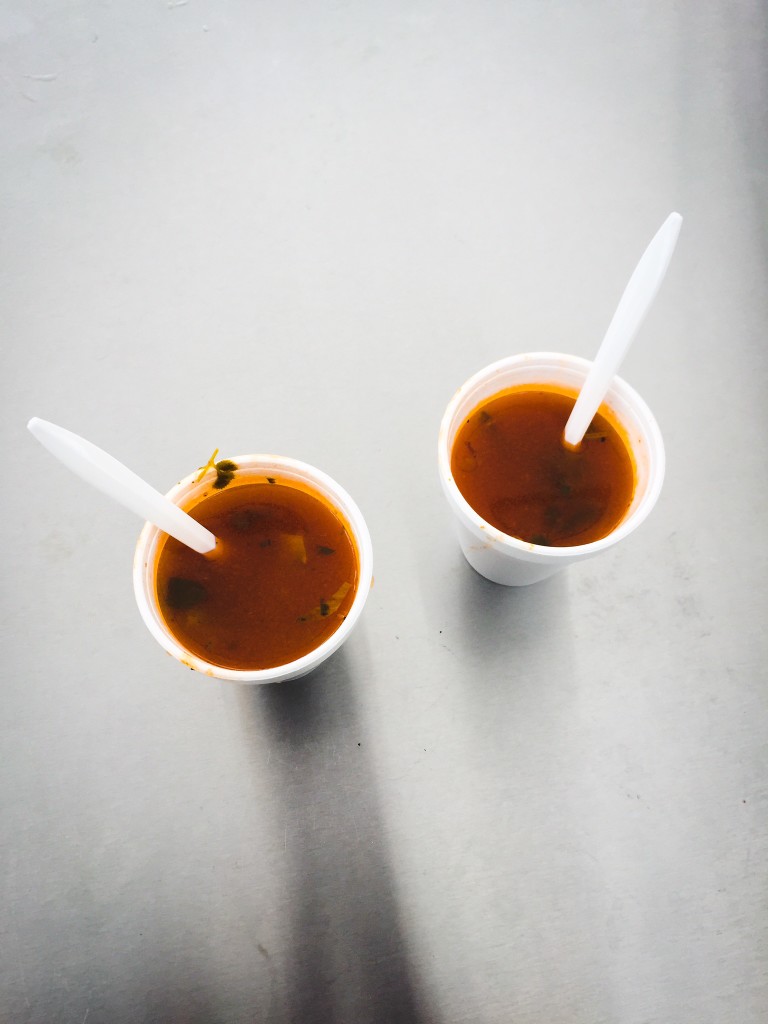 You start off with a complimentary cup of tomato-fish soup.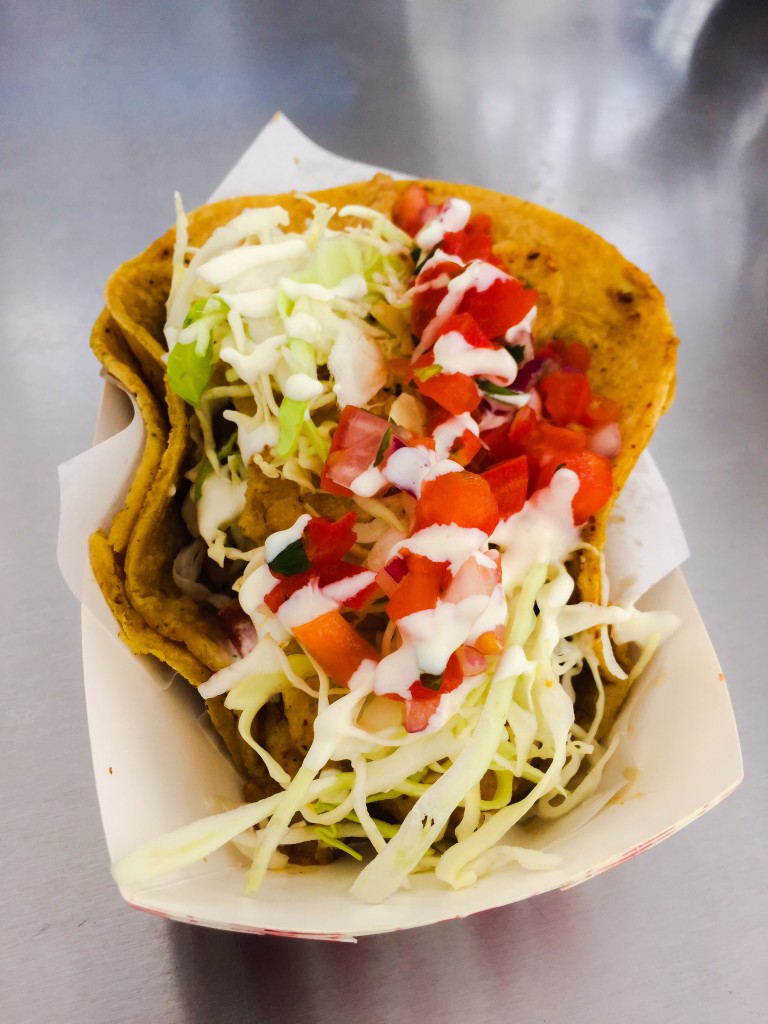 And then for the low low price of $1.25, you will have the fish taco of your dreams. The fish is perfectly cooked, lightly battered and topped with just the right amount of cabbage, pico de gallo and crema. It's worth the visit to the depressing parking lot locale.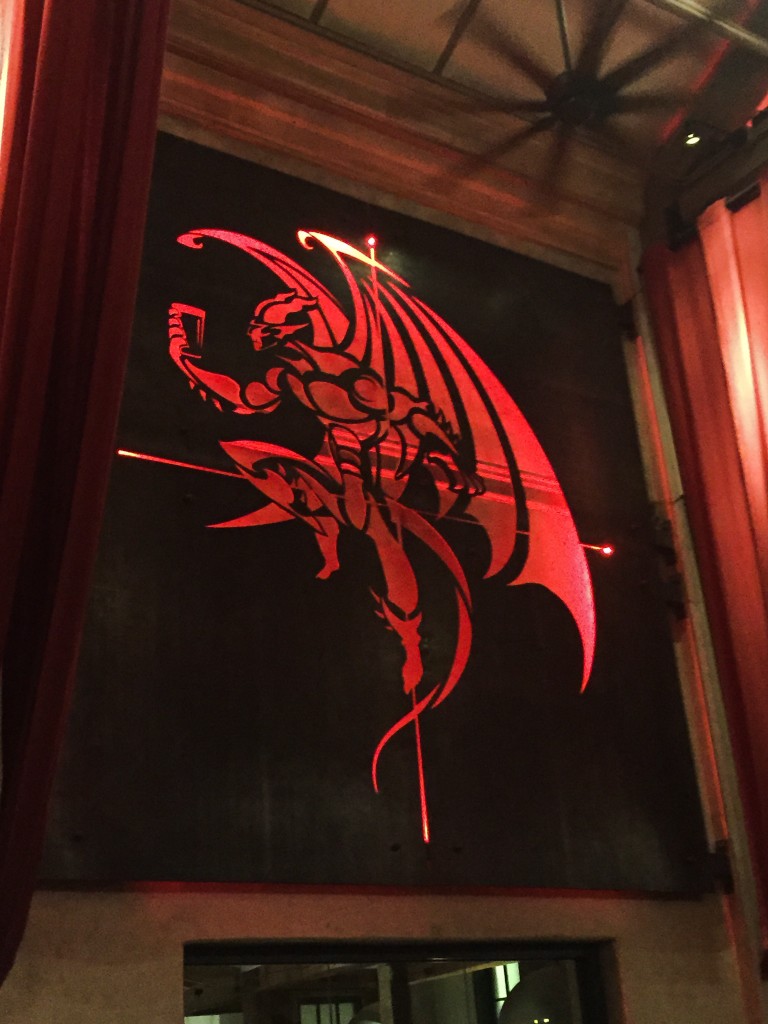 Finally, Stone Brewing Company. Okay you got me, we like beer 🙂 Stone is in Liberty Station, which is an old Navy training facility turned into a shop, eat and play space.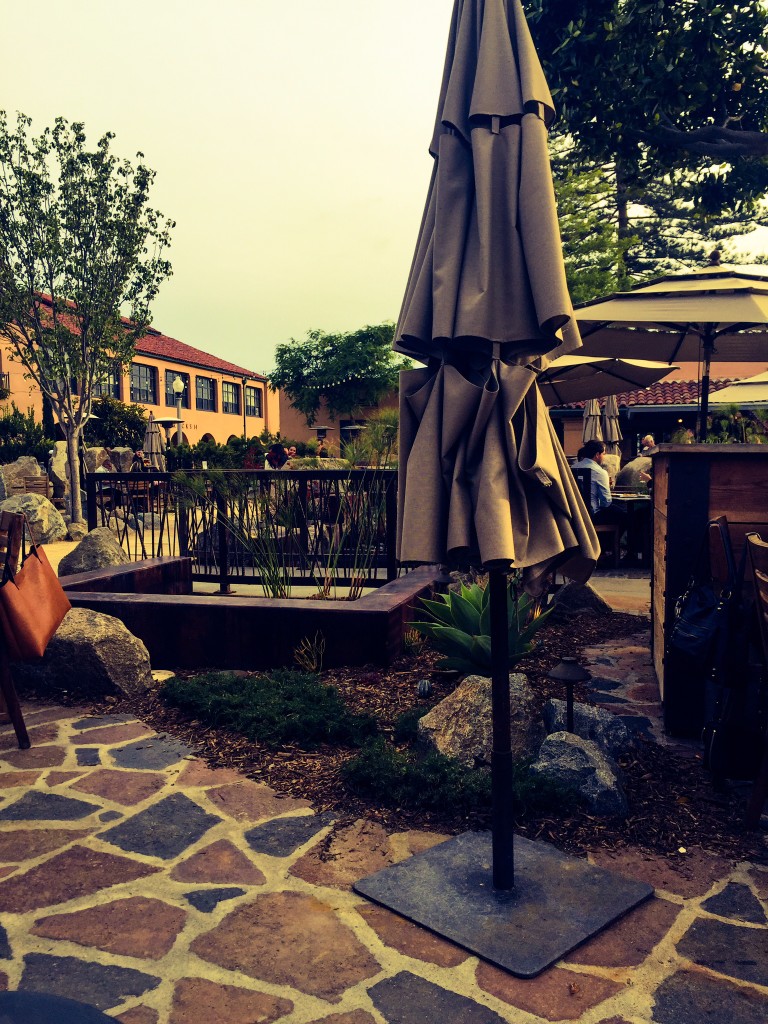 They have the most gorgeous outdoor garden seating, so if weather permits, sit outside!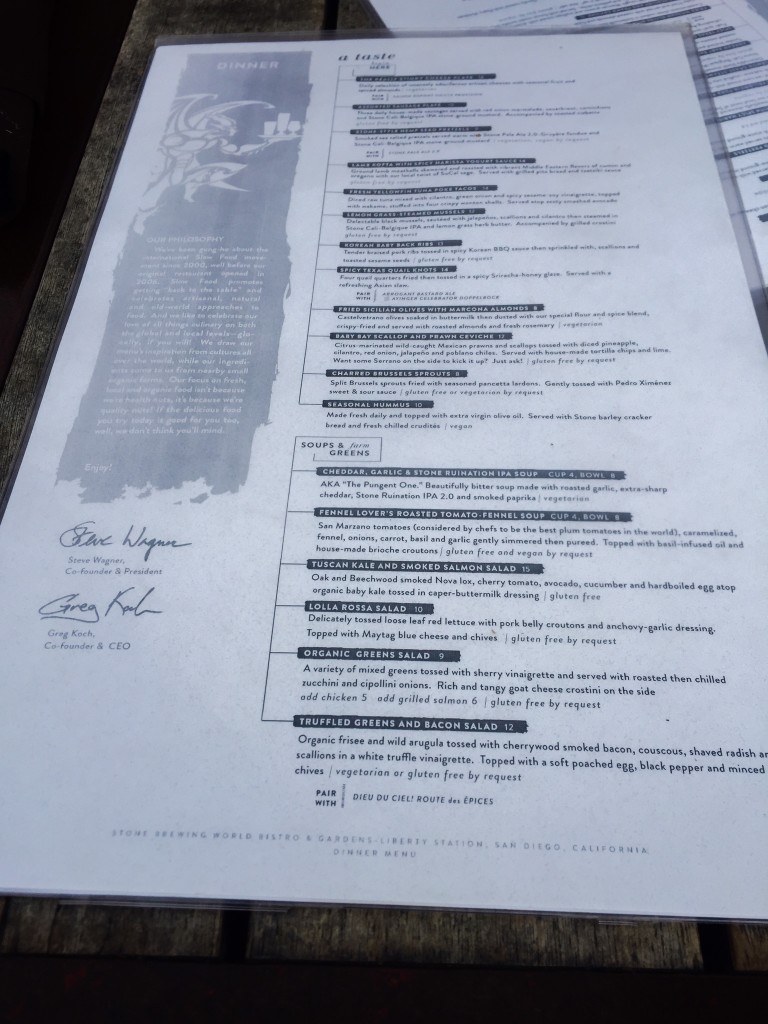 The food menu is nothing short of spectacular. They have Fried Sicilian Olives, House-made Kimchi, Arctic Char, Duck Tacos, Chicken Schnitzel, and the list goes on and on.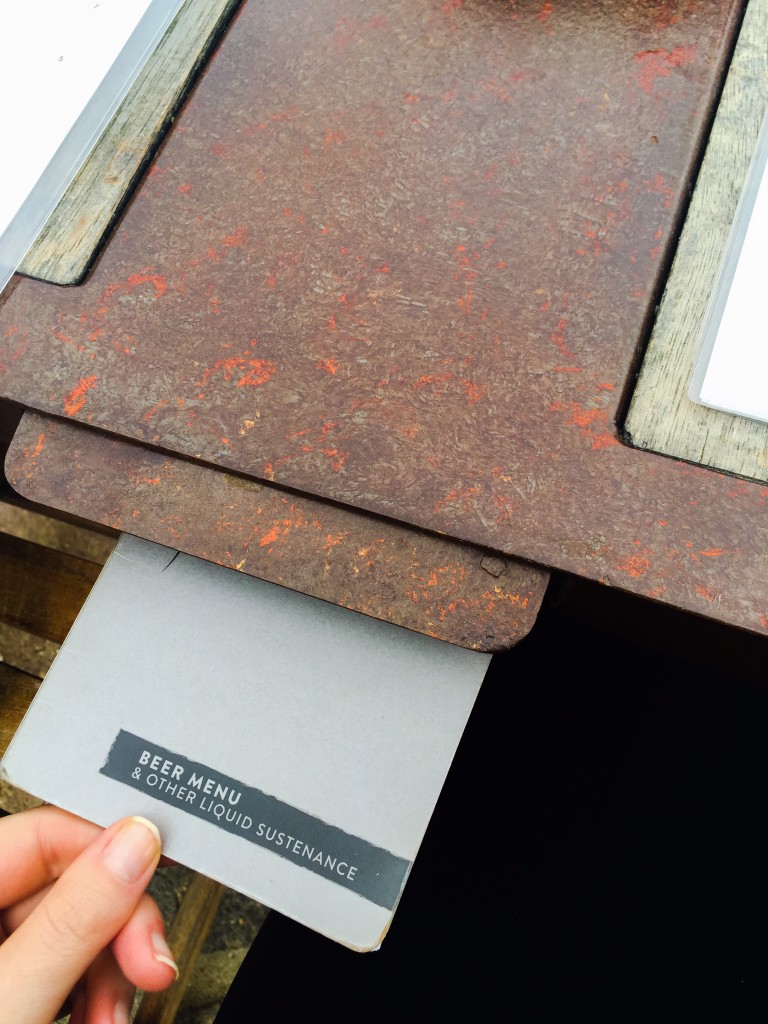 The even more important menu is hidden in plain sight.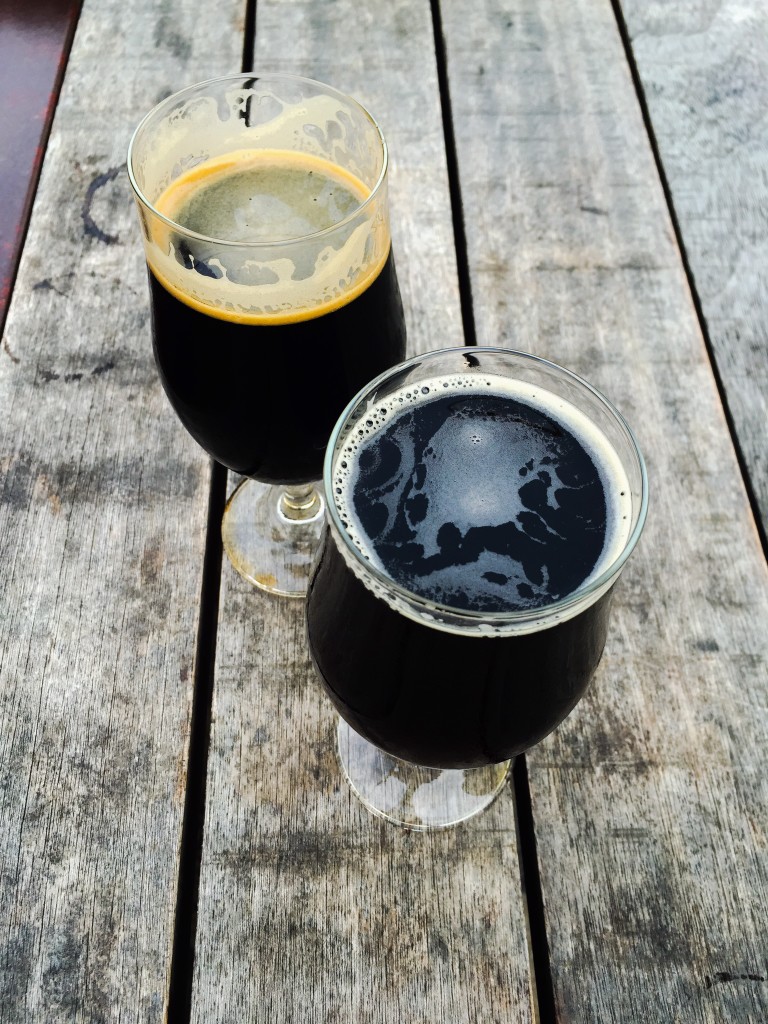 Beer for two. We like it dark.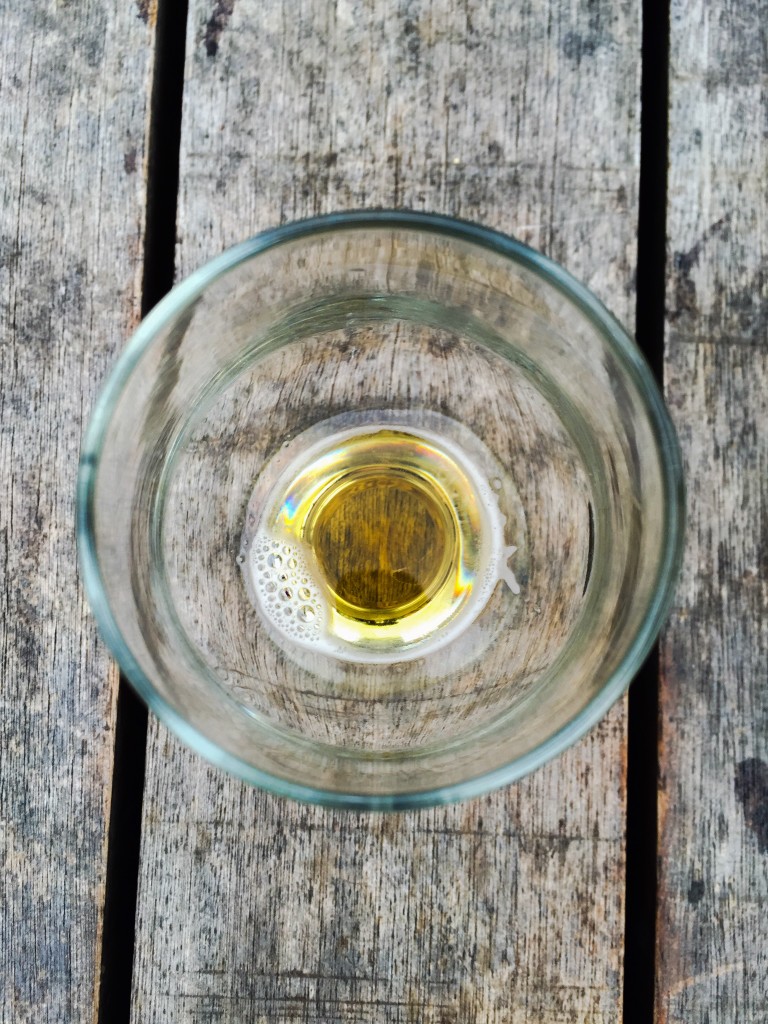 Be sure to ask for samples of beer you're unsure of. This blonde coffee was not a favorite of ours.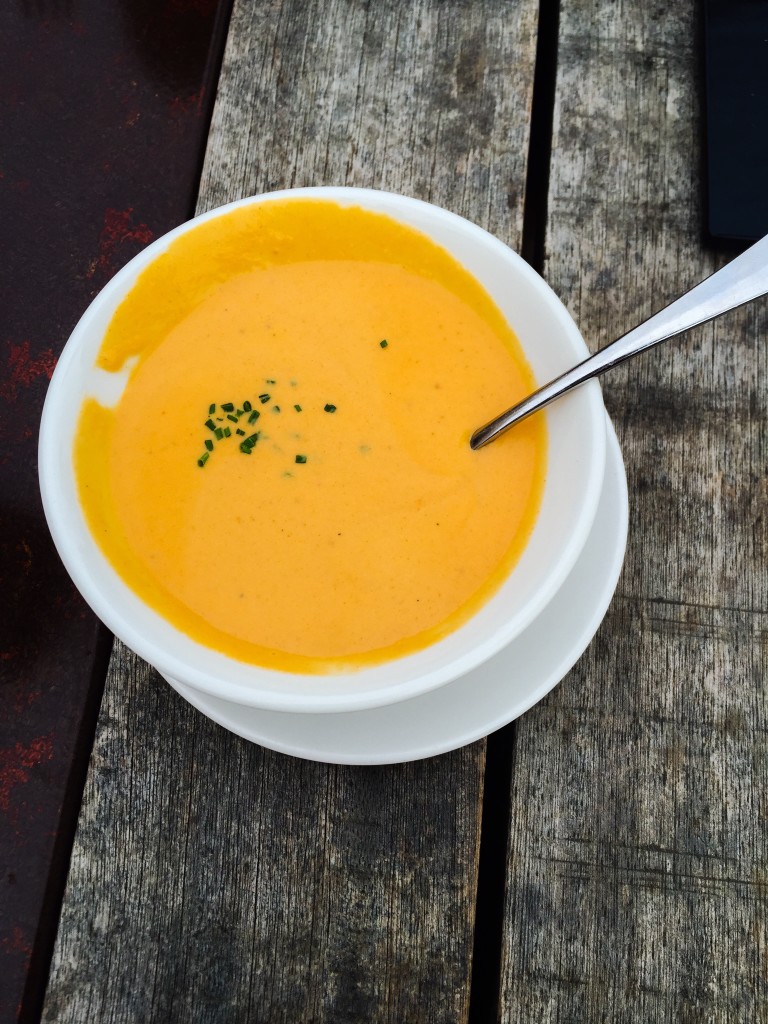 What was a favorite, was this Cheddar, Garlic and Stone Ruination IPA Soup. Now, I know a thing or two about Beer Cheese Soup, and this was unlike any I've ever tried. It's extra sharp and perfectly bitter. It was simply incredible!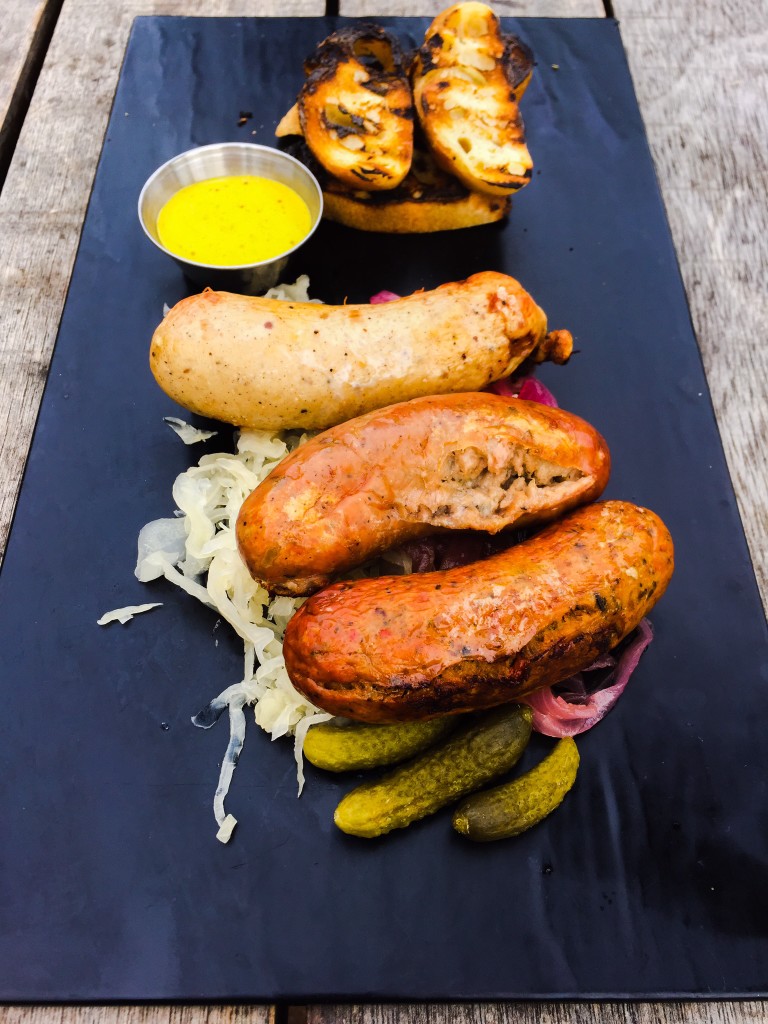 Another must try is the Assorted Sausage Plate with three house-made sausages, red onion marmalade, sauerkraut, cornichons, Stone Cali-Belgique IPA stone-ground mustard, and toasted ciabatta. Heaven!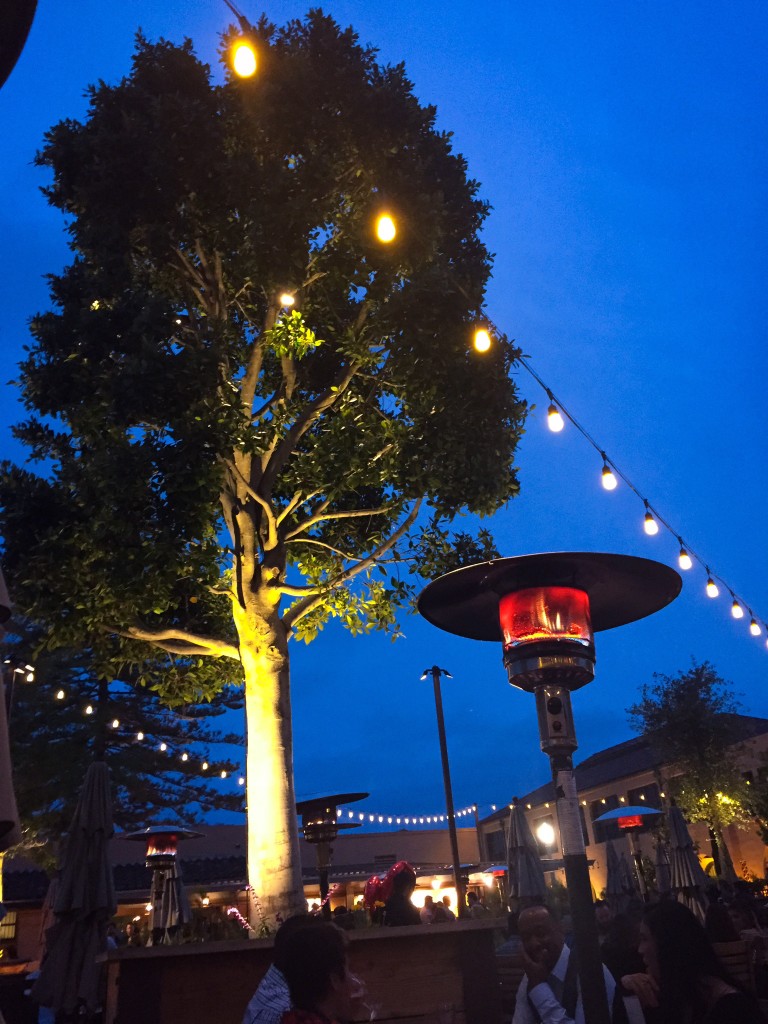 The garden area has a stunning glow after the sun goes down.
There you have it, some of our favorite San Diego spots to eat a drink!
Have you ever been to San Diego? Any spots we need to try out?