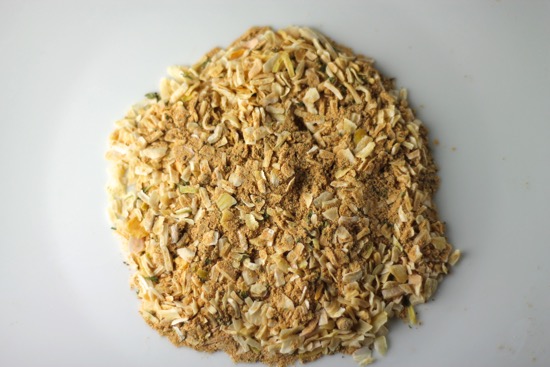 I've been on a little bit of a DIY kick lately. It could be because my refrigerator took a long winter's nap and I've had to come up with different things to make at home, none of which require refrigeration.
Fridge Update: It's fixed and purring like a kitten.
Onion soup mix is a staple. I like to use it in my Crock-Pot Chicken Stroganoff, dips and burger recipes. It's not terribly expensive, but I always find the stuff you make at home tastes so much better. I tried out a couple of combinations, and this one was my favorite. It's only going to take you 5 minutes to mix together and you will most likely have all the ingredients in your spice cabinet.
Let's do it (yourself)!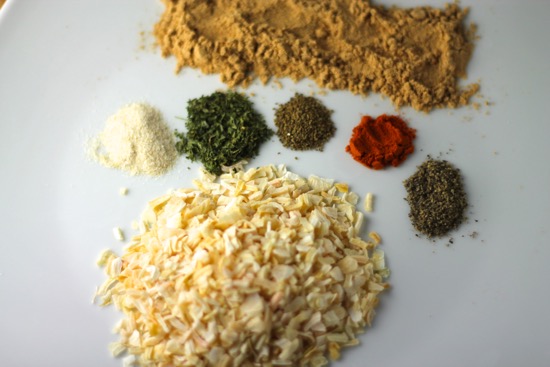 Measure out the onion flakes, pepper,  paprika, celery seed, parsley, onion powder and ground beef bouillon cubes (I ground mine right up in my coffee grinder).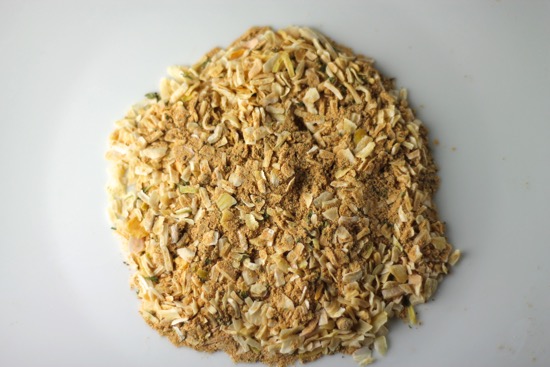 Stir together and seal in an air tight container. My container of choice was a sandwich baggie. This will be the equivalent to a one ounce store-bought envelope.
You could also use low-sodium beef bouillon cubes if you're looking to lower your salt intake.
Easy as pie, right?
What other DIY spice blends do you make at home?
Homemade Onion Soup Mix
Ingredients
¼ Cup Dried onion flakes
4 Bouillon Cubes, ground (I used a coffee grinder for this)
¼ Teaspoon Onion Powder
¼ Teaspoon Dried Parsley Flakes
¼ Teaspoon Celery Seed
⅛ Teaspoon Paprika
⅛ Teaspoon Freshly Ground Black Pepper
Instructions
Grind your bouillon cubes in coffee grinder or with a mortar and pestle.
Mix all spices together.
Pour in an air tight container and store.
Notes
This will be equivalent to a 1 ounce store-bought envelope.