A couple years ago I made this super cute owl cake and just had to share it with you. I took a picture of it in a magazine and winged it at home…no pun intended 🙂  It's actually not that difficult and so adorable for many occasions. Let's dig in!
First bake a 9 x 13 chocolate cake. I used this recipe and instead of the sheet pan, used the  9 x 13 pan and cook for about 30 minutes at 350 degrees until you insert a toothpick in the middle and it comes out clean.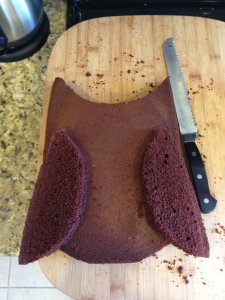 Once you've baked your cake and it's cooled, cut off the two corners at the bottom of the cake to round it. Also, cut a crescent shape out of the top of the cake, then carefully slice in half lengthwise so you end up with two wings.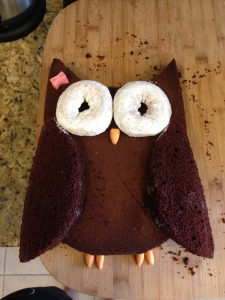 Now you've go the basic shape so lets get to the decorating pieces. Take 2 full sized powdered doughnuts to use for eyes. Shape a pink Starburst into a bow to place on the head. Once the Starburst gets warm in your hands it's pretty easy to form. Next take some orange Starburst to form a nose and 4 talons. Now we've got the shape and decoration placement down, so let's frost it!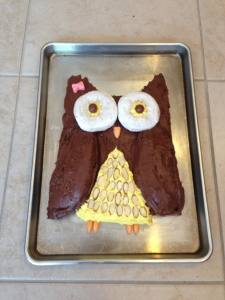 Take all the decorations and set them to the side. For the yellow frosting, I went back to the Pioneer Woman and used this recipe and added a few drops of yellow food coloring. For the Chocolate frosting I used her recipe again here. Yes, there's a theme. I love the Pioneer Woman! I've said, let's move on. You could always use the store bought stuff if you'd like. Frost the body with chocolate leaving a triangle space for the yellow frosting in the middle. Add the wings on top and frost them as well. Carefully add the yellow frosting in the middle as shown above. Side note: I put the cake on a sheet of parchment paper, transferred to the sheet pan and carefully pulled the parchment paper out from underneath it and finished decorating there.  Now add on your doughnuts and Starburst. For the talons, just push them into the frosting a little bit. A few more touches and we're done! Add a little of the yellow frosting to the middle of the doughnuts and top with 2 Whoppers. Finally, add slivered almonds right on top of the yellow frosting.
Isn't it so adorable! I've received so many compliments and you will too! Have fun with it and let me know how you guys do!
And now for the Giveaway! The WINNER of the Zimtal Nut Milk Bag is…drum roll please…
Congrats Barbara! I'll be contacting you shortly. Thanks to everyone who entered!