Happy Monday! Fresh start to a new week. I don't always eat healthy, but when I do, I like to try to make up for all those fried and sugar covered foods I consume. It's all about balance, right? I like to make this smoothie around 5 times a month or anytime I'm feeling sluggish or an illness brewing. I read about this recipe on Miranda Kerr's blog.  I admire her all things natural, organic and general healthy approach to life, so I knew I had to give her smoothie a try. It's a strong flavored smoothie. I always add a banana for sweetness and it does the trick for me. I  feel so amazing and full of energy when I have it. It does a body GOOD! You may not have all these ingredients on hand, but I get most of mine from Vitacost, my favorite health store ever! You can use this link to get $10 off your order. Cheers to our health!
Watch her make the smoothie in this video.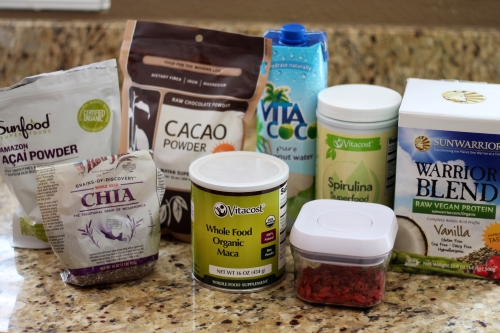 My version:
1 Cup Coconut Milk
1 Cup Coconut Water
1 Tbsp Acai Powder
1 Tbsp Goii Berries
1 Tsp Spirulina
1 Tbsp Raw Cacao Powder
1 Tsp Maca Powder
1 Tbsp Chia Seeds
1 Scoop of Sun Warrior Vanilla Protein Powder
1 Banana
Blend until smooth, about 2-3 minutes on high in my Vitamix.